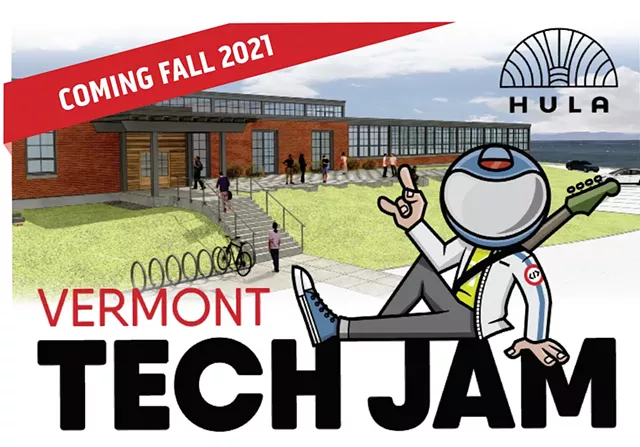 This was going to be the year Seven Days reinvented the Vermont Tech Jam, the career and tech fair we've been producing since 2008. The plan was to move it from the Champlain Valley Exposition in Essex Junction to Hula in the Lakeside neighborhood of Burlington's South End. The sleek new waterfront complex was a hard-hat zone last January, when we suited up to get a closer look at the soon-to-be plentiful office and event space.
Even in the chaos of construction, we could see it was the perfect venue.
We've tried for years to find the right spot to host the Tech Jam, seeking a building with enough space and bandwidth to accommodate 80 or so local tech companies and their sensors, drones and robots. Ideally the structure itself would be interesting — an example of vision and reinvention.
Practically speaking, it also should have plenty of parking and be located within walking distance of a large student population — a tall and somewhat contradictory order.
The first Tech Jam, in January 2008, occupied every inch of Burlington's Main Street Landing Performing Arts Center. Subsequent ones were held at MyWebGrocer's restored Champlain Mill, the IDX Student Life Center at Champlain College, the erstwhile Sheraton Conference Center, Memorial Auditorium and the Champlain Valley Expo.
In 2011, we got lucky with the empty Church Street storefront formerly occupied by Borders. By the next year, though, it was full of sneakers, courtesy of City Sports.
The plan for this year — this very weekend, to be exact — was to hold the job fair and social events at Hula. On Saturday, other tech-centric venues in the neighborhood would open their doors, give tours, organize demos and panel discussions, and engage Tech Jam-goers of all ages. The Burlington Electric Department, Generator maker space and Champlain College Emergent Media Center were all on board.
It was shaping up to be a Tech Hop ... when the pandemic hit.
Obviously, we can't hold the event, which connects job seekers with some of Vermont's most exciting companies. And it's too bad, because some of those tech businesses are booming. We've featured a few in Hire Up! — a series of virtual info sessions that Seven Days organizes, moderates and promotes.
Other fall happenings are adapting, too. The Vermont International Film Festival, which usually hosts 10 days of in-person cinematic screenings, starts this Friday, October 23, and runs through Sunday, November 1. This year's festival will happen virtually.
Courtesy
Kirk Douglas in Ace in the Hole (aka The Big Carnival)
And there's a theme: the reporter. All of the selections address the role of news making in a democracy and how the media has changed over the past 50 years. The fest offers an informative and entertaining mix, from the 1999 documentary The Black Press: Soldiers Without Swords to the satirical '70s feature film Network, which seems disturbingly prescient today.
In her preview, Margot Harrison explains, "ticket holders have a three-day window in which to view each film," leading up to five scheduled livestreamed discussion panels. I'm participating in one with Bob Trapp, cofounder, editor and publisher of the award-winning weekly Rio Grande Sun and the subject of a documentary that tries to keep up with him. The film's director, Ben Daitz, and my friend, New Yorker staff writer Sue Halpern, are also part of the October 30 Zoom conversation.
Instead of Tech Jamming this weekend, make some popcorn, buy a festival pass and enjoy the shows. We hope to see you in person again next fall.