Paula Routly
Fran Villemaire a week before she turns 103
On March 20, 2020, during the initial terror of the pandemic, Francesca Aida Fortuna Villemaire turned 100 at Burlington's Converse Home. The assisted living facility had banned all outside visitors on March 11, two days before Gov. Phil Scott declared a state of emergency in Vermont. Soon thereafter, Fran and the other residents were confined to their rooms for three months.
Seven Days readers might recall that I "covered" Fran's birthday celebration by observing it from the outside looking in through the dining room windows. A former nurse who generally dislikes the spotlight, she wore a tiara and a sash that declared: "100 and Fabulous."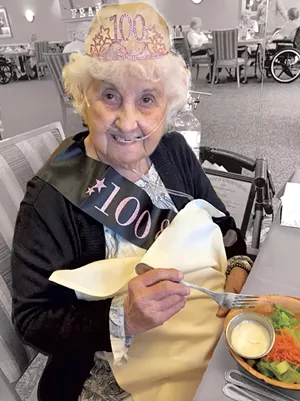 Courtesy of Becky Bouchard
Fran on her 100th birthday in 2020
I documented the occasion for a group-reported cover story in the first weeks of the pandemic, though I had an ulterior motive: The assignment allowed me to get a look at my mom, who at that point I hadn't seen for 10 days. Since I moved Angie to Vermont from Maryland at the end of 2017, she and Fran had been tablemates. The third musketeer at that table by the window, Sue Haman, became my mother's Burlington BFF.
Fran's birthday turned out to be the last group gathering at the Converse Home before the pandemic lockdown. The facility's strict protocols kept the coronavirus at bay until that winter, when there was an outbreak in the memory care unit. Five residents died.
Meanwhile, everyone worried about the impact of social isolation on the living — and with good reason. But Fran, holed up in her tiny room overlooking the garden, was content. Even before the pandemic, Converse staffers sometimes had to coax her to go to the dining room for meals. When I visited on Sunday, I found her in the easy chair she sleeps in, watching the Hallmark channel, feasting on a hot supper of fish, asparagus and a baked potato. Attached to the oxygen tank that eases her pulmonary fibrosis, she ate heartily without removing the nasal cannula.
"It's nice to stay in," she observed in her signature raspy alto, savoring every last bite of the food. "I'm a loner." Not quite: Born to Italian immigrants, the St. Albans native has three children, seven grandkids and 10 great-grands.
On Monday, when Fran turns 103, her family will throw her a real birthday party at the Converse Home. But neither Angie nor Sue will be there. My mom died on May 25, 2020, two and a half months into the pandemic. Sue followed on February 3, 2022. My last visits to Converse were to say goodbye.
Although Fran's long life hasn't changed that much in the past three years, it's fair to say almost everyone else's has. From the vantage point of March 2020, no one could have predicted how Vermont would look today — which people, businesses, organizations and institutions would make it and which would not. That's true of any significant time period, of course, but the pandemic posed a threat of unknown proportions. Public health officials were preparing for dire scenarios.
Each of Vermont's almost 1,000 COVID-19 deaths so far represents a personal tragedy. Societally, the lingering effects of this drawn-out public health crisis have been arguably more complicated and harder to imagine: long COVID, worker burnout, skepticism about science, misinformation. Problems that were bad before the pandemic are worse: a shortage of housing and childcare, rampant mental illness, overdose deaths, wealth inequality, political polarization.
My unscientific analysis, hatched during a recent road trip, suggests that while much of the country is moving on from COVID-19, Vermont still appears to be stuck. I see people in masks walking alone, driving solo. It's as if a collective gloom has settled over us. I find myself explaining to people new to Burlington how this used to be a friendlier place. It seems people just aren't out and about as much as they once were. In a small, sparsely populated, aging state, that makes a huge difference.
Lack of participation may explain, in part, why so many public-facing local businesses — restaurants, coffee shops, theaters — have not returned to pre-pandemic activity and hours of service. But also: Many of them can't find workers to wait on the customers they have. There are "Help wanted" signs in shop windows all over the country, but here, with too few young people to draw on, a dearth of labor threatens our fragile economy. As of December, according to the U.S. Bureau of Labor Statistics, Vermont had 20,000 open jobs and just 10,000 potential workers to fill them.
The coronavirus seems to have accelerated some negative trends that the state saw looming on the horizon. Now they're here — sooner than expected.
I've been thinking a lot about journalist Laurie Garrett, dubbed the "Coronavirus Cassandra" for her early pandemic prophesies. In May 2020, she told the New York Times: "My event horizon is about 36 months, and that's my best-case scenario." Nobody wanted to hear it at the time, but she was right. Similarly, Union Army general William Tecumseh Sherman was pronounced "crazy" and swiftly demoted when he predicted that the Civil War would drench the U.S. in blood and cost 200,000 lives. That turned out to be barely a third of the eventual toll, and Sherman eventually helped his side win the war.
Three years after we entered the pandemic, it's hard to say for sure if it's over — or if it was an anomaly, or the beginning of a new era of vulnerability to viral threats. Having survived so far, we have an opportunity to remake this place as we want it to be: lively, compassionate, ambitious. Seven Days is doing our part, keeping you informed about everything from public safety challenges to interesting art shows and new restaurants. We're hanging on, thanks to financial support from readers and advertisers, though entire business sectors remain missing from our pages.
I'm challenging myself to make an individual effort every day toward the greater goal — a healthy community — even if it's as simple as smiling at a stranger. Or visiting a friend.
The front door was open on Sunday at the Converse Home; as long as they're masked, visitors are welcome again. In the lobby, I found a new resident waiting for her daughter to arrive so they could spend the day together. I felt a pang of loss and longing, maybe a twinge of jealousy. The woman, 95, lives in my mother's old apartment.
With a little encouragement from the receptionist, I remembered the way to Fran's. On a ledge outside her door is my 2020 write-up of her birthday. Inside, the walls are bedecked with family photos, religious images, professional plaques and the now-3-year-old "100 and Fabulous" sash.
I wished her an early happy 103rd with a card and a box of cookies from Mirabelles Bakery. "You look good," I said over the audio from the Hallmark show, which included descriptions of the action for people with limited vision.
"...For an old lady," quipped the centenarian, who can see just fine.
After dessert — she had two — I asked if sleeping in a recliner could really be good for her health.
With an impish grin, Fran replied: "I'll let you know in 10 years."