Courtesy Of St. Johnsbury Athenaeum
"The Domes of Yosemite" by Albert Bierstadt
On a summer day in Vermont's Northeast Kingdom, you can ply the crystal waters of Caspian Lake; behold a luminous, room-size painting of "The Domes of Yosemite" at the St. Johnsbury Athenaeum; and sip the highest-rated beer in the world. Next day try a mind-blowing political history lesson told through papier-mâché puppets and a million-dollar view of glacier-sculpted Lake Willoughby before happily driving miles out of your way for gourmet pizza at a general store.
Two summers ago, my family spent a few memorable days being tourists in our own state. My partner and I used my nonagenarian mom as an excuse to take a short Vermont vacation in the Northeast Kingdom, with the homey Highland Lodge in Greensboro as our base camp. We got my walker-wielding mom up the barn ramp at Bread and Puppet Theater, face-to-snout with the stuffed bear collection at the Fairbanks Museum & Planetarium, and to the front of a long line at the delicious Scale House restaurant in Hardwick. It felt more like an eating experience in New York City than one in Caledonia County.
My only regret, other than skipping the quirky Museum of Everyday Life, was that we hadn't done it sooner, before my mom moved here at the end of 2017.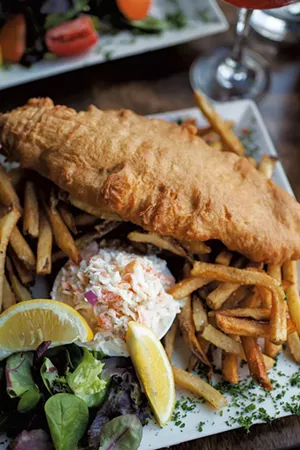 File: Jessica Ojala
Fish and chips at the Scale House
Sometimes it takes a newcomer to open your eyes to the beauty in your own backyard and its viability as a vacation destination.
This year, alas, the motivator is a global pandemic that imperils the state's tourism sector.
Vermont's inns, restaurants, museums and attractions need you. That's the message of the inaugural edition of Staytripper, the monthly pub we created and inserted inside this week's Seven Days. With a mix of business profiles, suggested day trips, and helpful suggestions for food and kids' activities, we mean to suggest: If ever you thought about a romantic getaway at Hotel Vermont, a week with friends at Basin Harbor or exploring the "Fun Zone" at Smugglers' Notch, now's the time. You don't have to spend a ton of money to help. Warning: Not all of the attractions described above are currently open, so be sure to check before you go.
Many in the tourism industry don't believe that business from native Vermonters can make up for the financial losses they anticipate this season. The majority of their out-of-state customers hails from more populated areas with higher rates of COVID-19. Until our state relaxes restrictions, those folks may have to self-quarantine for up to 14 days before they can check in to a Vermont hotel or climb a Green Mountain.
Prove the local purveyors wrong. Show these Vermont businesses some love. Chalk it up to your locavore duty. The best way to preserve the beautiful state we all cherish is to get a good, long look at it. Then buy a creemee — or two.