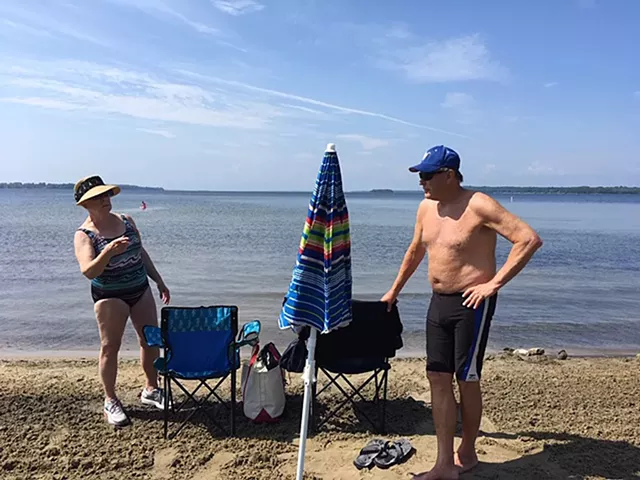 Paula Routly ©️ Seven Days
Eric and Ginger Johnson
There are six state parks on the road between Burlington and Isle La Motte. Earlier this month, on the hourlong drive north, I passed Niquette Bay, Sand Bar, Grand Isle, Knight Point and Alburgh Dunes and saw signs for North Hero State Park. Three more — Woods Island, Burton Island, Knight Island — are offshore, accessible only by boat.
Unbelievably, at that point I'd only been to one of the nine natural refuges in and around Vermont's Champlain Islands. For the 42 years I've lived in Vermont, I've seen the green and brown wooden signs and kept going...
On this particular day, though, I couldn't stop. I was on assignment to explore and write about Isle La Motte for a story in Seven Days. Since June 10, we've published a weekly feature on drivable day trips that combine quirky museums, fresh food, hikes, shopping and bike rides. The local, pandemic-proof "Vermonting" column had already directed readers to Barre, Hubbardton and Orwell.
With its Catholic shrine and fossil preserve, I knew Isle la Motte would fit the bill.
But first I had to get there, and Route 2 wasn't making it easy. After being cooped up in the Queen City for months, I felt a weight lift when crossing the causeway between Milton and South Hero, surrounded by Lake Champlain. I wanted to stop at every family farmstand, roadside snack bar and vintage waterfront motel. Signs advertising wine tastings and art shows signaled that Vermonters were trying to salvage the summer, whether they grow berries, lodge visitors, sell crafts or rent boat slips. The cover story in this week's Seven Days looks at how Vermont restaurants are coping in the pandemic.
How can you help? Check out the August edition of Staytripper, also in this issue, and let it inspire you. We created the monthly supplement to encourage Vermonters to take advantage of this stay-home summer by exploring our shared backyard. Many of the state's inns, restaurants, museums and attractions are open for business, and they need all the local customers they can get.
This second edition features Goshen's Blueberry Hill Inn. I've been lucky enough to stay there a few times in the winter, enjoying world-class cross-country skiing, group dinners and a wood-fired sauna. This summer the place is putting on picnics. Before or after, you can hike up to Romance Mountain or down to Silver Lake. Can't afford a room? Now you can camp on Blueberry Hill's field.
My Isle La Motte adventure turned into a two-day thing. The next morning, I was first in line at Alburgh Dunes State Park. The beach had been dragged in preparation for another hot, sunny day of socially isolated recreation. Eric and Ginger Johnson had already planted an umbrella and two beach chairs by the water's edge. Retired teachers who had once lived full time in Chittenden County, they now spend winters in North Carolina and summer in an RV park on Isle La Motte. The couple was suiting up for a serious swim. With its sandy bottom and shallow waters, they said, Alburgh Dunes is the best spot in the islands for it.
I made a note to return — this summer. Two parks down, seven to go.