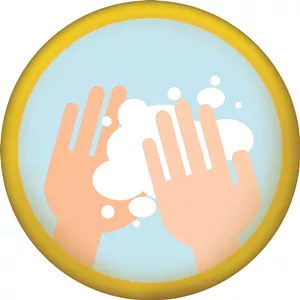 We at Seven Days are all in favor of boating, baseball and creemees. But not everyone on the editorial team is equally enthusiastic about the annual Summer Preview Issue, in which we try to find new ways to write about those perennial topics. Summoning creative approaches can be tricky. I remember 1996's "Interview With a Zebra Mussel" like it was yesterday...
But this year is different. On Monday, the breaking news in Vermont was all about summer — in particular, where and how we're going to make it happen. In a press conference convened by Gov. Phil Scott, state officials went through the steps Vermont's 55 state parks are taking in response to the coronavirus pandemic and outlined best practices for safely visiting them. The briefing included detailed information about what campers will be able to buy — ice and firewood — and what they should bring: hand sanitizer and Lysol wipes. Might "disinfecting" be the hot new badge at Scout camps this summer?
Courtney Lamdin checked in with the state's summer camps, some of which still plan to open. But will parents let their children enroll? Camp Quarantine could be a tough sell, and not just for kids.
Out-of-staters will have to quarantine for 14 days in Vermont before they can set up a tent here. The same goes whether they're at Basin Harbor, Hotel Vermont, or the Woodstock Inn & Resort. Bostonians and New Yorkers who once came north for a three-day weekend are going to have to stay a while, like they did a century ago.
For now, local hoteliers are only allowed to book 25 percent of their rooms — though they might have trouble finding staff to service them. Because of the pandemic and, to a lesser degree, our president, thousands of seasonal foreign workers won't be coming to Vermont this summer. Derek Brouwer looked into the potential economic impacts of that labor shortage in his article "No Exchange?"
On Monday, Natural Resources Secretary Julie Moore made the obvious suggestion: Since out-of-state travel is discouraged, why don't Vermonters vacation right here? It's the tourism department's newest marketing strategy, as Kevin McCallum reports. Kayak the pristine waters of the Green River Reservoir to a remote camping spot. Sit in a rocker with a good book on the porch at Highland Lodge. Hit the 273-mile Long Trail — which, like so many other popular hiking destinations, is likely to be crowded this summer, Chelsea Edgar predicts in "The Great, Masked Outdoors."
Easier routes: reading, virtual birding and — maybe — baseball.
Looking for a snack while you're on the go? Food trucks are rolling and seemingly pandemic-proof.
It's up to us Vermonters to make the most of a bad situation. On the positive side: We've got the perfect playground.
Savor the sunshine,
Paula Routly
P.S. Thanks to assistant arts editor Dan Bolles for curating this week's selection of stories.