File: Luke Awtry
Enemy of the People, from left: John James, Bryan Parmelee, Diane Sullivan and Jeff Baron
The outgoing president has called the press the "enemy of the people." So naturally that became the name of the Seven Days house band — an occasional ensemble composed of musical employees plucked from the paper's production department.
Pre-COVID-19, our designers worked together in a pod, surrounded by dogs and great music. They're already a creative bunch, tested by deadline pressure and the frustration of bringing up the end of an assembly process dependent on writers, editors and account executives. At some point, they started transforming our workplace shenanigans into songs that capture some of the craziness of creating a weekly newspaper.
Then they started practicing for real, at the home of art director Diane Sullivan, the band's lead singer and the instigator of all things wild and wacky at Seven Days. The lineup includes guitarist Jeff Baron, a professional musician who splits his work hours between design and circulation duties. The multitalented web whiz Bryan Parmelee plays drums, but he can also tickle the ivories. Production manager John James learned bass because the group needed a steady and reliable timekeeper — and that's J.J. through and through.
Enemy of the People made their much-anticipated debut at last year's Seven Days holiday party. After our traditional Secret Santa gift exchange — Diane also plays a very outgoing St. Nick — they took the stage at the Skinny Pancake. To the delight and astonishment of us all, the band belted out a set of original tunes, including "Sasha's Getting Drunk," an unfounded allegation about our deputy news editor, and the crowd-pleasing "Where's Fu%#&ing Paul?" The latter was a playful reference to the collective frustration when writer Paul Heintz is late wrapping up a big story on deadline night. In a good week, we finish up on Tuesday around 7 p.m. In a bad week, it might be Wednesday at 1 a.m.
The set list from that first gig is still taped to the Seven Days bathroom door — a testament to the power of the performance and also, quite frankly, because the pandemic froze our office in time, as the eruption of Mount Vesuvius did Pompeii.
It changed the future, too, at least for Enemy of the People. The band was booked to play at the Waking Windows music festival in Winooski, but the May event was canceled, like nearly everything else this year.
Our virtual holiday party last Friday was a lot less raucous and sweaty than the one we shared in 2019, but it was still pretty fun. It was great to see our beloved colleagues gathered on-screen, some with bells on, and the Secret Santa tradition survived; we dropped off and picked up our gifts at the office and opened them on Zoom. In fact, the digital format put a spotlight on each person: Everyone revealed what they got and their best guess at who might have given it. For every wrong answer, the recipient had to take a sip of whatever they were drinking. Everyone noted plenty of wine, beer and whiskey among the presents. It's just that kind of year.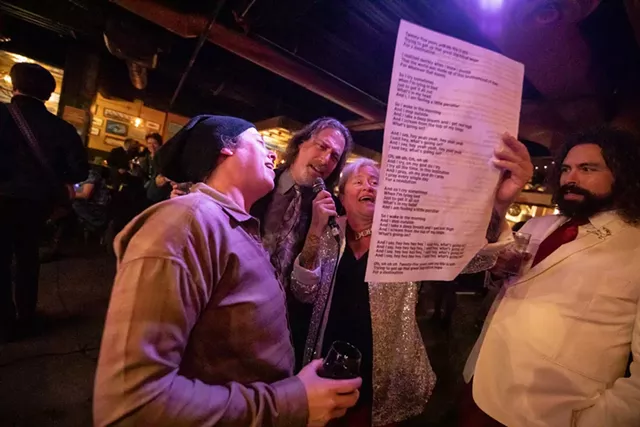 File: Luke Awtry
Account executive Kaitlin Montgomery, writer Ken Picard, and art director Diane Sullivan sing "The Weight" at Seven Days' 2019 holiday party.
One wholly unexpected gift: video highlights of Enemy of the People in action last year, including a snippet of writer Ken Picard and account executive Kaitlin Montgomery joining in on the band's cover of "The Weight." It was so fun to remember that night and how our staff came together to celebrate a year that seemed untoppable in terms of effort and productivity — or so we thought.
Earlier this year, I jokingly asked Diane if she'd write a song about our Super Readers — the people who have been contributing financially to keep Seven Days afloat during this crazy time. Shockingly, the band embraced the idea. Diane and Jeff cowrote a fast-paced punk-rock tune that pays tribute to our supporters and this strangely satisfying biz.
It goes like this:
"Super Readers" - Enemy of the People
Update Required
To play the media you will need to either update your browser to a recent version or update your
Flash plugin
.
We've got issues (Pass it on)
Local Matters (Pass it on)
We've got features (Pass it on)
Super Readers (Pass it on)
I read the I Spys, I read the Funnies,
I read the Classes and the Jobs 'cause I gotta make some money
We got Soundbites, we got Letters
We've got the Reverend laying down 'cause she's gonna make it better
Super Readers!
After 25 years, well you know we really need
Super Readers!
'Cause making this newspaper, yeah it takes a lot of grease
From the front to the back to the back to the front
The front to the back to the back to the front
When this is said and done we're gonna have a lot of fun
You know we're gonna meet and then we'll share a margarita
Super Readers!
We really need ya!
Couldn't have said it better myself.
Happy holidays,
Paula Routly