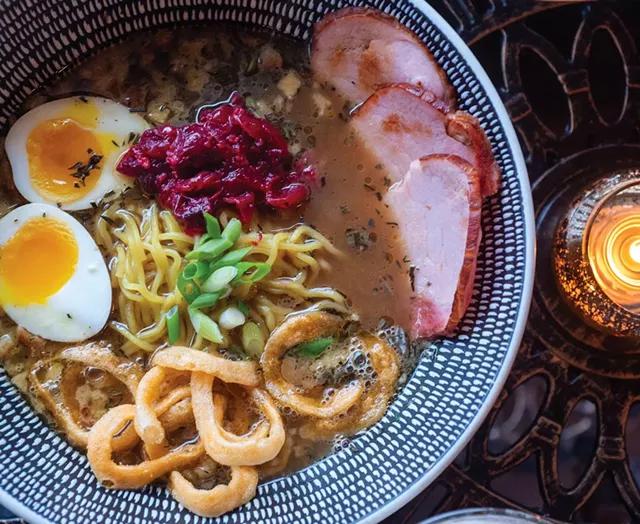 Jeb Wallace-brodeur
The planned cover photo for this year's 7 Nights: a meal at Waitsfield's Stoke Ramen Bar
Creating a weekly newspaper is labor-intensive and exacting — but it's a breeze compared to a glossy magazine.
Planning for our annual dining guide, 7 Nights, starts almost a year in advance. Our food writers and photographers crisscross the state through all seasons to report on some of the most exciting restaurants, breweries and nightclubs. The process of gathering information for the free listings of 1,400 food and beverage businesses takes two people roughly three months of full-time research and phone calling. The project requires detailed art direction, editing, design, multiple proofreads and year-round database management. And there's a hard deadline: Its early-spring publication is timed to coincide with our 10-day Vermont Restaurant Week.
This year's edition was nearly printer-ready on March 16, when Gov. Phil Scott issued an executive order that closed bars and restaurants to in-person dining to prevent the spread of the coronavirus. As a result, Vermont's thriving food scene changed overnight, and 7 Nights' carefully curated coverage became instantly obsolete.
In consultation with local restaurateurs, we made the difficult decision to scrap the publication and postpone Restaurant Week.
Within 48 hours, we had repurposed our searchable statewide database to create a website, Good To-Go Vermont, to promote the only viable alternative then available: takeout. For the past six months a team of Seven Days food writers, editors and designers has toiled to obtain information from restaurants across the state and keep it current. Ads in the newspaper, on the website and via our many e-newsletters have directed Vermonters to takeout, outdoor dining and other eating options where they live.
We had hoped things would be all better by now for our friends in the food business — the people who work so hard to nourish and bring us together. But they're not, and as the nights get colder and the days shorten, "to-go" still looks like the "go-to" way to help restaurants weather the pandemic. In recognition of the new reality, look for a regular weekly Good To-Go feature in the food section. In this issue, Jordan Barry savors breakfast tacos and coffee at Blank Page Café while explaining how the proprietors are managing their store and curbside pickup.
Vermont Restaurant Week has been canceled for this year, but there's no less appetite to help those 100 or so eateries that made plans to participate. With the resources provided by sponsors at Vermont Federal Credit Union, Vermont Creamery, Shacksbury, WhistlePig Whiskey, the Essex Culinary Resort & Spa, and City Market, Onion River Co-op, Seven Days is extending an offer for one free quarter-page ad to each eatery — to promote their takeout offerings, holiday parties or gift cards — good through the end of the year. They can also use the free space to advertise open positions.
We hope the weekly messages remind you to support local restaurants, farmers and food trucks — in every way possible — this fall and winter. Similarly, please make the effort to get what you need at stores here in Vermont instead of on Amazon.
This state we love depends on it.