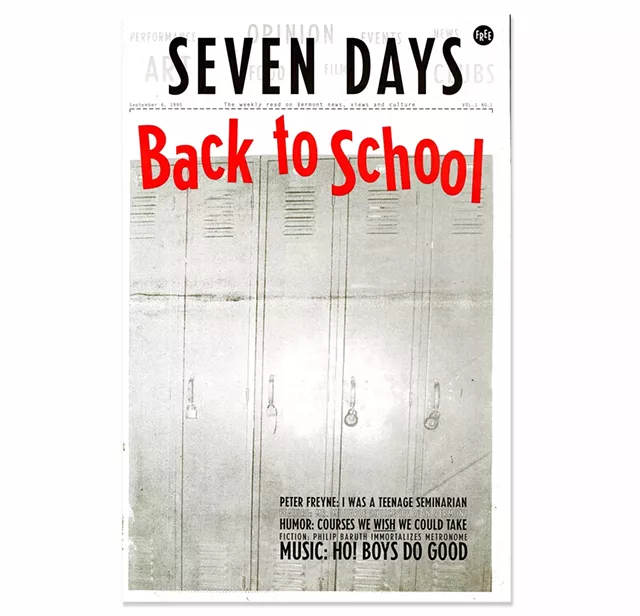 Courtesy ©️ Seven Days
1995
In retrospect, September 6, 1995, was a pretty good time to start a newspaper. It was pre-internet, and Vermont had already been without the Vanguard Press for five years — long enough for readers to appreciate the vital role an "alternative weekly" could play: covering disenfranchised populations, local arts and food, and, of course, the mainstream media.
It was the right time of year, too — a busy fall performing arts season would transition nicely to events and business around the holidays. After losing our journalism jobs in mid-July, Pamela Polston and I spent six whirlwind weeks writing a business plan, raising capital, selling ads, finding office space and equipment, and hiring people. Once Seven Days was ready to launch, the two of us set out to report and write content for the inaugural issue. The theme: back to school.
Despite a hideous cover, the paper contained a pretty good mix of stories: Political columnist Peter Freyne shocked readers with a first-person piece about his time in a seminary, training to be a priest; English professor Phil Baruth, now a state senator, contributed an excerpt from his Burlington-inspired book, The Dream of the White Village. I profiled Henry Chauncey, the man who invented the Scholastic Aptitude Test, who was then a resident at Wake Robin in Shelburne.
There was even a food piece — a pizza survey — that perfectly served the purposes of our hungry, hardworking staff. Leonardo's came out on top, by the way, and remains our go-to brand for election nights at the office.
The next day we started all over again. As our oldest joke goes: Maybe if we'd called it "Five Days" we wouldn't be working seven days a week.
Courtesy ©️ Seven Days
2020
Still are, 25 years later, but the back-to-school stories have certainly changed. Instead of riffing on funny class names in local course catalogs, we're reporting about testing protocols and quarantine strategies. In this week's cover story, Derek Brouwer explores the lengths to which Vermont colleges are going to safely accommodate students. Delivering education has always been a challenge, but not like this.
College brought me to Vermont and, like many of my classmates, I stayed. I loved the landscape and the way people took care of each other. Community was not something we really had in suburban Maryland. Here, it seemed, was a place where people learned from the mistakes of the rest of the country — and worked hard to preserve what was good. I was in.
Many Seven Days staffers, including a few of our next-generation owners, tell similar stories. Enticing students to get to know Vermont, love it like we do, and maybe stick around has always been part of Seven Days' strategy.
Pre-pandemic, we published an annual newcomers' guide to Burlington, called What's Good, and hosted the Vermont Tech Jam, a career and tech expo. This fall we're brainstorming ways to give the current crop of students a glimpse of life beyond the ivory tower.
We hope the first lesson they'll learn is that Vermonters look out for one another. There's a reason the state's COVID-19 rates are the lowest in the nation, and we'd like to keep it that way, thank you.
So, welcome to Vermont, students. And please be responsible.