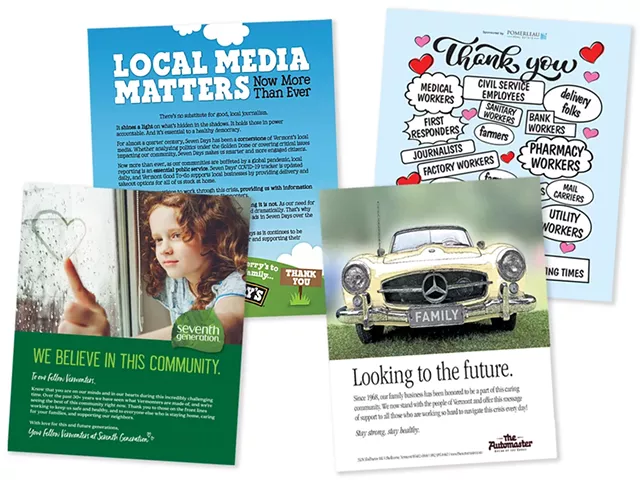 The journalism we produce at Seven Days wins awards. In 2020, we earned a number of them, including a national Edward R. Murrow prize for Investigative Reporting, an Innovation Award from the Association of Alternative Newsmedia, and a commendation from the New England Newspaper & Press Association naming us a New England Newspaper of the Year.
This year, we also saw a dramatic surge in the number of readers willing to pay us to produce this work — we listed more than 2,000 of them in last week's issue. We deeply appreciate their support.
But the largest portion of Seven Days' revenue still comes from advertising; like every other media outlet in the state, we rely on support from advertisers to fund our reporting.
That's not a bad thing. The paid content in Seven Days reveals a lot about the community we serve — who's got a sale on, who's hiring, who's celebrating an important milestone, who's seeking donations, who's auctioning off the contents of a storage unit, who's seeking renters, who's mourning a loss. In fact, we've heard for years that our readers pick up Seven Days for the ads and the stories.
In 2020, the ads in Seven Days reflected both the unique challenges and opportunities the year presented. Crucial public health information about the coronavirus began appearing in the March 18 issue, which included a two-page spread paid for by the Vermont Department of Health and designed by Seven Days. It urged Vermonters to help #FlattenTheCurve and explained the then-unfamiliar concept of "social distancing."
Since then, clients such as the University of Vermont Health Network, the City of Burlington, and the Vermont Association of Hospitals and Health Systems have distributed public health messaging in Seven Days. Our legal ads included information about municipal meetings being conducted on Zoom. Retail ads touted efforts by local businesses to keep customers safe.
Amazingly, a number of advertisers paid to run ads simply to support Seven Days and affirm the importance of local journalism, or to benefit other local businesses or community initiatives. This includes companies such as the Automaster, Ben & Jerry's, Seventh Generation, Pomerleau Real Estate, Sweeney Design Build, Main Street Landing, and many others.
You can find a list of all the businesses that value what we do on pages 50 and 51 of this issue. Most of them are local enterprises like us, whose owners live here and care deeply about this state and its people. They may not always agree with our coverage — we don't allow advertising, underwriting or Super Reader donations to influence what we publish — but they've supported it when we needed them to, and for that we are grateful. If you are, too, let them know that you've seen their ads and appreciate their support for Seven Days.
One of the bright spots in this terrible year has been realizing how interconnected we all are and the lengths to which Vermonters will go to save the things we love. We look forward to bringing you more of those stories — and reporting on resilience and recovery — in the year to come.
Seven Days will be back in the racks on January 13.
Happier New Year,
Paula Routly