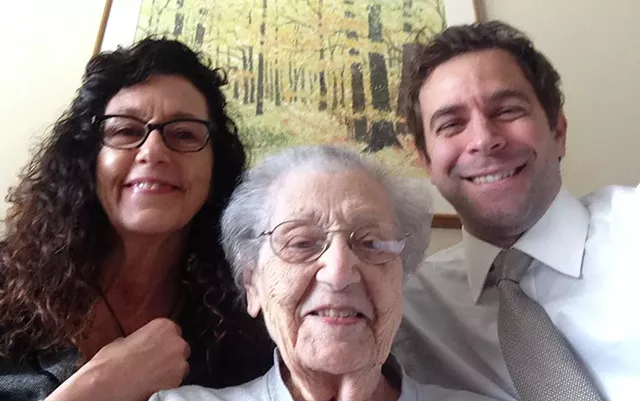 Courtesy Image
Paula Routly, Angie Routly and Tim Ashe
While Chelsea Edgar has been reporting this week's cover story about death and grieving during the coronavirus pandemic, my 93-year-old mother and I have been living it.
On April 16, three days after my 60th birthday, my mom, Angie, was scheduled to have a CT scan at the hospital. A staffer at the Converse Home brought her up to the University of Vermont Medical Center, where I met her at the front entrance.
We both were looking forward to spending some time together, even in a waiting room; we hadn't been face-to-face since early March, when Converse banned visitors to protect its residents from the coronavirus. A few weeks later, residents were confined to their rooms.
Masked and gloved, I wheeled my mom inside, where I was quickly disabused of my mother-daughter fantasy. Hospital protocols had changed overnight because of heightened concern about COVID-19. I could not go in with my mom, nor could I wait in the lobby while she had the test. She was scared and confused. When they took her away, I noticed she was hugging her purse. I spent the next hour peering in the windows, worrying she might never emerge.
Later that day, I got the news: My mom has late-stage ovarian cancer. She's too old and frail for treatment, so it's a terminal diagnosis. Would she have to spend her dying days on lockdown? I was fully prepared to bring her to my home when I got the word from Converse, where she has lived happily and safely for almost two and a half years: My mom could stay where she is, and my boyfriend and I would be allowed to visit, with precautions. The facility is making case-by-case exceptions for end-of-life care. Although the rule restricts others from seeing my mom, this arrangement is the best we could hope for in the middle of a pandemic.
I know the families of people dying in the hospital — of COVID-19 and other maladies — are being denied that closure.
For the past week, I've spent most of every day in my mom's apartment, lurching between the high-wire act of producing Seven Days during a time of crisis and tending to her needs: trying to get her to eat, monitoring her meds, helping her in the bathroom, facilitating phone calls with friends and finding words to tell her how much she means to me.
As painful as it is, I'm grateful for this opportunity to say a proper goodbye. In this strangest of times, so many people don't have even that.
Other things I'm grateful for: spring; my friends and neighbors; and Seven Days' incredible team of reporters, editors, designers, account executives and circulation drivers who are going above and beyond to help me, help each other, and report on and deliver the news.
Watching Super Reader contributions come in — at all times of day and night — keeps me going, too. They're reassurance that the community sees and appreciates our efforts.
Many, many thanks,
Paula Routly