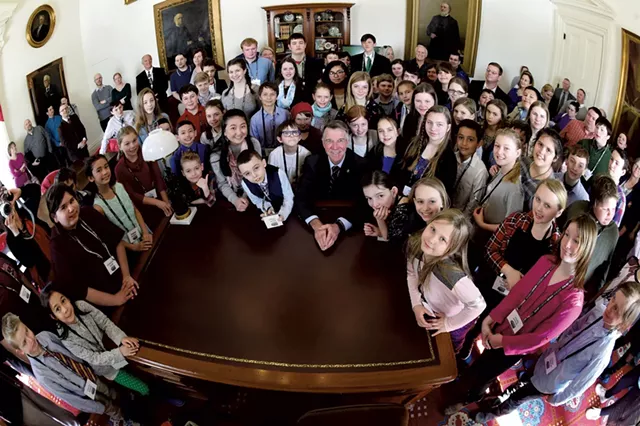 File: Jeb Wallace-brodeur
Good Citizen celebration at the Statehouse, May 2019
"It's not supposed to be like this."
That's what my wife and I have said to our kids too many times in the past few years, referencing the impeachment hearings, the Coronavirus Task Force briefings, the mask wars, and the bitterly contested November presidential election and its aftermath.
We've watched it all with Graham, 14, and Ivy, 12, explaining over and over again how our elected leaders are meant to behave. They're expected to disagree — a divided government is good for democracy. But their debate is supposed to be civil. We expect them to be well informed, to be gracious whether they win or lose, to put the good of the people before personal gain, and to serve with honor and dignity.
We want our elected leaders to rally us in difficult times, to lift us up with their words and actions: Think of Ronald Reagan after the Challenger explosion, George W. Bush speaking through a bullhorn at Ground Zero after 9/11, Barack Obama breaking into "Amazing Grace" during the funeral of a pastor shot in a church in Charleston, S.C.
We're not seeing that kind of leadership in Washington, D.C., right now. Fortunately, it's evident in Vermont, and we happily point out examples to Ivy and Graham. They're learning: You can't do much about national politics, but there's a lot you can do to improve things here at home.
To help nurture these instincts in all of our kids and inspire them to grow into responsible adults, Seven Days and Kids VT created the Good Citizen Challenge. Launched in 2018 with support from the Vermont Community Foundation, the Challenge promotes civics education and provides activities K-12 students can do to have a positive impact on their communities.
Everyone who participates gets a Good Citizen Challenge sticker, and those who complete it are eligible for other prizes. We publish the best work we receive. Hundreds of young Vermonters from all over the state have taken part in past Challenges. This week, we're launching a new one specifically designed for this pandemic winter; it ends on the Friday after Town Meeting Day.
Our At-Home Challenge, developed with a coalition of statewide partners, is filled with activities in four subject areas essential to a responsible citizenry: history, government, news literacy and community service. Most of the tasks — such as making cloth face masks, playing Virtual Vermont Trivia, reading a community newspaper — can be done from home. Find a list of them on the four-page scorecard at the center of this issue, as well as more at goodcitizenvt.com.
Both individuals and teams are welcome to participate, and adult-child teams are encouraged. This is a fun project to do with your kids; I've tested many of the activities on mine!
One is listening to "Vermont's Great Flood," an episode of the podcast "Before Your Time," produced by the Vermont Historical Society and Vermont Humanities. It's about Vermont's worst natural disaster, the Flood of 1927, which killed 84 people and caused millions of dollars in damages.
The catastrophe was also a turning point for Vermont: Recovery efforts improved the state's transportation infrastructure. And that crisis gave rise to one of the most memorable descriptions of the Green Mountain State and its people.
In a speech delivered after touring the state in 1928, Vermont-born Calvin Coolidge, the 30th president, famously said: "If the spirit of liberty should vanish in other parts of the Union, and support of our institutions should languish, it could all be replenished from the generous store held by the people of this brave little state of Vermont."
The Good Citizen Challenge speaks to that spirit by inviting young Vermonters to learn about and contribute to its resilience.