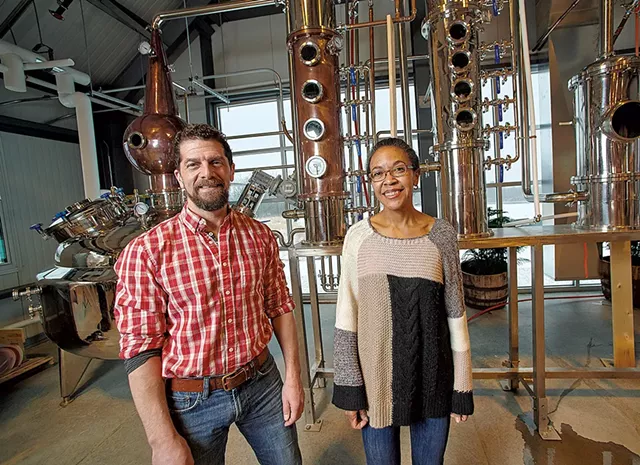 Bear Cieri
Craig Stevens and Naomi Clemmons
Craig Stevens and Naomi Clemmons have worked for more than two decades in public health. While the field is rewarding, the longtime friends and colleagues say, it's not known for its fun quotient. Their latest enterprise, Wild Hart Distillery, is a different animal.
"Although we're both very passionate about public health, we always dreamed of doing other things," Clemmons said recently, sitting at a table with Stevens in their Shelburne distillery, which opened last fall. "Our work is stressful."
"It's hard," agreed Stevens. "In public health, change takes a long time."
He gestured around the light-filled, 2,650-square-foot distillery filled with shiny equipment. "Here," Stevens said, "within a month's time we can distill and package a spirit. I love making something, holding that first bottle."
That said, the craft beverage entrepreneurs admitted, the path to launching their new business has been hard, too: slower than expected and, despite careful business planning, costlier due to unanticipated bumps in the road.
In fact, it took more than three years and about $500,000 from their first water-cooler chat about the idea to the November public opening of their tasting room and distillery.
Wild Hart joins a growing number of distilleries in Vermont — now 28, according to the latest licensee information at the state Department of Liquor Control.* The company's inaugural line consists of three spirits: a straight American dry gin; Burning Embers, a 45-proof liquor inspired by the Swedish spiced-wine punch called glogg, that blends house-distilled and flavored vodka with
Shelburne Vineyard
's red wine; and Sugarfoot gin, made with lime-leaf-infused maple syrup from
Runamok Maple
in Cambridge. At the Wild Hart tasting room, visitors can sample all three spirits and purchase Burning Embers and Sugarfoot. Twenty Vermont liquor stores currently sell the three Wild Hart products. Restaurant distribution is in the works.
Clemmons and Stevens first met in the early 1990s while each was earning a master's degree in public health at the University of Massachusetts Amherst. Both now live with their families in Burlington and juggle distillery responsibilities with full-time jobs at the local office of Boston-headquartered John Snow, Inc., a global public health consulting firm.
Clemmons, 50, is the youngest of five children raised on her family's 148-acre farm in Charlotte, where her parents, both medical health professionals, settled in 1962. The Clemmons Family Farm is one of the largest African American-owned historic farms in Vermont and a landmark site on the state's African American Heritage Trail.
Stevens, 49, grew up outside of Worcester, Mass., and moved to Vermont for his first public health job in 1995.
The two have worked together for much of their careers and, over the years, had talked about doing a side project.
"We would say to each other, 'If you have a good idea, let me know and we'll see if it holds water,'" Clemmons explained. "We wanted something different from what we do in public health. We wanted something fun, hands-on, that would take our brains in a completely different direction, but something where we could still bring our project management skills.
"Craig always talked about wanting something that he could hold," Clemmons continued, "and I always wanted something to do with community that would bring people together in a fun way."
Bear Cieri
Craig Stevens (left) talking with customers
Ideas came and went until, she recalled, "I was lying in bed one night trying to think about what assets I have in my life. I don't have deep pockets, but I have a great community and know a lot of people and have such good friendships."
One of those friends, she said, is farmer Tom Kenyon of Aurora Farms in Charlotte, a neighbor of Clemmons Family Farm. He cultivates grain, including corn, and markets it under the brand Nitty Gritty Grain Company of Vermont.
"I'd been reading about the craft distillery movement, and I love bourbon," Clemmons said, referring to the barrel-aged American whiskey traditionally made from corn. "I thought, I know this guy who grows great organic grain. Even though I know nothing about distilling, why don't I become a distiller? I think I romanticized the concept. My husband thought I was crazy."
Stevens, however, was intrigued and started doing research. "That's one thing we know how to do," he said. "In our work, you're always researching."
The friends devoted a week of vacation time to take an introductory course in craft distilling at Vermont Technical College in Randolph. The teacher was the state's micro-distilling pioneer, Duncan Holaday.
Clemmons and Stevens then began working with Holaday to develop a product line. They were inspired by Vermont's active distilling community and robust interest in handcrafted food and beverages with a local spin. The partners' thorough business plan landed them a $150,000 loan from the Vermont Economic Development Authority.
During the process, Clemmons was tickled to learn from her parents that her grandfather used to make peach brandy in Shreveport, La., in the early 1900s. "He put the bottles under the floorboards of the house to hide it," she said with a grin.
Even her husband began to warm to the idea.
There was a lot to navigate along the way, but Clemmons and Stevens worked through it. They've known each other so long, Clemmons observed, "we're like siblings."
"That doesn't mean it always goes smoothly, but you keep your eye on the prize," Stevens added.
One key decision was hiring distiller Joe Buswell to join their team as a part-time employee, rather than just a consultant.
"We were naïve with a capital N," admitted Clemmons. "We thought, We can do this. We're going to roll up our sleeves and do it. Then the still arrived, and it was like, holy shit."
The still and its installation costs accounted for about half of Wild Hart's startup budget. Covering almost the length of the distillery's western wall, in front of tall windows overlooking Route 7, the squat, round still resembles a one-eyed, potbellied robot followed by three columns — for distilling whiskey, vodka and gin, respectively — and a condenser.
The tallest column stretches nearly to the ceiling and features round porthole-like windows. Stevens pointed to the 30 blue levers running up the side like flute keys. "It's complicated," he said with dry understatement. "There really is an art and a science to the distilling."
"The art comes first," Clemmons added. "When I see Joe interacting with the still, he's touching things, he's looking at things, he's feeling the equipment itself for the heat, and that is truly artistic, [using it] more like an instrument."
Bear Cieri
Wild Hart products
The Wild Hart founders were introduced to Buswell through a fellow Vermont Technical College distilling course student. Buswell had arrived in Vermont with a winemaking background but then honed skills as a distiller while working for several industry front-runners. They included Caledonia Spirits in Hardwick, whose Barr Hill Gin is the best-selling Vermont-made spirit in the state, according to the Department of Liquor Control.
Buswell clarified that his role is to execute on the founders' vision, to help steer and refine the best execution of what Clemmons and Stevens want to produce. "Most people who are successful," he said, "aren't successful because they're doing what everyone else is doing."
The distiller said he appreciates the team at Wild Hart, which includes another part-time employee in sales and distribution. "None of our meetings are ever boring," Buswell quipped.
Wild Hart's current focus is on wrapping up development of its first vodka made from locally grown corn. The initial product line was distilled from cane sugar because "it's easier to dial in the equipment with that," Stevens explained.
Once the vodka is finalized, they plan to move all distillation to a corn base. Huge white bags of Kenyon's certified organic corn were stacked behind the meeting table.
Clemmons pulled out her phone to show a photo of her elegant, nonagenarian mother and "lady friends" gathered around that same meeting table for dirty martinis featuring a test batch of Wild Hart vodka.
Their smiles were eclipsed only by Clemmons' own happy face.
This kind of joyful gathering, centered on a product made with local ingredients, represents exactly why she embarked upon this crazy endeavor in the first place, said Clemmons.
"For me, it's about the community, making more partnerships with more different entities," she said. "I want people to see Wild Hart as a destination for community gatherings, as a company that thinks outside the box, that welcomes new ideas."
Clemmons pointed out that a close friend who is originally from Sweden inspired Burning Embers and that the distillery's very name emerged from community brainstorming.
"In public health, we work in teams because that's when innovation happens," she said. "That's our strength — that we will reach out to others, like we have so far to Shelburne Vineyard and to Runamok Maple, to come up with something unique that will take us far."
Clemmons traces her focus on community back to her parents. "It wasn't easy growing up black in Vermont. It was complicated," she said carefully. "But I think the values my parents had influenced me. They are very community oriented. I attribute it to my parents, who made good neighbors." In turn, she said, "They would come home to a pie on the counter, or a freshly baked loaf of bread."
While the aged bourbon that originally inspired Clemmons is still a few years off, she promised, "We'll get there."
And one day, perhaps, Wild Hart's neighbors will come home to a bottle of locally crafted bourbon on their counter.
*Correction, March 12, 2018: An earlier version of this story misstated the number of distilleries in Vermont. There are now 28 distilleries.