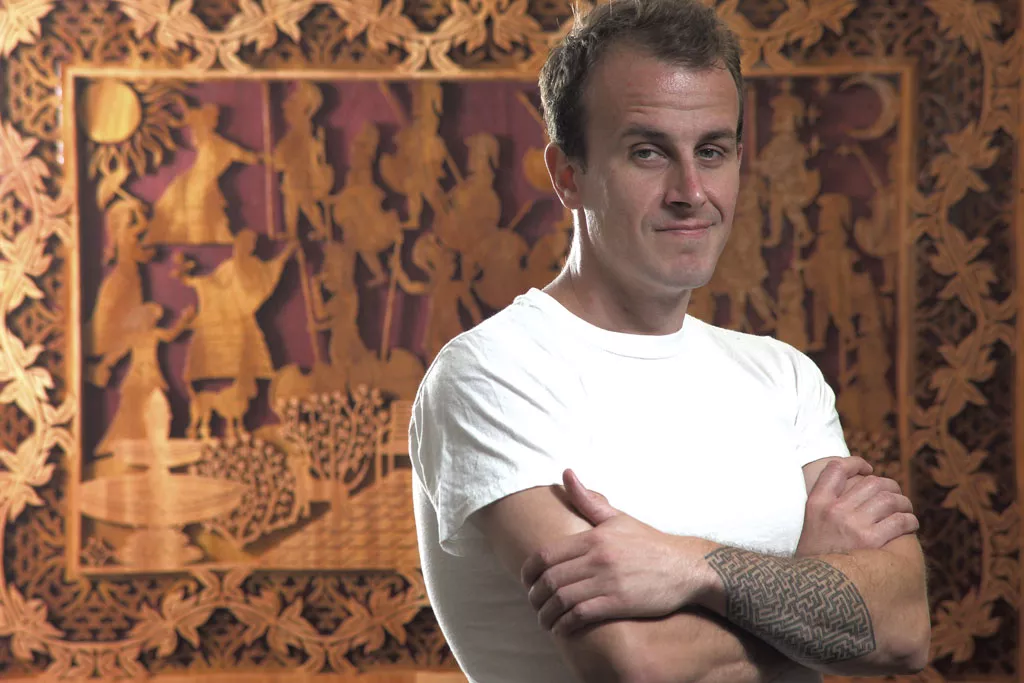 Matthew Thorsen
Jeremy Lee MacKenzie
The eight large-scale scrollwork scenes on the walls at the Flynn Center for the Perfoming Arts' Amy E. Tarrant Gallery in Burlington are intricate, fantastical and richly layered, both in their construction and in the story behind their creation. Artist and writer Jeremy Lee MacKenzie surreptitiously sketched plans for the detailed carvings while serving time in prison. Those plans, and the woodcuts they inspired, are on view at "Hidden Blueprints," a show that reveals the creative process spanning many years, and phases, of MacKenzie's life.
In 2000, when MacKenzie was 17, he entered the prison system. Over the next 13 years he served time for sentences related to drug trafficking and bank robbery — eight years total. In 2004, he was transferred to the privately owned Lee Adjustment Center in Kentucky. And in the fall of that year, the jail erupted with an inmate-led uprising — an event that MacKenzie pinpoints as the catalyst for his first scrollwork blueprint.
While serving his final sentence at Vermont's Northwest State Correctional Facility, he dedicated more and more time to designing his allegorical works. Themes include youth, rebirth and imagination, with highly geometric floral motifs.
After MacKenzie's final release in March 2013, the Burlington native set to work fabricating these stories. He transferred his drawings to multiple thin sheets of wood, then used a scroll saw to painstakingly carve out the shapes. He also enrolled at Champlain College, where he is studying cinematography.
Seven Days spoke with MacKenzie about his life, his process and his future.
How did you discover scrollwork?
The first time I encountered wood scrollwork was in a prison woodshop when I was 17. An old man there showed me cutting. It's kind of like the idea behind tattoos: You design everything beforehand and use your design like a stencil. Everything is designed like a great big maze, and then everything that's not the maze is removed. The prison woodshop ended up being shut down. I learned to cut some stuff back then, but I was only focused on boxes. It wouldn't be until a sentence later that the seed of this collection started to grow.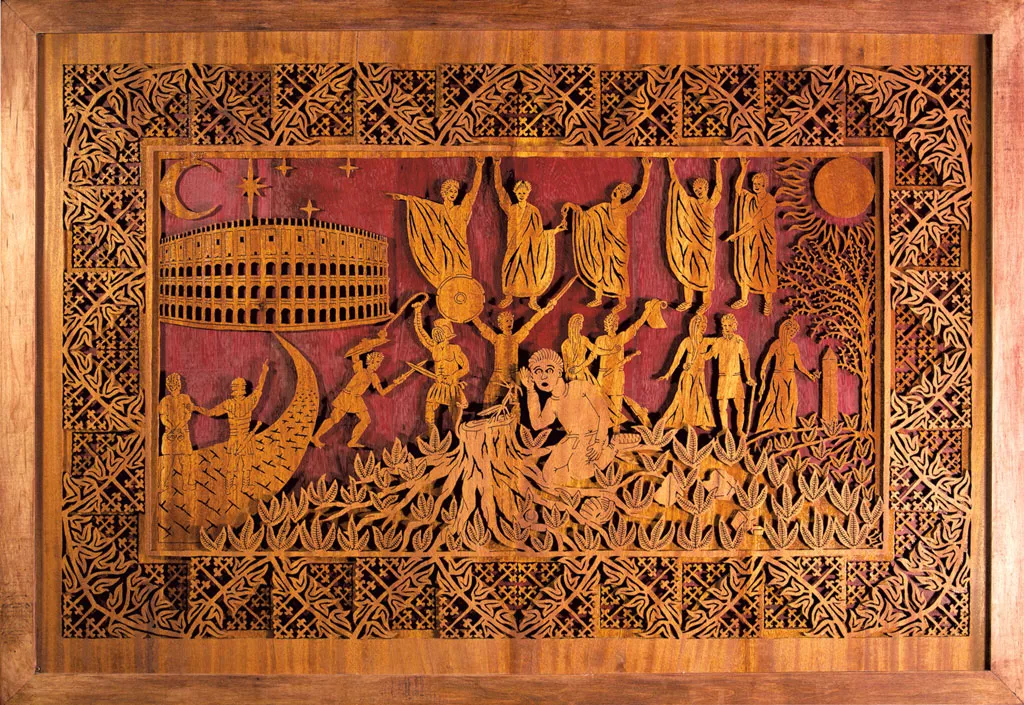 Courtesy Of Jeremy Lee Mackenzie
"Influence"
It started in Kentucky with the designing of my first piece, "Our Battles Make Us Stronger." Back in early 2004, I was shipped to the Lee Adjustment Center, where a lot of Vermonters were sent. That was where I was faced with a dilemma. I had a college opportunity on the one hand, and this kind of fucked-up situation on the other hand. The choice felt like, at the time: either move forward with this college opportunity and live in a facility where the conditions are deteriorating [due to overcrowding and reduced privileges], or support what became the uprising and potentially destroy the college opportunity. Which it did.
During the rioting, the administration building ended up getting burned; [it had] contained the school where the outside college was coming in to hold classes. "Our Battles" was designed based on that experience.
Why did you hide your blueprints?
Prisons have strange rules. Sometimes the rules don't make sense. Down in Kentucky, you could have Popsicle sticks and create ornate constructions out of them, but you couldn't have taped-together pieces of paper because you could cover a hole in a wall with it. The strangeness of the rules is what caused me to hide my collection. One of the other problems is that my work looks an awful lot like tattoo designs. I would fold them up and stash them in my legal work.
One thing I want to make clear: It's not like all of the guards are bad people who you have to hide your drawings from. There were plenty of guards, throughout both of my sentences, who were perfectly reasonable people, who would just look at [my art] and appreciate it. But it only takes one person who's going to enforce the rules blindly and take something like my work and throw it in the garbage. It's [that] guard who makes you want to stash it away.
Your scenes always include the sun and the moon. When did you start doing this, and why?
I started adding the sun and moon pretty much from the beginning. They were symbols of the passage of time. Every art piece was a glimpse into my experience on the inside, even though the scenes had nothing to do with prison at all. The sun and moon are also symbols of duality, and my experience in life has kinda been filled with that.
Your work is cinematic in certain ways. Can you describe your relationship to film?
On the inside, I had a job for a while as a movie projectionist. I saw the way that a well-told story brought freedom into people's lives, and that a good movie could really take [prisoners] out of their environment for a while. I decided at that time that I wanted to become a filmmaker when I came home. I wanted to be a screenwriter because the part that interested me was the story.
I asked some family to look up the college courses for screenwriting and filmmaking, and find out what books they were using at different colleges. I had them order the books and send them in to me. I got as many of those books as I could and just studied them like scripture. There was someone [on the inside] who I could have look up screenplays. Prisons don't often recycle. So I would go around and collect paper [and] I had somebody print me screenplays on it. So I got lots of screenplays printed and studied the hell out of them.
One of the screenwriting books that I was studying was written by Dave Trottier. I'm reading his book one day, The Screenwriter's Bible, and I come to a particular page where he says, the reader wants to know that you're not just gonna write one great script and retire to a farm in Vermont. At the time I'm living in a prison that's built on a farm in Vermont. So I write [Trottier] a letter and say, "This is who I am and this is what I'm doing, and I assure you I'm not gonna retire on this farm in Vermont." And he wrote me back!
That was huge, because at the time, I'm not in college yet. I'm still in prison. I don't have a shot yet. And now this screenwriter writes me back at a critical moment. So I kept writing and studying, and it ended up leading me all the way to film school. Now I'm producing my first films. One script is now in the finals for the PAGE International Screenwriting Awards.
Can you talk about your involvement with criminal-justice reform?
The best way that I can help with criminal justice reform is by continuing to succeed and be an example to challenge people's perceptions on both sides of the line. While I believe that reform needs to happen, I also believe that individuals need to challenge themselves to make better decisions and be responsible directors of their own lives.
What do you think is important for people to know about prison, particularly people who have never been there?
You'd be surprised how many people are there who don't belong there. Not saying I was one of them, but you'd be surprised.