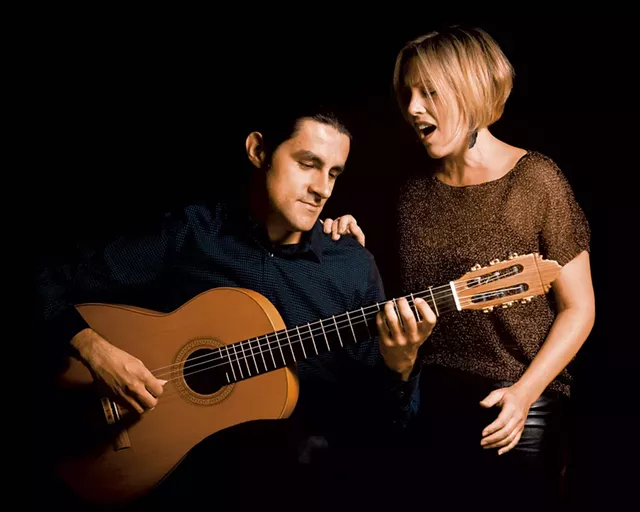 Courtesy Of Sarah Cullins
8 Cuerdas (Sarah Cullins and Daniel Gaviria)
Any given weekend in Vermont offers a slew of classical music performances, no matter how carefully the musicians try to schedule around one another. This weekend's are particularly diverse — especially if you like singing. They range from an intimate soprano-and-guitar concert in a yoga studio to a 70-person choir singing one of Leonard Bernstein's cheeriest choral works to the winning operatic soloists of the inaugural Vermont Vocal Competition.
Soprano Sarah Cullins and Daniel Gaviria, a classically trained guitarist, form the unusual married duo of 8 Cuerdas. (Read that as "ocho cuerdas," or eight strings, referring to the sum of his six guitar strings and her two vocal cords.) While opera singers like Cullins are trained to project over a 100-member orchestra, classical guitar is a comparatively quiet affair, so the pair tends to perform in smaller spaces "where we don't have to mic Daniel," Cullins explains.
They'll try a new venue this Friday: Swan Dojo, a yoga and dance studio with a small stage, located above Vermont Violins on Burlington's Church Street. A Saturday concert follows in the chamber-music-proportioned second-floor room of the Richmond Free Library, and on Sunday the couple performs at the Champlain Valley Unitarian Universalist Society in Middlebury.
All three concerts feature the Latin American repertoire — from Puerto Rico, Venezuela and Brazil — for which the married duo has become known. Gaviria is from Colombia, where the two met. But each concert promises a different focus: on the music of Buenos Aires in Burlington; on that of Barcelona in Richmond; and, in Middlebury, on Spanish guitar duos, with Gaviria and guitarist Francis Andrea.
At Swan Dojo, audiences will hear two Argentinian composers — tango-inspired Astor Piazzolla and folk-inspired Carlos Guastavino — who were crossover artists before such a thing existed, notes Cullins. "Now, audiences are much more open," she says. And the sounds of flamenco, tango and Latin jazz will bring welcome warmth just as temperatures start to drop.
Bernstein, who would have turned 100 in August, was not unaware of Latin American tunes. Audiences who attend the Burlington Choral Society's performance of his Chichester Psalms may even catch some of the lyrical and harmonic language of West Side Story in the Hebrew-language work for chorus and (in this case) countertenor accompanied by organ, harp and percussion.
Bernstein centenary celebrations are everywhere — except, oddly, in Vermont. Apart from a phenomenal performance of the 1957 musical at the Weston Playhouse this past summer and a night of Bernstein songs in October from the brand-new Dartmouth Opera Laboratory, BCS' concert may be local audiences' only chance to hear a major work by this diversely talented composer-conductor.
BCS director Richard Riley, who recalls interviewing Bernstein on the grass at the Tanglewood Music Center just before the composer's last appearance there, describes Chichester Psalms (1965) as "remarkably positive in its mood." Bernstein said so himself in a poem, Riley adds, reading the verses aloud. (Bernstein: It's "tonal and tuneful and somewhat square.") That may have surprised even him: The composer had recently finished his much darker third symphony, "Kaddish," and would go on to write a tensely dramatic Catholic mass. (Really, what didn't he do?)
Chichester will give audiences a chance to hear the soaring soloist voices of Juilliard-trained countertenor Eric Jurenas and soprano Mary Bonhag, who co-runs Scrag Mountain Music in central Vermont. The soloists will also feature in the program's other "birthday odes": Henry Purcell's for Queen Mary's birthday in 1694 and George Friedrich Handel's honoring Queen Anne in 1713. A tip from Riley, who trained as a countertenor at New England Conservatory of Music: "The countertenor voice is an extension of ... the male falsetto range. You would not confuse a countertenor with a soprano. The range is a female alto's."
Courtesy Of Berger Artist Management
Josh Collier
All voice parts will be showcased in the final round — an evening concert — of the very first Vermont Vocal Competition. The tireless Joshua Collier, founder and director of Barn Opera in Brandon, organized the event to sort out the region's best emerging vocal talent.
Collier, a tenor, invited applicants within a 250-mile radius of Brandon to submit audio files. More than 100 applied, and an anonymous panel of judges whittled the group down to 40. Thirty-seven will make it to a preliminary round on Saturday morning at Brandon Town Hall.
There, a trio of judges will hear each contestant sing for seven minutes: Lynn Craver, founding member and artistic director of Opera Ithaca; Nicolas Giusti, the conductor of Utah Festival Opera, who will conduct Barn Opera's La Bohème in December; and Vermont's own Doug Anderson, cofounder and musical director of the Opera Company of Middlebury. They will narrow the pool to 12 to 14 singers; the evening's program goes to print at 4 p.m., and the doors will open for a 7 p.m. concert. Each singer will perform one aria, accompanied by South Burlington pianist Claire Black on Collier's own piano, carted to the hall for the occasion.
Expect to hear "some Puccini, some Verdi, some Sondheim and Bernstein, lots and lots of high notes, and some serious vocal pyrotechnics," Collier says. The winner gets $500, the runner-up gets $300, and audiences will fill out a voting card to decide who's earned the audience participation award of $100. Everyone will benefit when Barn Opera produces an opera of the winner's choice, starring that winner, in 2020.