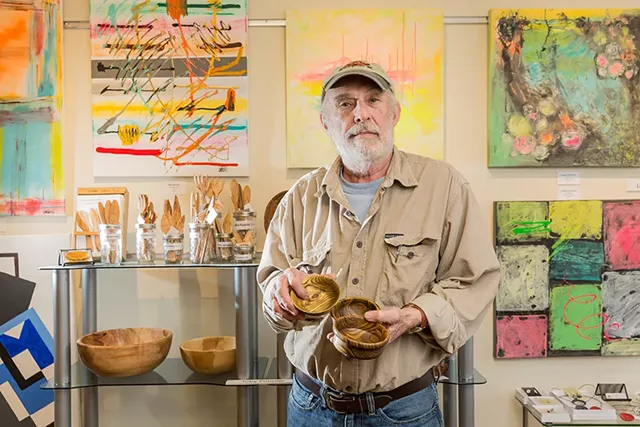 Oliver Parini
Toby Fulwiler
Sumac is ubiquitous in Vermont — specifically, staghorn sumac, or Rhus typhina for the botanically inclined. The staghorn has a semitropical appearance, and its frond-like leaves turn a fiery red in the fall. Its younger shoots have a soft, velvety bark, and its clusters of furry berries reportedly can be used to make tea.
Despite these attributes, Vermonters tend to take this native species for granted or even consider it a nuisance, given its rhizomatic reproduction and prolific formation of colonies. One exception is Toby Fulwiler of Fairfield. He's found an unexpected way to make use of sumac: by turning it into bowls.
"People are surprised that sumac has some worth," Fulwiler said during a recent interview at the Artist in Residence gallery in St. Albans. The proprietor of Fairfield Farm Bowls, he is one of AIR's three featured artists this month, and his wares line the window of the brand-new Main Street location of the cooperative, artist-run space. Fulwiler spoke with Seven Days as he sanded wooden utensils over a cardboard strawberry tray.
Much of his inventory, he said, is made of more common woods, including birch, ash and a variety of maples. But his smaller sumac vessels, generally three to four inches in diameter, sell "actually pretty well," despite not being made of a valuable wood such as bird's-eye maple.
In the early days of his Etsy store, in 2009, Fulwiler considered labeling his inventory "bowls from unwanted wood." What the staghorn lacks in market value, though, it may make up for in color. Fulwiler's sumac vessels are a distinctive yellow-green. "There's no other Vermont wood with that color," he said. "That's what makes sumac really unique."
Among his current AIR inventory are two tumbler-esque vessels priced at $29 apiece. Each bears a kaleidoscopic pattern of concentric circles emanating from the sumac tree's pith, or center. Turned bowls do not usually include the pith, Fulwiler noted, but the sumac's small size necessitates flexibility. He said his largest sumac piece to date, turned from wood given to him by a neighbor, measured about seven inches in diameter. Fulwiler priced that piece at about $75.
The woodworker moved to Vermont from the Midwest in 1983 to take a job teaching English at the University of Vermont. He retired in 2002. "This is what retired English professors do," Fulwiler said with a laugh. "We pick up chisels." He participates in "eight or nine" regional craft and maker shows a year.
Much of Fulwiler's wood comes from his 92-acre farmland, but his local reputation has helped lead him to other sources. During his interview with Seven Days at AIR, gallery vice president Corliss Blakely chimed in, "He's very well-known." She plans to cut down a lilac tree on her property so Fulwiler can turn it, she said. They both lauded the coveted shocks of purple that lilac wood can reveal.
Fulwiler also fancies working with burls — knotty tree growths that can be turned and polished into appealing sculptural forms. He has occasionally bought burls from locals who know about his avocation, he said, and is open to trades, such as giving a wood donor a bowl in exchange.
In an article called "Turning Wood for Common Good," published in 2009 in the American Woodturner journal, Fulwiler wrote, "Turning bowls from native species affirms, for me, the special value of all trees for food, shelter, service, oxygen and beauty."
By transforming a common tree such as sumac into an uncommon object, Fulwiler seems to be demonstrating that he really does value all trees. Even the pesky ones.