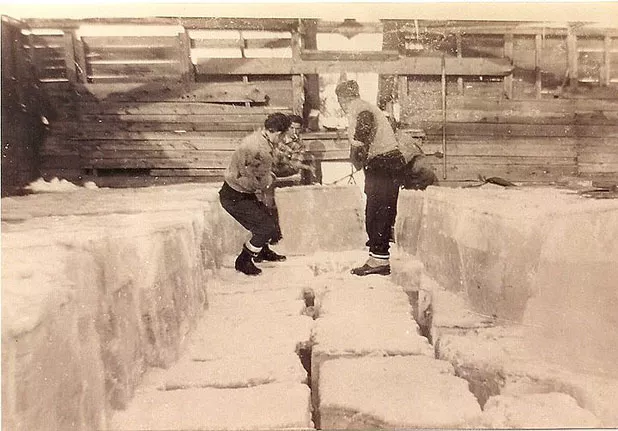 Handys working in a St. Johnsbury ice house
The bells of St. Mary's tolled slowly as mourners poured down the steps of the red brick Catholic church on the hill above downtown St. Albans. Hundreds of people had traveled from around Vermont to say goodbye to Lawrence Handy, a prominent St. Albans businessman, civic leader, and political mover and shaker, who died April 1 at the age of 83.
Numerous dignitaries — including Gov. Peter Shumlin, Rep. Peter Welch, former governor Phil Hoff, Franklin County State's Attorney Jim Hughes, and Franklin County Sheriff Robert Norris — came to pay their respects on a sunny Thursday afternoon, a testament to the admiration and influence Larry Handy commanded.
As Hoff, 88, walked cautiously down the church steps, he remembered the role Larry Handy and his wife, Lorraine, played in his historic 1962 gubernatorial victory. The Handys' vast family and business connections were vital, Hoff said, to his winning Franklin County and becoming Vermont's first Democratic governor in 108 years.
"They were the essence of St. Albans," Hoff said about the family, with whom he often campaigned. "Before I got through up here, I'd met everybody in the county."
In gratitude, Hoff appointed Handy to the Vermont Public Service Board, one of many boards and commissions on which he served.
The long line of mourners crossed Fairfield Street to the St. Mary's parish house, which overlooks the Handy Toyota dealership founded in 1971 by Larry's brother and lifelong business partner, Floyd. For many years, Floyd Handy represented St. Albans in the Vermont House, and he also served as the town's mayor in the 1980s.
Inside the parish house, the mood felt more like a political fundraiser than a funeral. While gray-haired church ladies laid out platters of cold cuts, ziti and deviled eggs, Shumlin pressed the flesh and offered his condolences to the dozens of Handy relatives in the room.
"I met Larry the minute I got involved in state politics," Shumlin said, after the crowd had thinned out. Once he became governor, Shumlin said, he called Handy "every three or four months" to talk about various policy matters. "He knew more about the history of the Public Service Board and energy policy than anyone else I can think of," the governor said.
"The Handys," added Welch, "are the closest thing to royalty in Franklin County."
Or in Vermont, for that matter. These days, the Handy name is so prevalent in the state that one could mistakenly assume some of them are not even related. In fact, the Handys number in the hundreds, if not thousands, and their extended clan also includes Vermonters named Hendy, Hindi, Azur, Izur and Cody, among others. Nearly all share a common ancestry traceable to a few Lebanese immigrants who came to Vermont at the turn of the 20th century.
Today, so many businesses and properties in Vermont are owned by a Handy that, once you start looking for them, they seem to be everywhere. They own car and truck dealerships in St. Albans and Montpelier; restaurants in Burlington and South Burlington; movie theaters, drive-ins, campgrounds and strip malls in St. Albans and Colchester; hotels, motels and apartment buildings in Essex, Fairfax and Shelburne; farm and construction-equipment dealerships in Middlebury, Plattsburgh and Malone, N.Y.; and gas stations, liquor stores and convenience stores throughout Chittenden County and beyond.
Burlington's Handy Court? A Handy had a hand in that, too.
"My family tree, when I just look at my dad's side of the family, is about 2300 people," noted John Handy, 52, co-owner of the Essex Agency, an insurance company in Essex Junction. With help from his cousins, Joanne Handy Polanshek (Larry's daughter) and Karen Handy Luneau (Floyd's daughter), John has compiled a Handy family tree that's 84 pages long. His father had more than 90 first cousins and 400 second cousins.
In August 2010, Polanshek organized a family reunion — the first in three decades — at Button Bay State Park in Ferrisburgh. More than 350 relatives showed up, from as far away as California, "and we barely scratched the surface on those who live in Vermont," John recalled.
How did the Handys become such a prosperous and influential family? Their story isn't too different from those of countless immigrants who have doggedly pursued the American Dream.
But for the Handys, there are some universal themes: Everybody works, women and men are equal partners, and families pool their resources to share the wealth. As Luneau's grandfather often told her, "We all eat out of the same tunjedo" — Arabic for kettle.
The ElHindi Homestead in Wadi Quannubine. Photo courtesy Joanne Polanshek.
Holy Hindi Handy
The day after her father's funeral, Polanshek, 51, sat down to talk about her lineage. As the unofficial Handy family genealogist, she's spent incalculable hours studying ancestry websites in search of obscure factoids about her kin. In her spacious St. Albans home, she's compiled several dense three-ring binders of old photos, historical documents and memorabilia, including birth certificates, ship manifests, immigration papers and the like.
The original Handy clan were Maronite Christians from a rugged, mountainous village called Wadi Qannubine, in Lebanon's Qadisha Valley. Also known as "the Valley of the Saints," the region, now a UNESCO World Heritage site, is where some believe Jesus turned water into wine.
The origins of the Handy name are murky. At one time it was Hindi or ElHindi, and even earlier, Hendiyeh, which in Arabic can be translated as "natives" or "Indians." According to one theory, ancestors of the Handys migrated from India to what's now Lebanon. By the late 1800s, religious persecution in the region caused some Maronite Christians to flee.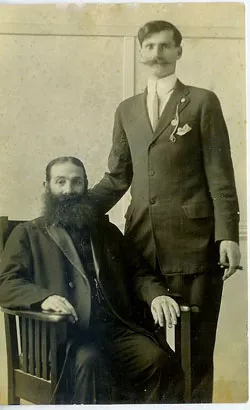 Almost all the Vermont Handys can trace their roots to Souleiman "Solomon" Elhindi, who arrived at Ellis Island on December 11, 1896, with his nephew, Peter. Solomon, Polanshek notes, shouldn't be confused with Slimain "Simon" Handy, who arrived in 1965, became a patriarch to many Vermont Handys, and for whom all the Simon's convenience stores are named.
Indeed, the Handy family tree is tricky to navigate due to clan customs of recyling names — Peter, Paul, John, Joseph, Earl, Elias, Anthony, etc. — and familial intermarriage. Simply put, many of the early Handys who came to Vermont were in arranged marriages, typically with their own cousins.
Photo at right: Rev. Elias ElHindi and Solomon Hindi, from whom most Vermont Handys are descended.
So why are some Handy, others Hendy and still others Hindi?
"Whatever they wrote down is what you were," Luneau said of the Ellis Island introduction to the United States. "You're sure as heck not going to argue with anybody who has the power to throw you in detention."
Why the Handys settled in Vermont is also a mystery. Luneau has heard one theory suggesting that, due to the huge influx of "olive-skinned, funny-talking foreigners" arriving in New York City in the late 1800s, many were loaded onto trains and shipped to the hinterlands.
"Is that why we ended up in Vermont? I don't know," Luneau admitted. "But I can't think of another reason why Barton would be a destination."
Vermont's first Handys settled in the Barton-Newport area. Initially, they worked as "back peddlers," wandering from town to town selling wares off their backs and out of suitcases. Eventually, they secured work on the railroads, which, in the days before refrigeration, transported ice harvested from lakes and ponds.
In 1913, Solomon Handy and his nephew, Peter, pooled their resources and founded the Newport Ice Company. Peter, who married Solomon's daughter, Mamie, expanded the operation and, in the process, made enough money to bring even more family members over from the old country.
Eventually, Peter and his kin were operating icehouses and coal companies in Barre, Barton, Burlington, Lyndonville, Montpelier, Northfield, St. Johnsbury, Williamstown and Winooski. By the 1930s, Peter Handy was known as "the ice king of Vermont."
Burlington real estate mogul and philanthropist Tony Pomerleau, 95, may be one of the last living Vermonters who knew the "ice king" personally. Pomerleau, who grew up in Newport, remembers that his parents would leave a sign in their front window indicating when the family needed more ice.
A worker would then yell up to see if they needed a 10-, 15- or 25-cent block of ice — "Twenty-five cents, that was a big block of ice!" Pomerleau exclaimed — and then haul it up two or three flights of stairs on his back.
"I have to tell you, I always admired the Handy family," Pomerleau added. "They just worked their fannies off!"
When refrigeration finally arrived in Vermont, they were ready. By the early 1950s, Peter Handy and his kin had diversified into more modern and lucrative enterprises, converting ice carts into trucking firms, farm-equipment sales, auto dealerships and, finally, real estate.
A few Handys made their fortunes selling something even more ephemeral than ice: sound and light.
Rise of the Sunset
Peter Handy, owner of the Sunset Drive-In in Colchester, likes to say he was born into the movie business and it's the only life he's ever known or wanted.
Has it been a good life?
Handy paused to think a moment, then smiled broadly and said, "When the drive-in is open? Yes!" It doesn't hurt that the 58-year-old has straight, dark hair, a '70s-style mustache and bears a striking resemblance to actor Javier Bardem.
Handy sat down for an interview at his house on Porters Point Road in Colchester, which is directly next door to the drive-in he's owned and operated for more than 30 years. Visible from his kitchen are all four screens, as well as the Adirondacks and the Winooski River, which runs through his backyard.
Peter's parents, Ernest and Dorothy Handy, bought the drive-in from a developer in 1948 and ran it until their retirement in 1979. Like most Handys of their generation, they also got started in the ice business, then moved on to restaurants and real estate before becoming theater moguls.
In addition to the Sunset, Peter's parents owned the Rutland Drive-In, the Fort Warren Drive-in in Castleton and the State Theatre on Burlington's Bank Street. They operated the State from 1942 until it burned down in 1975. But Peter still owns that property, which later became a McDonald's and is now the site of the Farmhouse Tap & Grill.
Peter was just 8 years old when he began working at the drive-in with his brother and two sisters and "loved every bit of it," he said. In those days, projectors were lit by carbon arc lamps, he explained, which were similar to welding torches and needed to be tended frequently.
This was also the era before radio sound, when drive-in theatergoers parked beside speakers mounted on poles. During the day, it was Peter's job to walk around and listen to every speaker — all 750 of them — and swap out the broken ones.
Late one Saturday night when Peter was 11, he was working the front booth with his brother, Ricky, and cousin, Anthony. A driver pulled up, slammed into the side of the booth and stuck a .45 revolver in Peter's face.
The gunman, who wore a nylon stocking over his head, didn't say a word, Peter remembered, but just motioned to hand over the contents of the cash register. Like a scene from some action-adventure film, Peter lied and told him he'd already made a cash drop for the night and handed over just $40 from the drawer — not the hundreds he had in bundles beneath the counter. The gunman grabbed the $40 and sped off.
"My father was ecstatic," Peter recalled with pride, as though it happened yesterday. In a faux Lebanese accent, he imitated his dad's reaction: "God bless my son Peter!'"
Peter Handy's nostalgia for the good old days of drive-in theaters is evident in his latest business enterprise: a 12-room motel under construction next to the drive-in. Intended to serve drive-in aficionados, he says the Starlight Inn is so named as "a tribute to all the drive-in theaters we lost since their heyday."
Peter Handy doesn't know whether either of his daughters will take over the business when he retires — "They don't have the love for it like I do," he admitted sadly. But one way or another, the property will likely stay in Handy hands. Within walking distance of the drive-in, his cousin Gabe owns the Mobil station and the strip mall across the street from it.
And a residential housing development under construction on nearby Church Road? That's Gabe's, too.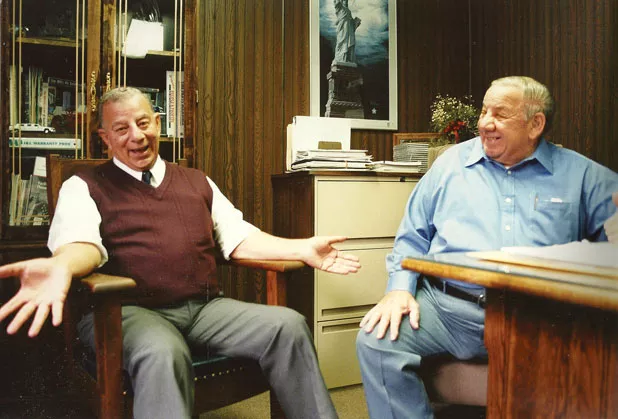 Larry and Floyd Handy. Photo courtesy of Joanne Polanshek.
The Handy Way: Programmed to Work
Gabe Handy's office is behind an unmarked door on the side of the Days Inn on Route 15 in Colchester. During a recent visit, he had to clear away a pile of construction blueprints to make room for a reporter.
Right across from St. Michael's College, the Days Inn and Handys Extended Stay Suites next door are just two of Gabe's many business enterprises. He runs Handy Hotels and Rental with his wife, Diane, two kids and son-in-law. Together, they own and operate four hotels and more than 300 apartments in Chittenden County. That doesn't include their rental properties in Fairfax and St. Albans.
In Colchester, the family also owns the land where the Burger King, Motel 6 and Junior's are located. In Essex, Gabe is now expanding the Handy Suites from 54 to 95 rooms. And further east on Route 15, he's about to complete a 36-unit apartment building. Just two weeks after it opened, the units are almost all leased.
"I love what I'm doing," said Gabe, who's 61 and has the thick, wrinkled hands of a man accustomed to hard labor. "The wheeling and dealing, the buying, being out there with contractors. I love it!"
Among the Handys, Gabe is a relative newcomer to Vermont; he was one of the last to leave Lebanon. He arrived in Montréal, along with his mother and five siblings — Charlie, Joe, Joan, Tony and Laura — two weeks before Christmas, 1968. Gabe was 16 and barely spoke English.
His father, Slimain, had come three years earlier and found work in the growing auto empire of his brother, Paul Handy. What started as a small car-repair shop on St. Paul Street has grown into the multimillion-dollar Handy Family Enterprises, which also operates motels, convenience stores and liquor distributors.
"I get off the plane. I never saw snow in my life," Gabe recalled, his Lebanese accent still intact. "There was three feet of snow and none of us was dressed for it. We had spring clothes. We were freezing!"
The family crossed the border and arrived in Burlington at about midnight on a Saturday night.
"Monday morning I was at the gas station pumping gas with my dad," Gabe said. "That's the Handy way."
While Gabe's younger brothers attended Christ the King School, Gabe went to work from 8 a.m. to 5 p.m. at his father's gas station on the corner of Bank Street and South Winooski Avenue — one of two the family owns in downtown Burlington. Gabe's 87-year-old mother, Mountaha, still works in one of them.
After work at the gas station, Gabe would run home, wash up and go to work at his Uncle Ernie and Aunt Dot's theater on Bank Street, he related. Once the theater closed for the night, Gabe would often plow driveways and parking lots until morning.
"When I was 16, I was lucky if I slept three hours a night," he recalled. Today, he and his wife live comfortably in a house on Malletts Bay — more comfortably than either could ever have imagined. Yet he still puts in six or even seven days of work each week.
Recently, while working on a nearby construction project, Gabe said he had a conflict with one of his contractors.
"My son looked at me and said, 'Why do you keep doing this, Dad? Why don't you just give it up?'" Gabe said. "I looked at him and said, 'Count how many people are working here. There are over 60 people employed on this site because of me. I create jobs."
So when will Gabe Handy retire?
"Never!" he vowed. "I can't. I need something to do. I'll tell you, we're programmed to work."
Earl Handy. Photo by Matthew Thorsen.
The Earl of Lunch
There's at least one other Handy who works as hard as Gabe: the 38-year-old owner of Handy's Lunch in Burlington. "It's in our genetics," said proprietor Earl Handy, who's at work every day by 6:30 a.m. — 28 days a month. "That's one thing about our family. We're worker bees."
If the diner is open, as it is seven days a week, it's likely that Earl is holding court behind the horseshoe-shaped counter that seats 25. During a recent lunch hour, with more than half the stools occupied, he was chatting with a couple of regulars about the New York Yankees, his team. Handy's Lunch has enough sports memorabilia on the walls to satisfy most team loyalties, but the Yankees are one of the few subjects on which Earl takes a firm partisan position.
When a patron in his mid-twenties walked in, Earl stopped to greet him by guessing the man's order. "Cheeseburger special and a Dr. Pepper?" he suggested. "Are tots OK?"
The man nodded and grabbed a seat as Earl called in the order to the cook. Working quietly in a corner was Earl's mom, Jan, whom most regulars just call "Mrs. Handy." A small woman with thick glasses and a ready smile, she's been a constant fixture at Handy's Lunch since she married Earl's dad, Bob, in 1963.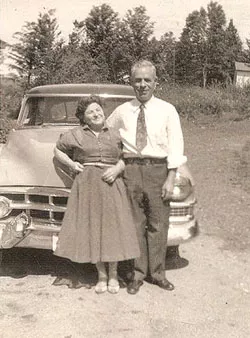 In many respects, Handy's Lunch has changed little since Earl's Jiddo and Sittu — his grandparents, Earl and Flora Handy (pictured at right) — opened the diner and grocery at the corner of Maple and South Champlain streets in 1945.
"Some new walls, some new counters and equipment. Otherwise, the bones of the place are the same," confirmed Earl.
But in 1958, Bob Handy shook things up a bit. While his parents were out of town visiting relatives, he got rid of the grocery side of the business and installed the classic counter that is still there today. When Bob's parents got home, they instantly fired him — then rehired him the next day with the admonishment, "You broke it, you fix it."
Bob's "fix" proved an instant success, and over the years he attempted other improvements. From 1965 to '68, Bob and Jan also operated a steakhouse next door — the sign for it still hangs over one doorway. Meals were hearty, affordable and thus popular among the predominantly immigrant and working-class clientele from the neighborhood.
"You could get a T-bone steak, a baked potato, a salad and your own individual loaf of bread for a $1.89, or a Delmonte steak for $1.69," Jan remembered. Sometimes, people even asked if she'd bake them a birthday cake. "It was fun, but, eventually, it just got to be too much," she said.
Earl, the youngest of four siblings and the only boy, began helping around the diner at age 8; by 16 he was driving his dad's Buick to St. Albans for oil changes "at Uncle Larry's place." But during the summer, Earl admitted, he tried to find work elsewhere. Why?
"Ask any of my cousins. Nobody wanted to work in the family business," Earl said with a grin. "You had to work for dad! Those Lebanese men are tough!"
Earl had planned to leave Burlington after graduating from Champlain College in May 1996 with a degree in communications. He wanted to pursue a career in radio. But life dealt him a different hand. In August of that year, Bob Handy died of pancreatic cancer. Earl has been running the family diner ever since.
Like his father, the younger Handy excels in keeping one foot rooted in the past and the other in the future. He inherited his father's old-school knack for remembering his customers and their orders. But he also recognizes when it's time to change things up.
Soon after taking over the restaurant, Earl polled his customers to see whether they preferred it stay open for dinner or serve brunch on Sunday. Nearly all chose the latter. These days, the 38-year-old Handy spends about four hours a day on social media sites, including Facebook, Twitter, Instagram, Vine and FourSquare. He does it all from an iPhone that sports a Boar's Head meats logo.
"I like to say I'm the face of Handy's. I run the day-to-day," said Earl. But he credits his wife, Alexis, for being the "creative brains" behind recent developments, such as catering office meetings and providing box lunches to local sports teams when they're on the road. The couple has 5-year-old twins, Nicholas and Genevieve.
Earl's got some of Uncle Larry in him, too. When local and state politicians run for office, they flock to his place. Last November, both Bill Sorrell and T.J. Donovan — the latter attended school with Earl — campaigned at Handy's Lunch during their 2012 Democratic primary race for attorney general. So did mayoral candidates Republican Kurt Wright and Democrat Miro Weinberger, who seemed to alternate mornings at the Handy's counter.
Unlike the politicians who attended Larry Handy's funeral, Earl couldn't make it. He had a restaurant to run.
"For me there's this legacy that pushes me forward to continue and fight every day to keep the doors open," Earl said. He thinks Uncle Larry would understand. It's the Handy way.
INTERACTIVE: Visualize the spread of the Handy empire with this timeline map.
The original print version of this article was titled "Handyland"