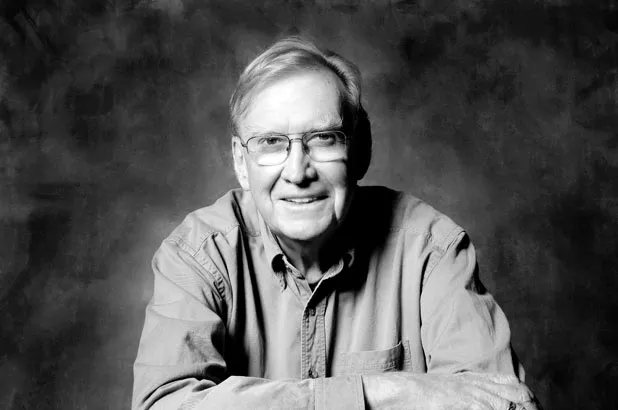 Jim Rooney is seated at a round wooden table in an alcove off the main room of his home in Sharon, Vt. His hands are folded, his long, spindly fingers resting gently on the table's well-worn surface. Occasionally, his sharp blue eyes drift beyond the row of large picture windows, where a snowy pasture rolls down to the edge of the Downer State Forest. A faint musk of wood smoke hangs in the air.
Rooney, 75, is not a household name, but he should be. He has produced, performed with, promoted and written about some of the best-known musicians in this country. Think Muddy Waters. Bill Monroe. Nanci Griffith. John Prine. And so many more.
It's no surprise that Rooney has great stories to tell, and he's in the middle of one now. "And that's when they started burning the chairs," he picks up, a conspiratorial smile deeply creasing the corners of his eyes and mouth. He's recalling an infamous incident at the 1969 Newport Jazz Festival. It wasn't as iconic a moment as Bob Dylan going electric at the Newport Folk Festival in '63 — though Rooney could tell stories about that, too. But the jazz incident was historic and nearly led to the demise of both festivals.
In the late 1960s, Rooney was the talent coordinator for the Newport Folk Festival. He also managed the jazz festival under famed promoter George Wein, who produced both events and would eventually found other jazz festivals around the country, including the New Orleans Jazz & Heritage Festival and the JVC Jazz Festival in New York City.
According to Rooney, Wein had grown increasingly frustrated with the jazz festival's meager attendance numbers, especially compared with those of its more popular folkie twin. So Wein did what any reasonable man might under the circumstances: He hired Led Zeppelin.
That '69 jazz fest was a groundbreaking and controversial experiment in genre comingling. The liberal concept of "jazz" applied by most modern fests is like a Dixieland cruise by comparison. In addition to Zep, hard-charging Brit rockers in the middle of their first American tour, the lineup included Blood, Sweat & Tears, Jethro Tull, Jeff Beck, Frank Zappa, James Brown, and Sly and the Family Stone. And this was in addition to such famed hepcats as Miles Davis, Dave Brubeck and Herbie Hancock.
Suffice it to say, Wein's lineup drew a crowd.
"At that time, when you bought a ticket you bought a seat," Rooney explains. Those seats were wooden folding chairs arranged in rows in front of the stage — some 18,000 of them. "But about 70,000 people showed up," he says.
Estimates vary but generally corroborate Rooney's figure, meaning that the total attendance for the three-day festival exceeded capacity by tens of thousands. The overflow crowd gathered just beyond a wooden fence that marked the edge of the grounds.
(This was long before the festival moved in 1981 to its current home at Fort Adams State Park. From '65 to '71 it was held at "Festival Field," which was owned by a fisherman who used it to dry his nets. That field is now an apartment complex.)
"There were all these people outside the fence, but we had a really big sound system. So we cranked it up," Rooney recalls. "That was the important thing, that everybody be able to hear. We figured, 'Whatever. Let them enjoy it.'"
Rooney points out that Newport, R.I., is, in fact, an island. So even in early July, it gets chilly at night, especially when the fog rolls in.
"People were starting to get cold," he says. "And there was nowhere for them to go."
As the temperature dropped that first night, the huddled masses began pulling slats from the fence to use for firewood. By the second day, he says, the fence was practically gone. "But there were those wooden seats…"
By Sunday, the festival's closing day, Rooney says the place was "a smoldering ruin." Much as the town of Bethel, N.Y., would be in the aftermath of the Woodstock Festival later that summer, Newport was in an uproar — particularly as the folk fest loomed two weeks later.
Threatening to cancel the folk fest, the town demanded that Wein build a chain-link fence — with a $40,000 price tag — and spring for bulked-up security. According to Rooney, that meant hiring every off-duty cop in the state at time-and-a-half.
"It bankrupted us," he says. "By the end of that summer, no town in America wanted to hear the word 'festival.'"
As with most of his tales, Rooney is not a starring figure in the story of the near-death experience of Newport's famous festivals. But he was an integral player, just as he was during the 1960s folk revival in Cambridge, Mass. Sure, folkie icons such as Joan Baez and Tom Rush — and, in fleeting instances, that Dylan fella — are more popularly associated with the era. But Rooney was there, too, just offstage — and often literally on it, managing the scene's epicenter, Club 47.
And Rooney was there in the early days of Albert Grossman's Bearsville Sound Studios in Woodstock, N.Y., in the 1970s. No, he doesn't spring to mind like the artists who helped put the famed studio on the map: Van Morrison, the Band, Todd Rundgren — and Dylan. But Rooney was the man behind the curtain, managing the studio during its formative years.
In the late '70s through the '90s, Rooney was in Nashville. There, under the tutelage of legendary Sun Records songwriter and producer "Cowboy" Jack Clement, he became a highly sought-after producer and engineer. You probably know more about folk artists John Prine, Peter Rowan, Iris DeMent and Tom Paxton, for whom Rooney produced Grammy-nominated albums. Or about Nanci Griffith, for whom he produced a Grammy-winning album. But all these artists would likely tell you that Rooney was indispensable to their success. Just as country crooners Garth Brooks, Trisha Yearwood, Vince Gill and others would concede they might be a few chart-toppers lighter without songs from Rooney's old publishing company, the Forerunner Music Group.
Countless others have employed Rooney's services over the years, including folks such as Townes van Zandt, Ian Tyson, Hal Ketchum and Alison Krauss.
With a career spanning more than half a century, Jim Rooney is a walking time capsule of American music. And he tells some great stories. But his best one might be his own.
Rooney grew up in the Boston suburb of Dedham during the height of the Cold War in the 1950s. He paints a drab portrait of Dwight Eisenhower's America, an era when the specter of McCarthyism banished singers such as Pete Seeger from the airwaves for expressing subversive political ideas — such as wondering where all the flowers went.
"The 1950s were not a very interesting time to be a teenager," Rooney says. "It was a restrictive society that we were growing up in … But then a couple of things happened."
Namely, the discovery of rhythm and blues and so-called "hillbilly music" by suburban — read: white, middle-class — audiences.
"The music I was supposed to be listening to … was so vapid and uninteresting," Rooney says. "But this other stuff was just jumping out of the radio at me."
Rooney fell in love with the rambling country strains of Hank Williams and Lefty Frizzell and the more bombastic R&B shake of Fats Domino and Little Richard.
"People all over the country were having the same experience. Though there weren't lots of us. We were under the radar," Rooney says. "But we were all following this little path, searching out records. It was like your own very personal quest."
At a certain point, those quests converged in pockets all around the country, in places like Berkeley, Calif., Greenwich Village in New York City and Cambridge, Mass.
"This fermentation starting happening when we all got together," Rooney says.
In Cambridge, blues singer Eric von Schmidt helped cultivate that fermentation. He and Rooney would later coauthor a book about the 1960s Cambridge folk scene, Baby, Let Me Follow You Down.
Von Schmidt's quest took him to the Library of Congress, where he unearthed dusty blues and country recordings from the 1920s and '30s by the likes of the Carter Family, Mississippi John Hurt and Doc Boggs.
"These were raw recordings," says Rooney. "It was imperfect, but the energy jumps at you. … It made our suburban life seem very, very tame."
Those records would have a lifelong impact on him. Rooney and his friends began imitating what they heard, emboldened by both the energy and the simplicity of the music.
"It was accessible stuff," he says. "You could pick up a banjo or a guitar and just play it."
Various styles began to converge as players brought their own newfound interests to the mix: folk, bluegrass, jug band, blues. Eventually, Rooney says, a few people began writing songs, taking cues from Dylan, Phil Ochs and others, and coffeehouse scenes exploded in cities around the country — including at Club 47 in Cambridge.
"And that's when Joan Baez came in," Rooney says.
Baez's near-immediate success opened the door for others to flourish on the Club 47 stage. She had an "arresting" voice, Rooney says. And it didn't hurt that she was easy on the eyes.
"Every guy fell in love with her," he says. "And that voice … you couldn't deny it."
Soon, more Boston artists began to call the Club 47 stage home, among them von Schmidt, Tom Rush, Geoff and Maria Muldaur, and Rooney himself, with a budding banjo player named Bill Keith.
"That was a pretty exciting time," says Keith in a recent phone conversation from his shop, Beacon Banjo Company, in Woodstock, N.Y.
Keith, 74, is now widely acknowledged as one of the finest banjo players in history, credited with introducing a progressive variant of Earl Scruggs' classic three-finger style that, as Rooney puts it, "changed the way people played the banjo." Keith was a member of Bill Monroe's Blue Grass Boys, among countless later collaborations, and invented a tuning mechanism that allows players to change open tunings on the fly.
The two met while studying at Amherst College, after Keith heard Rooney playing bluegrass and country records on the school's radio station. They became fast friends and in 1962 recorded their first album together, Livin' on the Mountain, produced by Paul Rothchild, who would go on to produce records for the Doors.
Keith and Rooney would share a series of Cambridge apartments. As the folk revival bloomed and drew increasingly bigger names to the Club 47 stage, they found themselves hosts to a variety of musicians passing through town.
"Nobody ever stayed in a hotel," Keith says. "They usually stayed with us."
Those houseguests included blues great Muddy Waters — "'do rags and all," remembers Keith.
Rooney profiled Waters and Monroe through a series of lengthy interviews in his 1971 book Bossmen: Bill Monroe and Muddy Waters. In the collection, which Rooney republished last year, he explores the striking similarities between two of popular music's most influential — and seemingly quite different — greats.
"Most people would say, 'What have they got to do with each other?'" Rooney says. "But they were very similar people."
For starters, he says, they were both powerful, physically imposing men, with "an authority about them." They were notoriously challenging to work with, competitive even with their bandmates. They came from isolated, rural backgrounds that shielded them from outside influences. They had commercial success with musical styles that were, at the time, decidedly not commercial. And they crashed on Jim Rooney's couch.
But most importantly, both Monroe and Waters had a habit of employing musicians who would later leave the band to start their own groups — for example, Lester Flatt and Earl Scruggs (Monroe), and Willie Dixon (Waters). Rooney posits that the exodus eventually created two schools of popular music, as Monroe's and Waters' disciples fanned out to preach their respective gospels: bluegrass and Chicago blues, respectively.
Rooney points out that blues and bluegrass share much of the same musical DNA.
"Sam Phillips at Sun Records, his whole dream was to bring these two musics together and show that they had all these commonalities," he says. "And I think that was one of the good results of the folk revival, that it did bring all of those elements together. And those of us who were younger then have all of that in us now."
Following his days in Cambridge, Rooney spent time in New York City and managed festivals for Wein. He fell in love and got married. He and his wife moved to Woodstock to work with Grossman at Bearsville Studios. He fell out of love and got divorced. He quit Bearsville, bought an RV and roamed the country, landing in Nashville in 1976.
The qualities that made him successful earlier in his life aided him in his transformation into one of the Music City's most valued recording engineers and producers. Rooney's finely tuned ear was an obvious asset. His calm demeanor put musicians at ease during often-grueling and sometimes-contentious sessions. And his keen eye for talent unearthed diamonds in Nashville's rhinestone-studded rough — perhaps most notably Nanci Griffith.
"Who's better than Jim Rooney?" asks Griffith in a phone conversation. "He's magical. I wouldn't have a career without Jim Rooney."
Rooney produced two of the songwriter's early records in the 1980s, Once in a Very Blue Moon (1984) and The Last of the True Believers (1986), both for Vermont's Philo Records. But in '87, Griffith signed a major-label deal with MCA Records, which insisted on using in-house engineers and producers.
"That was difficult, knowing I wouldn't be moving along with her," Rooney recalls.
At the end of her MCA contract in 1991, Griffith signed with Elektra Records, a label with a solid history in folk music. Elektra allowed Griffith to choose her own producer. She chose Rooney.
"He always guided me in the right direction," Griffith explains.
The resulting album, Other Voices, Other Rooms, became Griffith's most commercially successful. Composed of songs by artists who influenced her, it features an array of marquee folk and country talent, including Bob Dylan, Emmylou Harris, Arlo Guthrie, John Hartford and Alison Krauss.
"That was a very special album," says Rooney of Other Voices. The National Academy of Recording Arts and Sciences thought so, too. Griffith won the 1993 Grammy Award for Best Contemporary Folk Album, and Rooney won for Best Production.
Another Rooney favorite is John Prine's 1999 album In Spite of Ourselves. Coincidentally, save for the title track, that record is also composed of covers. In the classic country tradition of George Jones and Tammy Wynette, or Porter Wagoner and Dolly Parton, it features duets between Prine and some of the era's best female country singers, including Harris, Lucinda Williams, Patty Loveless, Yearwood and Connie Smith.
In the middle of recording, Prine was diagnosed with throat cancer. He immediately underwent surgery and radiation treatment, which were successful. But there was a serious possibility he might never regain his full voice.
After several months, Prine met with Rooney, determined to sing again. Sitting at a kitchen table, they strummed guitars and tried to sing through some songs.
"He could sort of get some lyrics out. But then sometimes he'd open his mouth and nothing would come out," recalls Rooney. "It was extremely disconcerting."
Prine's luck would change when he was offered a small part in a Billy Bob Thornton movie, Daddy and Them. Prine penned a racy, offbeat song for the film called "In Spite of Ourselves."
"I was in tears when I heard it, because I hadn't heard John sing in over a year," Rooney says. "But I was laughing, too, because it was so funny, and it meant we were going to finish that record. And we had a title."
Prine duets with Iris DeMent on the song, which opens the record. Like Griffith, DeMent says she owes her career to Rooney.
"He was one of the first people in Nashville who was willing to give me the time of day," she says in a recent phone interview.
Rooney produced DeMent's first two records, Infamous Angel (1992) and My Life (1994), as well as a 2004 album of gospel songs, Lifeline.
"The key thing with Jim is that he knows when the performance has happened," says DeMent. "He has an excellent instinct for when you've sung the song as well as you're going to."
Rooney prefers to record live, with as little layering or tinkering as possible. He concedes that in the age of Auto-Tune, that makes him something of a relic.
"I like to work with artists that can sing live," he says. "If you put the most popular recordings of Hank Williams, Johnny Cash and Ernest Tubb through a tuner, you would come up with something that didn't sound like them. You'd lose the personalities.
"And that is what country music was all about: a personal approach to singing," he continues. "Whether it was perfect or not was irrelevant."
Rooney says he's sat in "many a barroom" next to singers who claimed to sing better than Johnny Cash.
"Maybe that's true," Rooney says he answered them. "But no one's buying your records, and everyone is buying his. So there must be something more to it than that."
DeMent concurs.
"You might have gone out of tune a little bit here or there," she says of her experiences recording with Rooney. "But that's not the important thing for Jim. He goes for the feel."
According to DeMent, part of capturing that feel, and key to a producer's role, is setting the mood in the studio. She says no one does that quite like Jim Rooney.
"He brings the church into the room for me," she says. "He switches the everyday life into something elevated. When I go to sing, I need to feel like I'm not doing the dishes or mowing the lawn. I need to feel like I'm doing something special.
"He's a deeply intelligent man," DeMent continues. "But he really cares about the music. His heart has been wrapped around it for a long, long time."
These days, Rooney spends most of his time at home in Vermont with his wife of 16 years, Carol Langstaff, who bought the house in Sharon in the 1970s. Langstaff directs the local Flock Dance Troupe, and Rooney helps out with sound design and production for performances in the area.
He plays when he can — Rooney hints at an upcoming collaboration with Vermonters Colin McCaffrey and Bob Amos — and has an ongoing gig in Nashville at the Station Inn with his band of Music City ringers, Rooney's Irregulars. Keith, who has been known to drop in on those gigs when he's in town, calls the shows Rooney's "recurring 39th birthday party." In January, the duo played a show at Club Passim — formerly Club 47 — in honor of their "50th-ish" anniversary playing together.
"It amazes me that we've been playing for so long," Rooney says.
Rooney still keeps an apartment in Nashville, and, though he's not as busy with sessions as he once was, he is currently working on a record with husband-and-wife folk duo Robin & Linda Williams. Rooney says he'd like to work and play more, but he's grateful for the opportunities he's had.
"I'd say I got my licks in," he says.
"Bossmen: Bill Munroe and Muddy Waters," by Jim Rooney, reissued 2012. JRP Books. 164 pages. $14.95.
The print version of this article was headlined "Record Time".