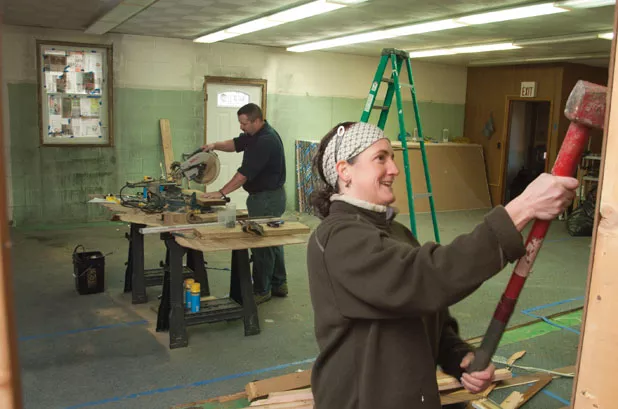 Card-carrying members of the Winooski Memorial Library still occasionally show up at the East Spring Street location, even though the library moved into its current quarters in the Champlain Mill in 2005. Mostly, though, the curious passersby are neighbors who wonder what the heck is going on in the cinderblock building where the library had been for nearly five decades.
What's going on is a top-to-bottom renovation; within a few months, the former library will become a private, one-family home, explain current owners and business partners Jake Jacobson and Jennifer Mills. They've been hard at work gutting the one-story-with-basement structure: The roof has already been replaced; energy-efficient windows and doors are in; an upscale limestone tub has been purchased for the master bath. Of course, it will be a while before this place is inhabitable, never mind bathable. But the pace is steady, and Jacobson, 39, and Mills, 40, have been keeping track of their progress on a blog recently shared with Winooski-ites on the Front Porch Forum. Mills, whose parents live on a sailboat and keep in touch through a blog, thought "this would be a neat way for family and friends, and for the people of Winooski, to follow what we're doing. There's a lot of memories here."
On a recent chilly morning, the two take a break to show a reporter around. The interior still reeks of mildew. We stand outside to talk. Just below the roofline, the ghost of "Winooski Memorial Library 1963" clings to the white wall; Jacobson and Mills removed the aluminum letters and numbers and plan to use them in the future home. A large transformer on a concrete platform looms in the small front yard. Mills, who works at the Key Bank and is also a professional gardener, says she plans to obscure the behemoth rectangle with trellises, wrought iron and plants. She envisions a patch of herbs in the brick planter in front of the bank of windows.
Jacobson, a NECI-trained former chef who has worked in various venues out of state — and in Vermont, with Dish Catering and Penny Cluse and as a personal chef — seems to have learned all the requisite building skills as well: plumbing, electricity, carpentry. These were honed after he bought a foreclosed home on North Street just blocks away. "It was a mess," he recalls.
Jacobson plans to keep the brick façade on the library but cover the cinderblock with metal siding; cedar shingles will go on the gables, and the trim will be wrapped in copper. Overall, the exterior will be retro-meets-industrial.
Inside, Jacobson continues, there's an open floor plan for the living room and the kitchen — the latter outfitted with granite and stainless counters and architectural-grade appliances. His current job at Lowe's helps: Jacobson can get quality materials at a discount. The drop ceiling is coming out, exposing a high, pitched ceiling. There will be three bedrooms and two baths, and an entertainment den downstairs. The approximate asking price: $250,000. Jacobson notes he's already had inquiries about the place.
"Winooski is becoming more of an urban living community," he surmises.
An urban-minded future resident will not mind, then, the diminutive yard, the minimal parking, the frontage on a well-traveled street. The building is snug against a driveway that serves the apartment building next door; the back is a concrete plain for tenants' cars.
But then there are the advantages: This home will be utterly unique and have a conversation-worthy history. It's a relatively affordable option in Chittenden County. It's close to downtown Winooski's bars, restaurants and coffee shop, and near a bus line to Burlington. And, not least, it's just a few blocks' walk from the Winooski Memorial Library.
The transformation of library to home can be followed at librarydwelling.blogspot.com.