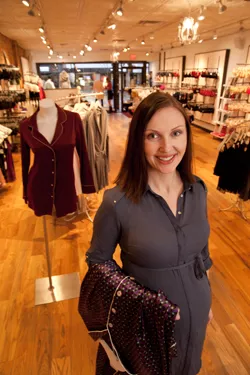 Matthew Thorsen
Andrea King
When Aristelle owner Andrea King was growing up in St. John's, Newfoundland, she certainly never imagined she'd one day have a lingerie store in Burlington, Vt., and be a bra-fitting expert. Never mind opening a second store, as she did this month, and casually envisioning more in the future.
But King is no stranger to thinking big, even if she did start out with college degrees in Russian literature and philosophy — and "no chance of a job," she jokes. That realization led her to switch gears and go into international development.
With master's degree in hand, King went to work at the World Bank in sustainable finance — "basically trying to get banks to cover things to make their clients go green," she explains — throughout Asia and Eastern Europe. Following that came a job with Canada's Department of Foreign Affairs, for which she trained embassy staffs all over Latin America. Next, she took a position with the European Bank for Reconstruction and Development in London, "which had 20 billion euros investing in Eastern Europe, Russia and central Asia," King says. "That was my favorite job."
Over the course of her global career, she worked in 22 countries and traveled to 50. While living in London, she also earned an executive MBA. "I felt I was missing the finance piece," King says. "I focused on entrepreneurship — I knew I was coming here and would want to start my own company."
Why here? How did international development lead to lingerie? Seven Days sat down with seven-months-pregnant King at a Burlington coffee shop to learn more, and to talk feminism, body issues and the proper fitting of bras.
SEVEN DAYS: You've worked all over the world—
ANDREA KING: Yes, I'm tired. I don't want to go anywhere anymore.
SD: How did you happen to come to Burlington?
AK: That's where my husband was living. I met him — Hugh Wilkinson — nine years ago. We met in Ottawa — he's Canadian, too, and also works in development. We got married while I was in London.
SD: He was here, so you left London.
AK: I didn't want to be working for a group and traveling for months at a time, because I was pregnant. I took a year off to have the baby.
SD: So this one is number two?
AK: Yes. And I've got two teenage stepdaughters. All girls!
SD: You didn't start Aristelle right away when you got here, then.
AK: I had a startup — Partner Bank — to help international companies find local businesses in developing countries. I had a list of 60 qualified small businesses.
SD: What does "qualified" mean?
AK: Qualified by me, as in "This would be a good local business to work with." Say you wanted to build a dam in Somalia. You could go to this list to choose businesses to work with. But that was boring. I don't even want to talk about it.
SD: How did you get to bras, then?
AK: My mom had retired and was working part time in a lingerie store. She told me all these amazing stories about changing women's lives. It struck a chord with me — I've always been interested in empowering women. And it sounded like fun. I thought I could combine my interest in business and making women's lives better.
SD: So when did Aristelle open — and where did that name come from?
AK: Aristelle opened February 1, 2013. Aristos is the word for "the best" in Greek, so we just kind of played around with that.
SD: Is the store all yours, or do you have partners?
AK: It's all mine. It was funny going to the bank — I had enough money to start but wanted a line of credit. They asked how much experience I had running a business and I said none. Then I showed them my 100-page business plan, and the financials won them over.
SD: So explain the empowering women part.
AK: I definitely consider myself a feminist. While I was working in London, I spent a lot of time working with the bank on its own gender-equity policies, such as equal pay, encouraging women to be on their boards, etc. You start becoming so aware of the continued inequality — pay, maternity leave, childcare burdens, all those issues.
Also, just being a woman and having a lot of women friends — there are lots of body issues, and pressures that come from external sources. I'm trying to embrace "This is my body and I'm happy with it." To express confidence and be successful in life … body issues can hold you back.
That's why we have 100 bra sizes. We say, "You don't have to change your body; we're going to find something to work for you." Victoria's Secret came out with a teen line, and it's very sexy — padded bras, push-up bras. I want a store that fights against that thinking. Those are your breasts and that's how you're supposed to look.
SD: You have gotten some flack for your ads, though.
AK: One of the women who works here has worked in lingerie for years. In our advertising, I didn't want to look all sex kitten, but it is sexy. She laughed and said, "You're going to get criticism no matter what you do, so just get ready, and ignore it."
SD: What kind of responses have you had?
AK: I've been surprised at what some people will allow. Some papers wouldn't let me put a live model [in the ad] but were fine with pictures of just bras. But they were fine with pictures of women in swimwear. Others wouldn't even accept pictures of lingerie!
SD: Weird.
AK: Those were small challenges. I can accept that sometimes you can't have pictures of women in lingerie, and that's fine. But I ask, why do we have those issues? What's the difference between a woman in underwear and a woman in a bathing suit?
SD: It's all about context, I suppose.
AK: I get images from the companies we carry. I could just put our name on these photographs. But all the models are 20 years old and thin — it's not the image I wanted for our store.
SD: You've been doing a kind of "real woman" campaign, right?
AK: Yes, working with Beltrami [Studios] and [photographer] Jonathan Couture.
SD: So you hired them to do your own photos?
AK: Actually, Beltrami approached us and asked if we wanted to do a partnership. Jonathan was trying to promote his boudoir series. We did a 65-year-old woman, and a woman with 36G breasts, a pregnant woman. There were some surprising responses. One woman called and said, "I love your ads, thank you." Another woman called and said she was afraid to open the paper because she was so offended by the pregnant woman in the underwear ad.
SD: Are all the complaints from women?
AK: I've definitely had more complaints from men. They have their stereotypical ideas about what women should be doing. If the complaints were all from women, that would mean we're even more boxed in.
SD: Let's talk about bra fitting. What are women doing wrong [re: size]?
AK: The problem really comes from a lack of sizing from most stores. If you go to a store that only goes up to DD, [the bra] might fit your breasts but not your chest. So having the full size range allows me to fit everyone.
Mostly the band is too loose. When it's loose, the band will ride up, and that's what causes the back fat everyone is so worried about. When you go down in the band, you go up in the cup.
I can almost count on two hands the number of women who have come into the store in the right size bra.
SD: Have there been sizing changes in bras, like in other women's clothing?
AK: Yes, it used to be bands 32 to 40 and A to DD. Now we have 28 band sizes, and cups go all the way to H.
SD: So you've opened a second store — is it the same name?
AK: Yes, Aristelle in Portland, Maine. It actually looks almost exactly the same as this store [in Burlington].
SD: Do you have designs on a lingerie empire?
AK: I've kind of said 10 [stores] by the time I'm 40.
SD: You've got six years.
The original print version of this article was headlined "Perfect Fit"