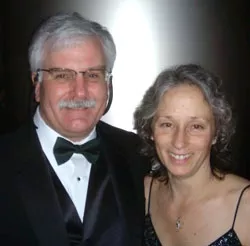 The corporate timeline for groSolar starts in 1973, when the Middle East oil crisis exposed America's addiction to foreign oil and the need for renewable energy alternatives. But it was 25 years later that Jeff and Dori Wolfe — both Cornell-educated mechanical engineers — launched Global Resource Options, or GRO. The company grew steadily into a solar powerhouse: White River Junction-based groSolar.
Today's crisis — global warming — finds the Wolfes in Copenhagen for the U.N. Climate Change Conference, sharing lessons and brainstorming solutions from their decade in the solar business.
While checking into their hotel, the Wolfes met a delegate from the South Pacific island nation of Tuvalu, where the highest point is just five meters above sea level.
"He has grave concerns for his country," Dori Wolfe wrote in an email from Denmark.
Jeff Wolfe was meeting with leaders from the Union of Concerned Scientists and the National Wildlife Federation — he's on the boards of both groups — to compare notes and discuss strategy. In an email exchange, he weighed in on the promise of solar energy, his hopes for the conference and how climate change might look in Vermont. Some edited excerpts:
Seven Days: How prominently does solar power figure in the talks about our energy future in Copenhagen?
Jeff Wolfe: Our goal in being here is to tell the world that solar can now play a very strong role in mitigating climate change. Even the gains in just the past year are important, in terms of price reduction and efficiency.
SD: Where in the world, aside from the U.S., is solar power being used most effectively, and what could we learn from that?
JW: Germany is the market leader in solar photovoltaics. Spain, Italy, Portugal, South Korea and China are very strong. What exists in all countries successful with solar projects is a simple way to incentivize and finance them, a method called a "Feed-in Tariff." Vermont passed the first statewide, legislated FiT in the U.S. this year, which, while limited in scope, is a good beginning.
Editor's Note: Vermont's FiT program allows owners of renewable energy facilities to sell power back to the grid at motivating prices designed to spur rapid development. Solar-power facilities can earn up to 30 cents per kilowatt hour, versus 12 cents per kWh for methane.
SD: The global solar power industry has formed a worldwide coalition called SolarCop15 to make the case for solar energy in Copenhagen. You're part of that group, which states that "with the right policies," solar energy could create thousands of new jobs, satisfy 15 percent of America's power needs and greatly reduce carbon emissions by 2020. What are those "right policies"?
JW: Those policies are:
A national Feed-in Tariff similar to one introduced by U.S. Rep. Jay Inslee (D-WA).
Enact a national loan program to simplify residential solar finance. This is in the works, called PACE (Property Assessed Clean Energy) financing, and uses lower-cost bonding to allow people to finance solar on their own homes through their property tax bills. The basic law is passed in Vermont, but the bonding can be difficult to secure.
Extend the grant in lieu of Investment Tax Credit program (which applies to commercial solar projects), currently set to expire in 2010.
Create uniform regulations for the installation of solar throughout the country. Right now we deal with a patchwork of building and electrical codes, licensing requirements and utility interconnection rules.
SD: What will climate change look like in Vermont?
JW: We'll miss the worst of sea-level rise, though I do believe Lake Champlain will rise some. We'll see less snow in the mountains, more torrential downpours, probably wetter weather overall. Maples will move north. Bugs we did not [formerly] have in Vermont will survive our winters, infest our trees and kill them. In 100 years, our climate will be more like Maryland or Virginia, or worse, unless we take really strong action now, in which case we'll end up like Connecticut or New Jersey's climate.
SD: From what you've observed in Copenhagen, how hopeful are you about the world's collective willingness to find real solutions to global warming?
JW: I have no choice but to be hopeful. We have the technology to beat it. It is only a question of when we decide to do it. And when will be the factor that determines whether we are successful. Time is not on our side.