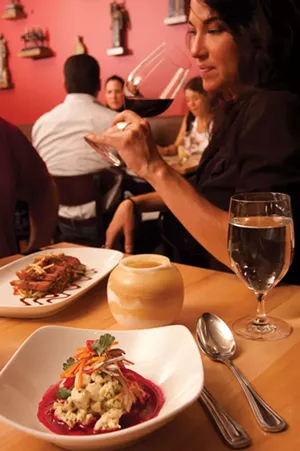 Matthew Thorsen
Santos Cocina Latina
There's nothing New England about Santos Cocina Latina — except that it's located on the main ski-town strip in Stowe. Inside is a different world: one more sexy than serene, more spicy than sweet. On the walls, images reminiscent of Latin American street art are mixed in with icons of Catholic saints and the Virgin Mary. The music speaks directly to your hips.
The food lives up to the promise of the ambiance. Little bits and bites — including delicacies such as plump, fried rock shrimp and corn dough stuffed with tender rabbit — are packed with flavor. Coconut, ginger, citrus juices and housemade pickles make regular appearances. Never tried tiradito, ceviche's more delicately seasoned cousin? Here it's a must.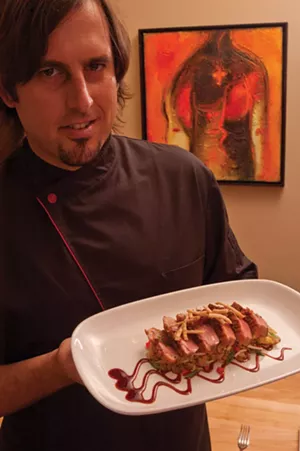 Matthew Thorsen
Santos Cocina Latina
The menu is sizable, and the specials change regularly, which means there's always something new to sample. On one day, the paella for two might be meat free with mushroom broth and vegetables. A week later, it could come loaded with spicy chorizo, chicken and scallops, and garnished with saffron aioli.
There's always an enticing soup of the day — one rendition made a surprising match of asparagus and coconut, puréed to silky perfection. Look for plenty of exotic sorbets, too.
How did a restaurant with its roots in Puerto Rico land in the mountains of Vermont? Owners Miguel Garcia and Maria Elena Jiminez moved from the Caribbean island to Stowe — formerly their vacation home — to indulge their love of outdoor sports and food. As a result, the state's a tastier place.