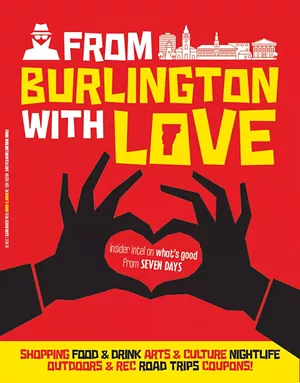 Agent 802, we see you've arrived at the rendezvous point: Burlington, Vt. Well done. Your mission, should you choose to accept it, is to infiltrate the community and become indistinguishable from a local. In the enclosed top-secret file — inspired by the James Bond canon, some of which Sir Ian Fleming wrote in Vermont — you'll find everything you need to successfully complete this objective.
Most importantly, this dossier includes critical intel about Queen City life gathered by our crack team of intelligence officers at What's Good HQ, as well as by certain secret agents we've turned to our cause. You'll also find coupons to the best businesses, eateries and services in the area because let's face it: Being a super spy can be costly, in more ways than one.
Need to meet an asset at a swanky restaurant? We're giving up the goods on the local joints you have to try, as well as some of the cheaper options for when your Swiss bank account is running low. And we know how you like those martinis, 802, so we'll steer you toward the best cocktails, as well. (FYI, according to our mixologists, stirred is actually preferable to shaken these days.)
We'll also hip you to the Vermont bands you need to add to your "High-Speed Car/Boat/Train Chase" playlists immediately, as well as the coolest clubs and festivals at which to find them. And street-level informants are critical, so we'll key you in to neighborhood dive bars and other places to meet interesting people.
Undoubtedly, at some point during your stay, you'll need to take down faceless henchmen on skis — and probably snowboards, since the sport was invented here. We've got you covered there, too, with recommendations for the best nearby mountains to shred. That's in addition to dozens of other ways to enjoy the great outdoors, from swimming to hiking to mini-golf and beyond, because staying fit is important, especially for a super spy. Also important: cool toys and sharp fashion. We'll let you know where to gear up for anything that comes your way.
The information in this file is classified as "need to know" — if something is included here, consider it critical. And you might want to learn it quickly, because this message will self-destruct in five, four, three...
For Your Eyes Only
Obviously,What's Good is an indispensible resource that highlights the very best of Burlington and its surrounding areas. But there is much more to discover, so allow us to arm you with some additional assets.
Check frequently for coded messages — aka informative and entertaining articles — in our sister publication, Seven Days, weekly in print and daily online at sevendaysvt.com. Foodies should pick up our annual dining guide, 7 Nights. And parents of spy kids — trust us, that's a thing — would do well to peruse our monthly parenting publication, Kids VT.
Then get out there and decipher the rest on your own. After all, as agents like yourself know, some secrets just have to be earned.