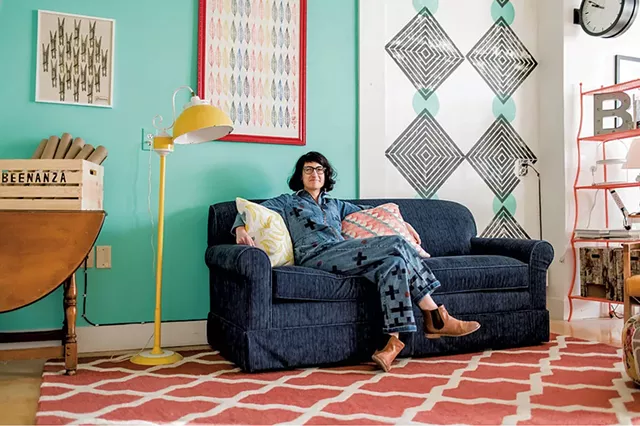 Courtesy Of Lucky Strike Studios
Bethany Andrews-Nichols
Bethany Andrews-Nichols has dedicated her life to patterns. Through her Burlington-based business Beenanza Design, she specializes in colorful, graphic motifs and even offers monthly downloads of funky laptop wallpaper. But her very first design job, in Minneapolis, wasn't quite so artistically oriented.
"I did Betty Crocker press kits when they were releasing a new type of stove-top potato," she recalled in a recent phone interview. "Being 22 and actually doing work for what I went to college for, I was like, 'I'm feeling successful, even though I'm designing these potato boxes.'"
Potato boxes are a far cry from Andrews-Nichols' work today. She creates print, package and pattern design, including fabrics. She also teaches workshops and even prints large murals at local businesses.
While her patterns are contemporary, with simple repeated shapes and lively, contrasting colors, the designer's favorite medium is an ancient one: a method of block printing — dyeing fabric or paper using carved wooden blocks — that developed in northern India.
Andrews-Nichols, who lives in Burlington, said she couldn't remember a time when she wasn't awed by beautiful prints. "I remember the wallpaper in my house when I was 5 years old," she said.
Growing up in Ohio and upstate New York, Andrews-Nichols took up art to entertain herself when her older siblings were out of the house. She started working at Magic Hat Brewing in 2008, when she and her partner moved to Burlington. There, she found the freedom to be creative, experimenting with projects such as designing a beer label out of felt.
Courtesy Of Bethany Andrews-nichols
A Beenanza Design block-printed Shirt
"The experience I had while I was [at Magic Hat] was unlike any other," she said. "I can't think of a better place to have developed as a designer. Because it was constantly like, 'Make it weirder' ... If I had worked for eight years at a bank, I would've been a very different designer."
In 2017, Andrews-Nichols, now 36, was laid off from Magic Hat. She was ready, she said. She'd had two kids by that point and didn't want to manage employees anymore. She'd already reduced her hours to work just four days a week and found that having a day to pursue her own projects was a boon to her creativity.
"It just opened the floodgates, that one day a week," she said. "When I was finished at Magic Hat, I was like, 'That's what I want my other four days to be.'"
So she launched Beenanza — after a nickname a friend gave her — and went about building a freelance career. She also cofounded Vermont Womenpreneurs, a network for female business owners, with Mieko Ozeki, who's the market director of Burlington Farmers Market.
In 2017, Andrews-Nichols visited Jaipur, capital of the state of Rajasthan in northern India, to learn about block printing, which emphasizes repeated patterns and layers of color. Printers typically stamp patterns with handheld wooden blocks that are carved by artisans who specialize in the task. Though the carvers can make the blocks incredibly accurate — a perfect circle, for example — Andrews-Nichols likes the fact that the wood and the process create prints with imperfect texture.
"I prefer there to be flaws," she said, "because then you can see that someone touched it and loved it."
In Jaipur, everything clicked for Andrews-Nichols. "All of this design work that I've been doing my entire adult life, now it makes sense," she explained. "I started block printing obsessively."
She had an exhibition at Burlington's Foam Brewers, and then designed a line of beer labels for the company. She hosted her first block-printing workshop at Foam alongside Jeremy Fritzhand, the owner of Studio Bagru, a block-printing facility in India.
Courtesy Of Bethany Andrews-nichols
A Beenanza Design print
Foam is also where Andrews-Nichols created her first mural. It's impossible to use wood for block printing murals, so she had to find another material. She wandered around Lowe's, "touching the bottom of all the rugs and floor mats," she said, and eventually found a mat that would work. Since then, Andrews-Nichols has completed a banana-print mural at Momo's Market in the Old North End and two murals in an Airbnb in Underhill.
"I totally want to do more murals," she said. "It's so satisfying."
Walls aren't the only unique surfaces Andrews-Nichols has block printed. She's been collaborating with Flatlander Supply in Vershire to produce patterned leather goods, including a clutch printed with red and blue repetitions of the word "vote."
Andrews-Nichols sends her designs for woodblocks to the artisans at Studio Bagru, who carve them for her. She has also designed — and sold out of — backpacks that were printed at the India studio.
"Some of the fabrics I do print myself, here, but a lot of my fabrics were printed in India by this group of amazing printers and carvers," she said. "That is their wheelhouse. These prints are so beautiful, and I'm so lucky to be able to work with this group."
Most recently, Andrews-Nichols has sold posters and stickers of her design called "One of a Kind," which features interlocking breast illustrations in a variety of shades. She's donated a portion of the proceeds to Burlington's Hope Lodge, which provides support for cancer patients and their families, and plans to donate to the Black Mamas Matter Alliance, which advocates for Black maternal health.
Courtesy Of Bethany Andrews-nichols
A Beenanza Design print
The print, Andrews-Nichols said, has held a lot of meaning for mothers, cancer survivors and others. She wants to give back to those whose causes she aims to represent.
When she first began freelancing, Andrews-Nichols said, about 70 percent of her work was creating traditional design projects; the rest was pattern work. Now, those proportions have flipped, and she's started to become known for her patterns. She wants to introduce her colorful aesthetic to organizations and corporations that may be tired of using stock imagery and traditional design.
The patterns, Andrews-Nichols said, come to her instinctually, after years of practice. But she also believes pattern designing is for everyone, even those who think they aren't artistic. She'll bring woodblocks in familiar shapes to workshops and be completely surprised by students' creative uses of them.
"The beautiful thing about making prints and patterns is that it's so accessible," Andrews-Nichols said. "Anybody can do it. That's why I love doing workshops and sharing my blocks and letting people explore."