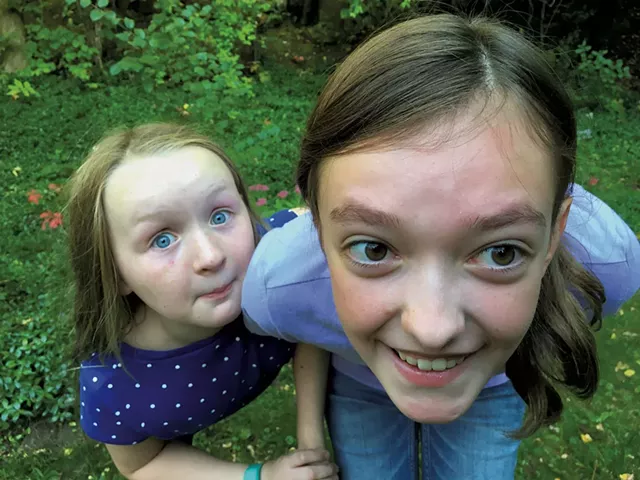 Courtesy Of The Off Center For The Dramatic Arts
Verity Thomson (left) and Penelope deRosset
If your entertainment sweet spot lies somewhere between surrealist wood-nymph erotica and travelogues with burrito-driven plots, look no further than the Burlington Fringe Festival, which returns to the Off Center for the Dramatic Arts for its sixth season from Thursday, October 11, through Sunday, October 14.
This year's festival features 22 performances, with titles that are variously evocative ("Bruised and Tattooed"), appalling ("Anus Canaval") and unpronounceable (ouzkxqlzn). This year also marks the Fringe's final hurrah in its original home at the Off Center on North Winooski Avenue; in spring 2019, the theater will move to a new, as yet undetermined, location, according to board president Laura Roald.
"I expect that we'll find a way to continue," she said. "Our primary mission is to have an affordable space to support artists who are taking risks, and the Fringe Festival is for risk takers."
Now a global phenomenon, the Fringe tradition began in Edinburgh, Scotland, in 1947, when a group of rogue thespians staged their own performances on the periphery of the Edinburgh International Festival, thumbing their noses at the institutional arbiters of culture. True to these egalitarian roots, the Burlington Fringe Festival is unjuried; submissions are accepted on a first-come, first-served basis, with virtually no questions asked beyond their viability within the constraints of the venue.
"It's up to the performers to figure out how everything is going to work on the day of the show," said Roald. "We give them anywhere from 15 minutes to half an hour to do a tech run-through before they go onstage, but that's about it. The rest is up to them."
Following last year's format, the performances are scheduled more or less in descending order of raunchiness, with the most R-rated content on Thursday night (also known as "Blue Night," for adults only), a mixed bag on Friday and Saturday, and family-friendly programming on Sunday afternoon.
This year's lineup reflects the city's burgeoning comedy scene, noted Off Center board member David Schein. The aforementioned "Bruised and Tattooed" is a one-man show by former professional wrestler and sometime ink artist Pierre Vachon; "The Burrito Diaries" is a tales-from-the-road saga by comedian Owen Foley about his quest to eat a burrito in every state (note: not the best burrito in every state, just a burrito). To date, he's conquered the continental U.S. "and New Jersey — I don't consider New Jersey a state," Foley explained — with only a few instances of food poisoning to report.
On the Shakespearean end of the spectrum, Nathan Hartswick, co-owner of Vermont Comedy Club, and his comedy partner, Daniel Trigg, will perform an improvised 20-minute piece in the style of the Bard, based on suggestions from the audience. To prepare, the two have been challenging each other to express complex modern sentiments in Elizabethan dialect in an ongoing volley of video messages.
"I think we'll get just as many laughs when we don't succeed as when we succeed," said Hartswick. "The audience knows that what we're doing is really hard, and they're generally on our side."
The festival will also showcase more serious, but no less experimental, fare, including "The Garden Elixirs" by Jocelyn Woods, whose performance will be live-streamed to audiences from her bedroom in Cambridge, Vt. Woods, who suffers from a neuromuscular condition that has left her mostly homebound, is a visual artist whose conceptual self-portraits merge the spiritual and the erotic — think Saint Teresa of Ávila, Ophelia and Cindy Sherman.
Even though her mobility is limited, Woods said her piece will feature "modified dancing on her behalf," along with frolicking wood nymphs — two actors will perform with her at her home, and one will be onstage at the Off Center. Her script is filled with "miraculous blabberings," as Woods put it.
"My visual genre is highly influenced by theater and poetry," she said. "I find that language is inherently kinetic."
On Saturday night, Schein will perform a solo show called "The Man in the Moon." A summary in the manner of a tone poem: bus stop vagrant, lunar ecstasy, rumpled sleeping bag.
Sunday's G-rated programming will include an original production by 10-year-old Verity Thomson and 11-year-old Penelope deRosset called "The Adventure of Hermione Holmes and the Speckled Bracelet." It's a spin-off of the Harry Potter series that the girls hatched over pho one evening last spring.
"We were like, 'Everything is always all about Harry. Why don't we give Hermione a turn?'" said Thomson. The two developed their script during after-school writing sessions at each other's houses.
This isn't Thomson and deRosset's first time at the Fringe; last year they staged a puppet variety show, with an emphasis on "variety." Imagine, if you can, a plot that combines Antony and Cleopatra, the Batman saga, and a story, concocted by deRosset's little sister, about a roving band of animals whose car gets stuck in the sand. The result was titled "One Day in Gothrome." It must have been quite a day.
But that kind of improbable storytelling is the whole point of the Fringe Festival. Roald, who happens to be Thomson's mother, describes the Fringe the way one might characterize a leafy green vegetable that's meant to be consumed straight from the earth: "It's extremely fresh and extremely raw, mostly in a good way."
How good? The audience gets to decide.