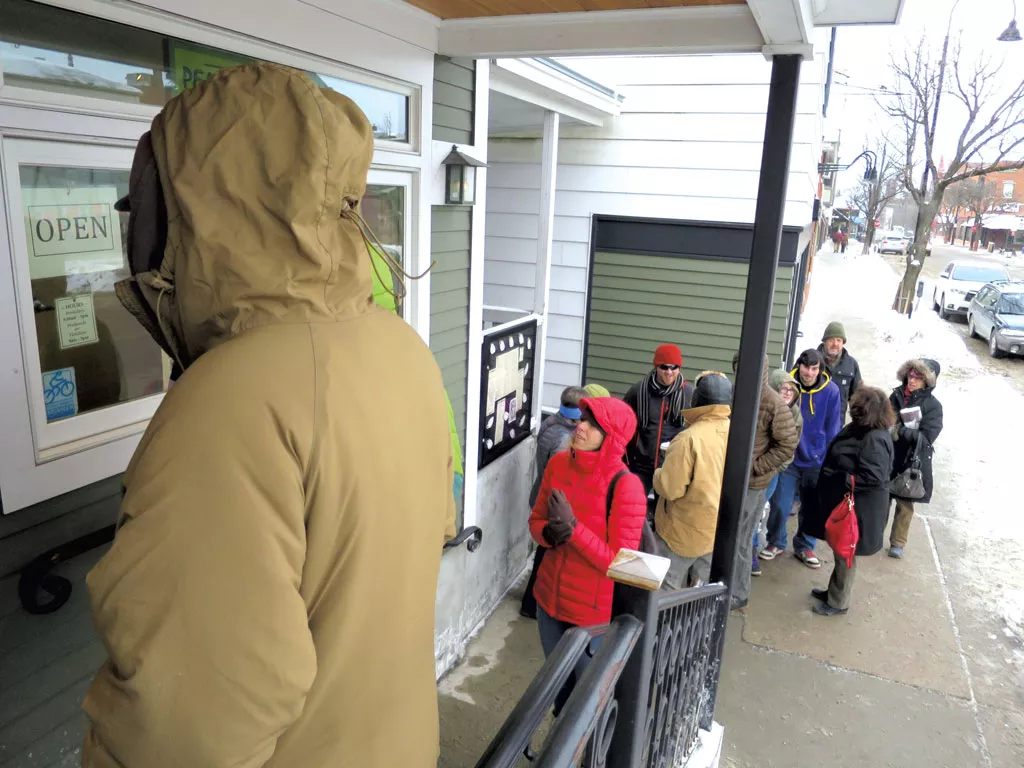 Matthew Thorsen
Waiting in line at Penny Cluse
If you live in Vermont, you'll probably concede that sometimes the weather wins. When even the walk from house to car freezes your face, it's easier to stay inside. But for many Vermonters, single-digit temperatures and Ginsu-sharp winds are no match for an even more elemental force: a hearty, North Country appetite.
Before the sun has risen enough to share what little winter warmth it can, plenty of hungry locals rouse themselves from cozy beds — on the weekend, no less — to bundle up and head downtown for that all-important first meal of the day. At some particularly popular spots, they might have to stake a place in a long line that snakes its way outdoors.
What power does a plate of bacon and eggs have that compels us to wake up early and stand outside on a frigid morning? Couldn't we just make the same meal at home? Sure, but ... apparently it's just more fun to go out.
Breakfast fans regularly congregate at Burlington haunts Penny Cluse Café, Magnolia Bistro, Mirabelles Café and Leunig's Bistro & Café. The morning lines at Winooski's Sneakers Bistro — which has served breakfast since 1980 — are the stuff of legend. The area is also rich in fine short-order diners: Henry's, Pearl Street and Handy's are all downtown; Parkway, Athens and Guilty Plate, among others, are just short drives away.
The fancier breakfast joints gussy up their food a bit — Penny Cluse, for example, adds herbs to its biscuit gravy and spices to its pancakes. But the premise is the same everywhere: Breakfast-food prep is relatively quick, which means a fairly rapid customer turnover. And that seems to translate to large crowds and long lines.
If weekend breakfasters were a cult, their motto might be In Quo Speramus Lardum: In Bacon We Trust.
Last Saturday, Seven Days set out to meet the pancake-and-coffee crowd, and to ask: Just what is it about breakfast?
At Penny Cluse, we met Christopher Celotto of Burlington, who arrived shortly before the restaurant opened at 8 a.m. "I haven't been to Penny Cluse in about 10 years, exactly because of the hour-and-a-half wait," he said. "I used to come here regularly and got fed up with standing in line."
On that morning, though, when temperatures were below 10 degrees, Celotto rose early and found himself first in line. "I know there's no line this early on a cold-ass morning," he reasoned.
"Here's the thing," Celotto added. "Eating out is a ridiculous waste of money. For the price of my breakfast this morning, I could eat for five meals this week. I recognize that." Still, he said, he loves breakfast food. And, he suggested, "We all love to be catered to. Who doesn't like to have food served to them?"
Some local breakfast joints, Penny Cluse included, have come up with nifty ways to ensure that bone-chilled potential customers don't hightail it when the lines get gnarly. In 2013, owners Charles Reeves and Holly Cluse opened a second restaurant, the aptly named Lucky Next Door. Located mere feet from the popular flagship establishment, Lucky serves as a kind of waiting area for Penny's overflowing brunch crowd. But it's hardly just a "second-chance" restaurant. The diverse menu of the sister restaurant, which opens at 9 a.m. on weekends, is draw enough for many a diner.
Several of the restaurants that line the west side of the roundabout in downtown Winooski have developed intensely loyal customer bases, perhaps none so devout as that of Sneakers. The restaurant, whose name made national headlines last summer during the "Bacongate" kerfuffle, routinely attracts more weekend customers than it can accommodate. Going out for breakfast at Sneakers in the winter once meant grabbing one's balaclava and hand warmers before heading out the door.
No more, though. Those lines are a thing of the past, thanks to a clever arrangement with the Monkey House, the bar and music venue next door. On weekend mornings, the Monkey House opens at 9 a.m. so it can serve as Sneakers' de facto anteroom. The bar serves up mimosas and Bloody Marys to Sneakers customers waiting for their tables, as well as steaming cups of coffee.
The relationship is symbiotic. The Monkey House gets a nice chunk of off-hours business; Sneakers, where table space is limited, gains an indoor location where its patrons can hang out. They're notified by text message when their tables are ready.
At just after 10 a.m. last Saturday, the bar and most of the tables at the Monkey House were packed with pre-breakfasters who, even as they glanced frequently at their phones for a "Your table is ready" text, appeared to be enjoying drinks and conversation.
From her perch at the bar, Sydnee Viray praised Sneakers' grits as the "best in town," and applauded the restaurant's arrangement with the Monkey House. "I wish more places would do this, where it's sort of a partnership," said Viray. "I love Leunig's — I love their corned-beef hash — but I don't want to wait outside. I want to come and hang." (Leunig's does have an upstairs lounge that sometimes opens to house overflow crowds.)
Jessica O'Neill of Burlington sat at a table in the Monkey House with three friends. They'd put their name on Sneakers' waiting list at 10 a.m., but learned no table would be available until about 11:15. Their mimosa glasses were nearly empty by 10:15, but they were perfectly happy.
"You go into it knowing there's going to be a long line, but it's worth it," O'Neill said. "You don't go that often because of the wait, but when you go, you go all in."
Spoken like a card-carrying member of the breakfast club.