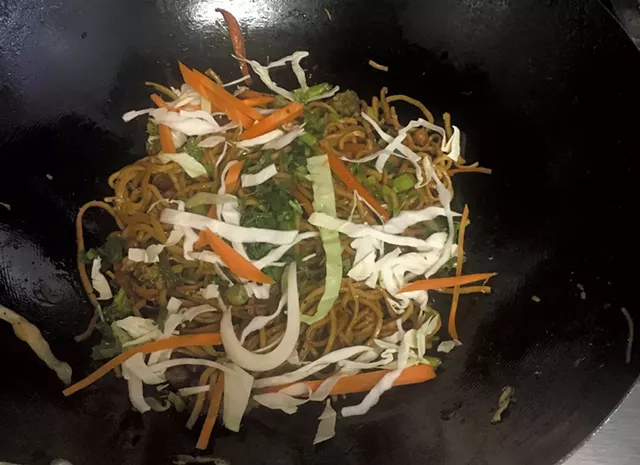 Courtesy Of Friend's Nepali Restaurant
Vegetable chow mein at Friend's Nepali Restaurant
First-time restaurateurs Ram Kadariya and Santa Subba opened Friend's Nepali Restaurant at 212 Main Street in Winooski in mid-August. The restaurant occupies the space where Pho' Man once stood.
Kadariya, 35, was previously a cook at Central Market Taste of Asia in Burlington. His interest in creating new dishes inspired him to open his own restaurant, he said.
Friend's offers a full menu of traditional dishes, primarily of Indian and Nepali origins, including chicken tikka masala, chicken tandoori, lamb kebabs, saag paneer, vegetable korma and vegetable stir-fry. There are also soups, noodle dishes, several naan and paratha choices, and house specials such as crispy spinach chicken, pork or chicken chili, and spare ribs.
Originally from Bhutan, Kadariya and Subba have lived in Vermont for three years. The restaurant is open every day but Tuesday from 9 a.m. to 10 p.m.
Mr. Shawarma, which opened last December in Essex Junction, closed on Sunday, according to co-owner Ahmed Abdulkhaliq. The restaurant served shawarmas — sandwiches filled with meat cooked on a rôtisserie — and other Middle Eastern fare. There were several reasons behind the decision to close, according to Abdulkhaliq, who opted not to elaborate.