Sam Simon
Lili, 11, South Burlington, and Quinn, 11, Burlington
They share your interests, secrets, jokes and adventures. They've got your back. They get on your nerves. They just get you. This Valentine's Day, we celebrate the love between friends.
Lili, 11, South Burlington, and Quinn, 11, Burlington
Sixth graders Lili and Quinn don't remember the first time they met; they weren't quite 2. Lili's family was new to Burlington, and her mom, June Shen-Epstein, emailed a local stay-at-home mom's club about a playgroup. Quinn's mom, Rachel Shelley, responded. Upon meeting, they discovered that their kids were born only a week apart. The toddlers immediately hit it off and have been hanging out regularly ever since. Shelley said she assumed the pair would drift apart as they approached middle school, as friends of the opposite sex often do. But the relationship between the two, who share Chinese heritage and an intense love of Harry Potter, has only grown stronger. Said Shelley, "I've often thought that if they had been born in the same state, I would worry that they had been twins separated at birth."
Kids VT: What makes your friendship unique?
Lili: We go to different schools...
Quinn: ...but we still manage to get time together.
Lili: And everyone in our family is friends now, because of us. Our dads —
Quinn: Yeah, our dads are friends now.
Lili: A lot of people at my school say, Oh, you like each other.
Quinn: — but it's not that kind of like.
Lili: Yeah. We're friends.
KVT: I heard you have an annual inside-joke tradition.
Lili: Yeah, we always have a birthday inside joke. It started a long time ago. We always go to Koto for our birthday dinner, because our birthdays are so close together —
Quinn: — and then we decided we'd do inside jokes there.
Lili: We normally bring each other presents on that day. So this one time, Quinn got me a wand and he kept pointing it around and going Zzzzzzt! — like zapping with it. And we just kept doing it to each other. So that's what started it. Another year, whenever we were in a picture together, we would both raise our eyebrows up and say, Wah Wahhh!
KVT: What do you like most about each other?
Quinn: We're never bored. We always have something to do or talk about. I always want to talk to her about whatever funny thing that happened during the week, or the month, or the day since we saw each other.
Lili: He's funny, and we can always come up with something to do when we're together. Even if we just read.
Quinn: And she's really smart.
Lili: Thanks. You're smart, too!
Leo, 6, Essex, and Kitty, 67, East Montpelier
Sam Simon
Leo, 6, Essex, and Kitty, 67, East Montpelier
Until recently, Teal Church's family lived half a mile from Kitty Wilson on County Road in East Montpelier. Wilson — who has grandchildren of her own but is known as "County Road Grandma" by Teal and her son, Leo — has been there for Leo since he was a baby, watching him overnight when his younger sister was born, picking him up from preschool and stopping by on weeknights to lend a hand. Wilson also helps Church with her dog rescue business, Good Karma Rescue, and they talk multiple times a day. "She's just in the fold," Church said. And though Leo's family relocated to Essex this past summer, "the bond is still there," Church said. Leo "tears up often when we talk about our old home and of course, Kitty, and has visited her as often as he can."
Kids VT: How did you meet?
Leo: I don't know. Mama, do you remember? We both lived on County Road for... how long? Ten years!
Kitty: Right. Well, you lived there for five and a half years. I can still remember your mama coming out for the first time with you after you were born, and I thought, Oh, wow! You were the most beautiful little baby. I am a total sucker for babies anyway, but Leo was just so beautiful, with these huge blue eyes!
KVT: What makes your friendship special?
Kitty: I just love spending time with him. I'd be driving home in the evening, and my car would just sort of keep going past my driveway, and I'd go up to their place so I could see Leo.
Leo: She makes me grilled cheese.
Kitty: I did get a phone message from Leo's dad once because Leo wanted me to know that my grilled cheeses were much better than his dad's!
KVT: What's a memorable time you had together?
Kitty: Remember the apples? And the red wagon? It was a heavy-duty apple year so I got out my red wagon; remember that? All the neighbors on County Road have apples, and it was a really bountiful year, so we just piled them up around Leo! I think Leo's mom made enough applesauce to feed the family for years.
Also, when your sister was born, you stayed with me; remember that? And when we went to see your sister for the first time in the hospital, we looked at her, and she was so tiny under the warming light. She was waving a tiny hand around and, Leo, do you remember what you said?
Leo: What?
Kitty: You said, "When is she gonna be born?"
Leo: giggles hysterically
KVT: What do you like most about each other? Kitty: He's funny, and he's kind, and he has a million-dollar smile. And he still has those same big blue eyes he had the first time I saw him.
Leo: (with a sticky pad and a marker) Kitty, how do you write your name? I want to write our names. For the paper.
KVT: One last question. How old are you both?
Leo: 6.
Kitty: I'm 67, I'll be 68 soon.
Leo: 67, then 68, then 69 and then 30!
Kitty: Sounds good to me!
Desmond, 9, Colchester; Anderson, 9, Maxwell, 7, and Reeves, 5, Hinesburg
Sam Simon
(From left) Desmond, 9, Colchester; Anderson, 9, Maxwell, 7, and Reeves, 5, Hinesburg
Laura Howard and Dana Sehovic met 15 years ago at work, before they had husbands and kids. In fact, Sehovic met her husband at Howard's wedding; he was a friend of the groom. When the women ended up pregnant with boys at the same time, they said they just knew their kids would have a connection. Both 9 years old now, Howard's son, Anderson, and Sehovic's son, Desmond, have grown up together. Howard describes their bond as "brotherly." When Howard welcomed two more sons to her family, they also became like siblings to Desmond, an only child. Said Howard, "You could say that these boys are connected through a kinship between our families that was founded long before they were born."
Kids VT: How did you meet?
Desmond: Well, Anderson's parents were good friends with my parents, and that's how we first met. We knew each other since we were babies.
Anderson: And then my brothers got born, so they were just part of it.
Desmond: And then every time Anderson and I were playing, they'd just say, OK, they're playing, so we'll just kind of cruise in there.
Anderson: Yeah, Max and Reeves are always there.
Desmond: Sometimes me and Anderson lock the door on them.
Reeves: But we always find a way to get in.
KVT: What can you tell me about each other?
Desmond: We pretty much like a lot of the same stuff.
Anderson: Desmond's funny. And we're both in the same grade, even though we're not in the same school.
Desmond: And Anderson is weird.
Maxwell and Reeves: (laughing) He is weird!!
Anderson: We live in different towns, so we see each other only like two times a month.
Reeves: Anderson likes football and baseball, and he calls me Squeak-o!
Maxwell: Desmond is really nice. But he also likes to drag me on the floor!
KVT: What's a memorable time you had together?
Anderson: We did the Adventure Games together.
Desmond: Yeah, it's like a race with this series of challenges, and you have to complete them as fast as you can. Like one where you shoot water balloons at people.
Reeves: You have to jump on these rafts over a river!
Anderson: And you have to bike uphill for two miles!
Desmond: Also, we went to Cape Cod together, and we hiked a lot together. That was fun.
Maxwell: And we, like, all hung out and... just sat together.
(There is a moment of quiet as they all consider this.)
Desmond: We sat together?! (Laughing) Maxwell, that is lame!
KVT: What makes your friendship unique?
Desmond: Well, we do a lot of things together. Like sleepovers.
Anderson: If I go to Desmond's house, everybody goes.
Reeves: It's great when Desmond comes to our house.
Maxwell: Yeah, he's like part of our family. And even when we don't see each other for a long time, when we do see each other, it's like no time has passed.
Reeves: Yeah, he doesn't have brothers, so we're his brothers.
Emma, 9, and Cora, 9, Fairfax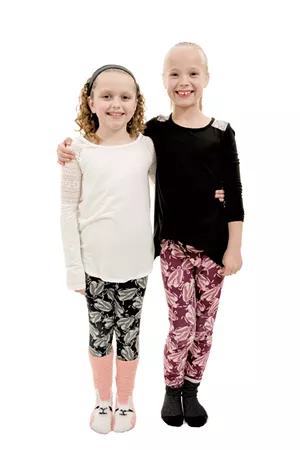 Sam Simon
Emma, 9, (left) and Cora, 9, Fairfax
Emma and Cora met in dance class at age 2, but didn't become close friends until they were 4. Now they spend almost every day of the week together, practicing jazz, ballet and lyrical dance at Dance Works Academy in Milton. Emma has type 1 diabetes, and Cora knows the ins and outs of helping her manage her condition. "Cora knows how to check Emma's blood sugar, recognize when she has low or high blood sugar, and is there to support and help her whenever is needed," Emma's mother, Jenn Foster explained. "Cora accepts Emma for exactly who she is, and is patient with all she endures."
Kids VT: What makes your friendship special?
Emma: We dance together — a lot.
Cora: We have class together Tuesday, Wednesday, Thursday and Sunday.
Emma: Also, I think some friends, if they get into an argument, they stay in that argument for a week or two. But me and Cora, we fight like sisters and then, five minutes later, we're good again.
KVT: What do you like best about your friend?
Emma: She's really funny and kind, and she's easy to talk to.
Cora: She's funny, and I can just be normal around her. I don't have to act nice! I mean, you know, I don't have to act like there's a teacher around me when we're together.
KVT: Tell me about an adventure you had together.
Cora: Well, we went to see Katy Perry together over the summer.
Emma: We were going to get T-shirts.
Cora: Right. And we saw these two people, and they asked us if we loved Katy Perry, and we said yes. And they asked us if we had good seats. And we said yes. But then they asked us if we wanted even better seats.
Emma: We said yes, and then they gave us wristbands so we could go to this place called the Drop Zone right by the stage. And we were so close, we could reach up and touch Katy Perry!
KVT: How does Cora help with your diabetes, Emma?
Emma: With diabetes, I need to check my blood-sugar level and skip the last 10 minutes of lunch to go to the nurse. I have to count my carbs. When [my blood sugar is] high, I get thirsty and tired, and when [it's] low, I get hungry and sassy.
Cora: I'll go on her [insulin] pump, and she'll tell me what to do to help figure out her carbs.
Emma: Our school has a Kids Walk, and last year during it, I got really low and had to sit. Cora went to get my kit and got me a juice.
Jenn (Emma's mom): Cora knew what Emma needed and sprung right into action and then just stayed with her. It was amazing. And Cora was just like, "What's the big deal? I just got her what she needed!" But to a mom, it was really special to see their friendship in action like that.