Russia's Pussy Riot may represent an explosive new form of feminism, but the masked punk-rock protestors have a clear antecedent: New York's Guerrilla Girls.
"Frida Kahlo," pseudonymous cofounder of the group of art-world agitators that first appeared nearly 30 years ago, suggested such a lineage in a talk at Middlebury College last Thursday. Wearing a gorilla mask in a darkened theater, Kahlo projected floor-to-ceiling images of Guerrilla Girls street actions and posters intended to dramatize and lampoon the sexism of museums and high-end galleries.
One such piece that was plastered around Manhattan's SoHo art district in 1988 spells out the "Advantages of Being a Woman Artist." They are said to include "working without the pressure of success"; "not being stuck in a tenured teaching position"; and "seeing your ideas live on in the work of others."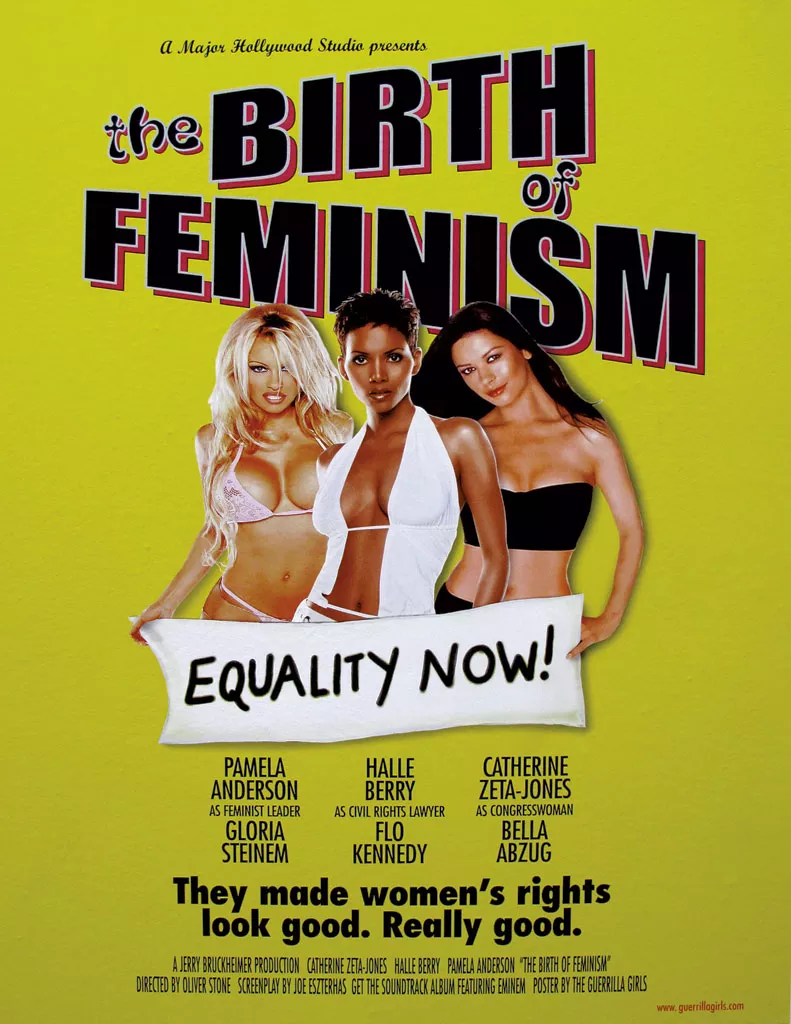 Courtesy Of Middlebury College Museum Of Art
Poster created by the Guerrilla Girls (2001)
That poster is part of a portfolio of 80 works by the Guerrilla Girls that the Middlebury College Museum of Art purchased in 2009. Students who took part in a January-term art, performance and activism course taught by museum chief curator Emmie Donadio chose 13 of the posters for a Guerrilla Girls show, which is on display at the museum through May 25.
"I'm so lucky to be able to do this work," Kahlo told a 100-member audience made up mostly of students. She noted that the group continues to get letters every week from females inside and outside the art world who identify with the Guerrilla Girls' provocations on behalf of gender parity. Correspondents range in age from 8 to 80, Kahlo said.
The group's effectiveness and fame stem largely from its mystique of anonymity. Each Guerrilla Girl honors a dead female artist by taking her name, and members never break character while in public. The gorilla heads are the signature elements of their schtik.
More than 50 women — and no men — have been members of the group over the years, Kahlo said. But she didn't reveal much else about the Guerrilla Girls' internal workings, and had nothing at all to say about her own background.
Kahlo did eagerly recount some of the high points of the group's public history, which include broadening its protests to target discrimination against women in the film industry. "Even the U.S. Senate is more progressive than Hollywood," proclaimed a Guerrilla Girls billboard displayed near the site of the Academy Awards ceremony in 2003. "Female senators: 14 percent. Female film directors: 4 percent."
The protests have spread geographically as well as thematically, Kahlo noted, showing images of Guerrilla Girl actions in Venice, Bilbao, Istanbul and Montréal. She also denounced the financial distortions of the New York art market, where work by superstar male artists can fetch $100 million or more at auctions attended by "the 1 percent of the 1 percent." Such sums attract gangsters and goons, Kahlo added, citing an FBI estimate that stolen or forged art forms the basis of the world's fourth-largest black market, after guns, drugs and money laundering.
Has anything changed since the Guerrilla Girls pasted their first posters to walls in then-boho SoHo and the East Village in 1985?
Those neighborhoods have become unrecognizably affluent, for one thing, depriving Guerrilla Girls of sympathetic local audiences, Kahlo noted in an interview. A 1991 poster decrying homelessness highlights another difference between that era and this one: Some artists used to make visual connections between injustices in the galleries and on the streets.
New York museums have slightly improved their record of gender balance, Kahlo added in her talk last week. One of the group's most famous posters, made in 1985, lists the number of one-woman shows at selected institutions the previous year: Guggenheim, 0; Metropolitan, 0; Modern, 1; Whitney, 0. An updated version shows the results for 2013: Guggenheim, 1; Metropolitan, 2; Modern, 3; Whitney, 2.
How about the host venue for "Guerrilla Girls: Art in Action"? Middlebury College museum director Richard Saunders said he doesn't know the percentage or number of works by women in the collection. "Statistically, I know we're no better off than others," he conceded. "We're very conscious of that."
The original print version of this article was headlined "'Frida Kahlo' Delivers Lecture on the History and Ongoing Work of the Agit-Prop Guerrilla Girls"