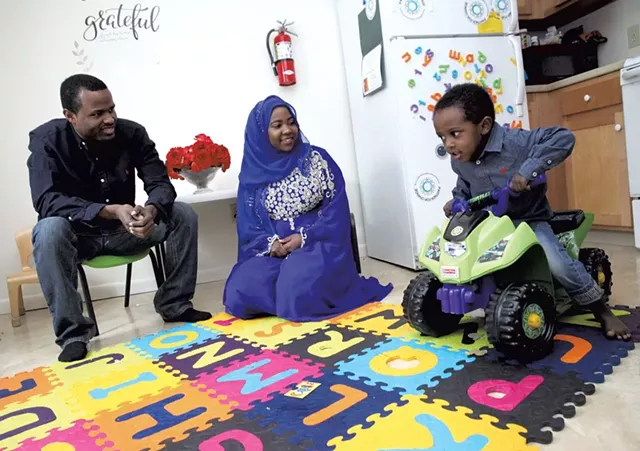 matthew thorsen
Dad: Murjan Kassim Amir, 26, Macy's and Howard Center employee
Mom: Fardowsa Abdullahi Ibrahim, 21, full-time University of Vermont student
Son: Hamza, 2
Two-year-old Hamza plays with his toys in the living room of his family's warm and tidy two-bedroom apartment on Riverside Avenue in Burlington. He's too young to understand the struggle his grandparents endured to secure this life for him. Years ago, they left their war-torn homeland of Somalia for Kenya.
Hamza's 21-year-old mother, Fardowsa, was born in Kenya's Kakuma Refugee Camp, the largest of its kind in the world. In 2003, when she was 6 years old, her parents received their papers to start a new life in Vermont through the Vermont Refugee Resettlement Program, one of the official sites of the U.S. Committee for Refugees and Immigrants. Hamza's father, Murjan Amir, spent one year in the Kakuma Refugee Camp before settling in Burlington in 2006.
Hamza is among the first babies born in America to younger generations of Somali refugees who came to Vermont in the early 2000s.
Fardowsa has adopted American mannerisms and expressions yet maintains respect for her Somali elders. Through the help of a mentor — and with a lot of self-motivation — she graduated from Burlington High School in 2014 and earned her way into a four-year degree program at the University of Vermont in medical laboratory science, where she's currently a junior.
Each morning, Fardowsa drops her son off at her mother-in-law's apartment, just across the complex, before catching a shuttle bus to UVM.
Her husband, Murjan, works 60 hours a week, cleaning at Macy's on weekday mornings and providing community support for the Howard Center three evenings a week. When Fardowsa finishes school and gets a job, it will be his turn to go back to school and finish his associate's degree in human services. His dream job is to work with the United Nations to help refugees in Africa.
On having a baby and starting college:
Fardowsa: He was like a month old the day I started school! While he wasn't planned, school was a priority either way, so I just kept going.
Murjan: We were both going to school at that moment, and I didn't have a reliable job, so I had to sacrifice. I decided she has to go to school and I have to [find a reliable job], and then maybe when she is done, I'll go back to school.
On preserving heritage while assimilating to American culture:
Fardowsa: I would say we are both very Americanized.
Murjan: I mean, we still try to keep our culture. On the weekends, I hang out with my friends, and we play soccer and get together with all the Somali Bantu community members and talk about life.
Fardowsa: Even at school, they give me a place where I can do my [Muslim] prayers. But it's different with my parents because they learned to do things a certain way. Like, they say, "Why are you going to school? When is the next baby coming?" And I'm like, "I'm trying to finish school so that I can get a good job and have money to support a second baby." And they say, "God will support the baby."
On the importance of education and self-reliance:
Fardowsa: Before my husband got a reliable job, we used to kind of depend on the government and we used food stamps, but I can't imagine having a second baby and living on food stamps.
Murjan: In order to have a good life, you need an education to move up. And for [the older generation], they don't have education. When they were back home, they used to live a simple life, farming and having children. But in America, it's hard to survive without an education or having a good job.
On wanting a different life for their son:
Murjan: I don't want [Hamza] to grow up in the kind of life I grew up in. That's what moves me. You know, growing up in Africa, thinking about what you are going to eat tomorrow, they don't have education or really good schools. When I was in Somalia, I never went to school. I only started going to school when I got here. Everything is corrupt over there. I never saw a good government and how things can work. The way I see it, without education you cannot go anywhere.
On the domestic realm and bucking old traditions:
Murjan: One thing I can cook is mac and cheese! [Laughs.] Simple!
Fardowsa: I am happy that he is trying, because a lot of men in our community don't feel like they should cook or clean. I am glad he is taking part in the house chores, because a lot of men in our culture don't know how to clean a dish! And he takes care of [Hamza] the way I take care of him, which is so nice to have a man who will do that.
Murjan: And that has to do with culture. Back home, men expect women to do everything in the house. Washing, cooking, cleaning, taking care of kids — that's for the woman. But here in America, we see a different culture. Everyone's the same! The wife's working, you gotta cook. Or you are working and you are not around, she is going to cook. It's fair. We grew up here, and so we have gotten used to it.
Fardowsa: If I am at my mom's house and there are a bunch of men there and she is not home, I will not tell them to go cook their own food! I will respect them and make them food, but here in our home it's not like that.
Murjan: Back home, only men work. They are the providers. Here in America, everyone is a provider. So we take turns.