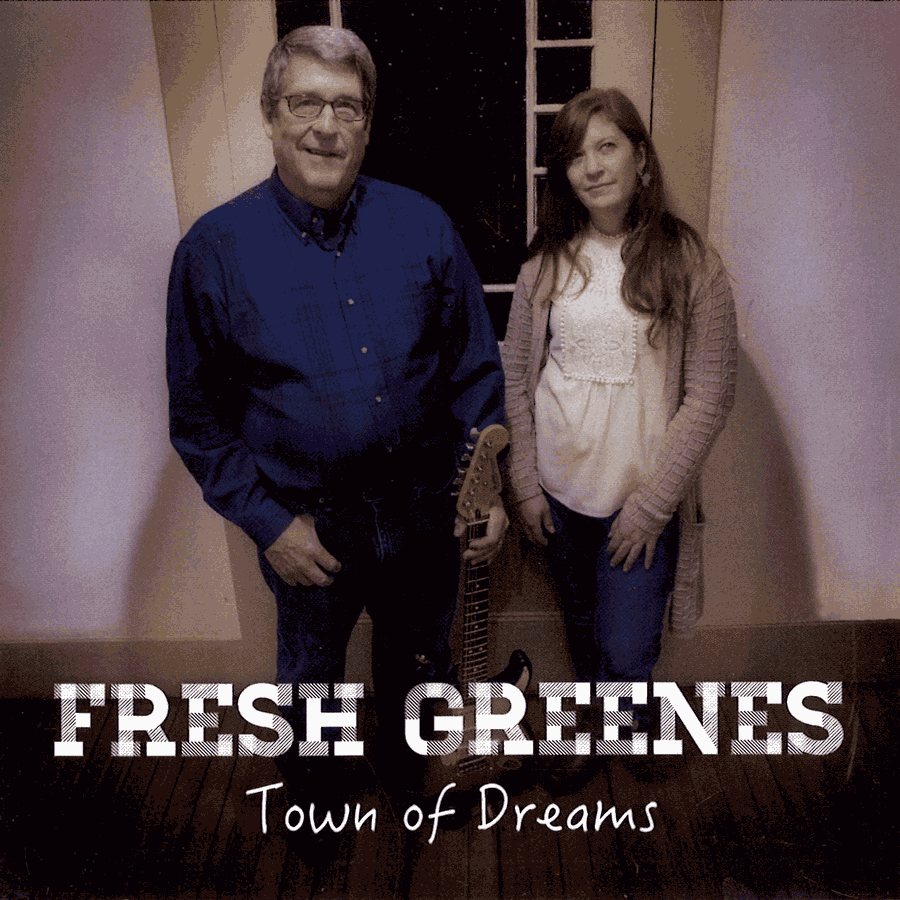 Fresh Greenes, Town of Dreams
(Self-released, CD, digital download)
When we think of family bands, we generally think mostly of sibling acts. While certainly not unheard of, parent-child pairings tend to be less common, perhaps because of generational style gaps — just a hunch, but your parents probably aren't keen to get down on your glitchy electro-pop. That makes Woodbury's Fresh Greenes something of a rarity. On their debut EP, Town of Dreams, the father-daughter duo of Chris and Juliana Greene — see what they did there? — find stylistic common ground in the timeworn bedrock of blues and rock and roll.
Both of the Greenes have considerable musical pedigrees. Chris was an active guitarist and songwriter in his youth but a took a three-decade hiatus. That break ended in 2006, when Juliana went to college, and he returned to writing and playing. The younger Greene majored in music at Mount Holyoke College.
On Town of Dreams, that collective musical DNA proves just as potent as the genetic material the duo shares. Both Greenes are solid technical players. Their performances throughout the EP are polished, revealing an innate knowledge of style and structure.
For example, opener "Old Fashioned Blues" sets a blistering pace. The song is built on a blues-rock guitar riff that sears with classic appeal. But it also highlights the EP's weak point: Chris' ambitious but sometimes lackluster songwriting.
Lyrically, the tune is a confusing muddle of cultural references from Mother Goose to Holden Caulfield (from The Catcher in the Rye) that reads like Don MacLean on a Xanax bender. Juliana's vocal performance suggests similarly lofty aspirations and falls similarly flat. She's a talented singer, but her performance here is overwrought and over-stylized.
The Greenes rebound nicely on the following cut, "Dancing Demons." Juliana is at her best when she resists affectations and sings naturally, which she does to great effect here. Likewise, her father's best writing is his simplest, as evidenced by this sinewy slow burn, which stands as the EP's highlight.
"Mercy" marks Juliana's lone songwriting contribution to the EP. Bonnie Raitt is an acknowledged influence, and the famed singer's imprint is evident here. The breakup tune is dark and sensuous, suggesting the younger Greene might have an untapped well of songwriting chops.
The record comes to a fiery close on "Please Don't Say It Again." It's a punchy cut with spicy, Tex-Mex guitar swagger and a commanding vocal performance from Juliana.
Though not flawless, Town of Dreams is a generally charming work. Its high points suggest that Fresh Greenes could deliver a compelling full-length in the future.
Town of Dreams by Fresh Greenes is available at CD Baby.