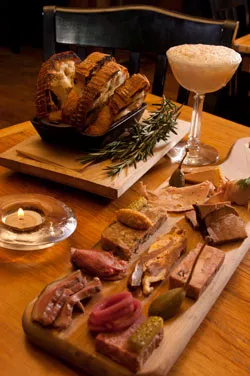 It was the shock of the year in Vermont's restaurant scene: Last month, Bluebird Tavern owner Sue Bette announced that Michael Clauss had replaced chef Aaron Josinsky.
In the year and a half since the Burlington gastropub opened, Josinsky's cooking had garnered a James Beard Foundation nomination for Best New Restaurant and numerous mentions in the national press. His signature farm-to-table style seemed irreplaceable.
But Clauss came to the Bluebird with a well-publicized track record of his own. Following his tenures as executive chef of Daniel Boulud's New York City Feast & Fêtes catering company and sous-chef at the restaurant Daniel in New York, the former New England Culinary Institute instructor returned to Vermont early this year to head the kitchen at The Daily Planet. Not long after starting there, Clauss competed for a place representing the United States in the world's most prestigious culinary competition, the Bocuse d'Or.
Yet The Daily Planet was never transformed quite the way restaurant watchers expected. Clauss made impressive contributions, such as his own churned butter, but the contemporary American fare at the Burlington institution showed no signs of a drastic makeover.
Observers who knew Clauss' reputation for world-class cuisine wondered if the chef perhaps wasn't showing his full deck. Would he pull out all the stops when he got a chance to tackle Bluebird's more ambitious menu?
In a word, yes. When I returned to the Bluebird earlier this month for the first time since last summer, I had one of the best meals I've tried there, possibly the best. I was impressed with what I found at the restaurant's outpost kiosk on Church Street, too.
Inside the restaurant, the welcoming, rustically hip interior was unchanged. Service was excellent as ever. Our server thoughtfully answered lots of dumb questions about the drink menu before finally helping my party to choose Elsa's Coquito, a Puerto Rican take on eggnog featuring a delicious mix of coconut milk, lime and cinnamon.
The menu presented an embarrassment of riches. Did I want parsnip and apple soup with stuffed rabbit and chestnuts floating therein? How about guinea hen pot-au-feu with foie gras and black truffles?
Several tables near me had ordered the beet parfait small plate. The colorful stack of goat cheese, arugula and beet sorbet looked like a delightful dessert. Many diners also appeared to be enjoying a pork belly and octopus dish. Tantalizing as those choices were, I knew one starter in particular would indicate the new state of the Bluebird better than anything else. I had to order the butcher's board.
The wooden board appeared at the table crammed with more delicacies than ever — I counted nine, not including grainy honey mustard and a pair of cured caper berries. Most of the charcuterie components were more than mere cured meat — they were tiny composed dishes prepared with sushi-like precision.
I tucked right in to a crispy cube of smoked-paprika-flavored pork belly, and its creamy fattiness melted in my mouth. Classic chicken-liver mousse got new life from a coating of cocoa and a pile of tiny rounds of sweet-and-sour pickled onions. Housemade ham was very lightly salted and far more delicate than the prosciutto-style meat I expected. The nest of subtle, razor-thin slices was drizzled in unctuous foie-gras honey that took the concept of honey-glazed ham to a new level of extravagance.
And those weren't even my favorites. They couldn't surpass the rabbit terrine studded with tangy cranberries and topped with juicy slices of fresh pear; or the duck pâté dressed with a miniature haystack comprising Campari-flavored matchsticks of candied Meyer lemon. The latter was a particularly sensuous experience. The sweet but astringent citrus cut with diamond precision through the gamy flavor of the duck, which bloomed with lush fat.
Spread on buttery, grilled Red Hen Baking Company bread, this assemblage could have been a meal in itself. But just as we finished the last piece of spiced deer terrine with cacao nibs, out came the entrées.
The double burger, filled with Boucher Family Farm blue cheese and stacked on a fluffy grilled bun, has become a classic at the Bluebird. Clauss has created a new one with his introduction of the lamb burger. The paired patties were every bit as luxuriously greasy as the beef ones. While the original is all lush earthiness, the lamb burger's richness had a counterpoint. Minted yogurt replaced the blue cheese at the center of the two patties. Instead of the Bluebird's crisp, salty, bistro-style frites, a salad of lightly dressed greens and herbs made me feel slightly less like a heart attack might be imminent. The burger accomplished a rare feat: It was so tasty that the accompanying Vermont Smoke and Cure bacon almost seemed like an afterthought.
At $13, the lamb burger was two bucks cheaper than the double beef — another sign of the new regime. When I interviewed him during his first days at Bluebird, Clauss promised to offer at least four lower-priced tavern options every night. He delivered, and I look forward to seeing what's next.
As a whole, the new menu responded to some of the concerns of diners who didn't find the old one approachable. There were no mysterious ingredients or Italian terms that might confuse all but the most informed. Sure, foie-gras terrine came with "Lillet gelée," and Onset Bay oysters were topped with "tarragon sabayon and bacon powder," but that was as esoteric as things got.
My other entrée, Vermont fried chicken, exemplified Bluebird's more populist options. The $21 meal was easily enough for two. A chicken thigh, whole wing and boneless breast were packed into an oblong metal basket with a pair of buttermilk biscuits that were soft and chewy inside and crispy outside. The basket came with two canning jars filled with vinegary green cabbage slaw and something that resembled potato salad but was actually herb-flecked, deviled parsnips.
At first bite, the chicken wing dribbled juice down my chin. The meat was tender, but just sturdy enough not to take on the waterlogged texture that indicates overbrining. The unique batter reminded me of Ritz crackers, and the combination of buttery, salty and sweet tastes was every bit as addictive. My only complaint about the glorious pieces of bird concerned their thick, rubbery skin. It was easy to remove, but not much fun to eat.
I left the Bluebird that night feeling slightly drunk from a combination of excitement and cholesterol overload. The following week, I headed to Church Street to see how the restaurant's first and only satellite was faring.
In September, Bette opened the Bluebird Coffee Stop in the kiosk that once housed Cheese 'n' Crust Souperstar and, before that, Klinger's Bread Company. Clauss told me in a recent interview that he planned to expand the options at the downtown outpost and make it "more of a satellite" to the Riverside Avenue restaurant.
Bette herself was working the counter when I arrived, and poured my French-pressed Black River Roasters coffee. The rich java smelled more chocolaty than actual chocolate. When I spilled some on my glove, I couldn't stop sniffing it.
Clauss had promised he'd serve a rotating cast of four baguette sandwiches daily. I tried one spread with salty butter and filled with the same housemade ham I sampled on the restaurant's butcher's board. While I appreciated the ham's subtlety when it was solo, I wished for a little more punch when it came stacked on the thick ficelle.
But an egg-salad sandwich tasted great even to this eater, who usually cringes at the very idea. Almost microscopically thin slices of scallion gave the soft, well-seasoned eggs a hint of sophistication. At just before noon, Bette said she had already sold out of the soup du jour, but she promised to have plenty of creamy chicken the next day.
I was also disappointed to see that my favorite densely chocolaty pudding, topped with salt and milk jam, wasn't available that day. Desserts were limited to a selection of cookies.
Instead, I ordered a jar of bacon-candied almonds, one of my favorites at the Bluebird since it opened. Bette presented a Ball jar full of them and explained that if I returned it empty, she would give me 50 cents. A combo of sweet, crunchy almonds and meat that's environmentally responsible? Sign me up.
My overall assessment of the new Bluebird? Clauss has recharged the restaurant with a sense of fun and whimsy that's simultaneously new and old. Nothing is dramatically different, and many dishes still bear Josinsky's stamp. However, the changes appear to be for the better. With a place for both the approachable fare he prepared at The Daily Planet and the artistic flair he showed when competing for the Bocuse d'Or, Clauss seems to have found an ideal match for his skills at the Bluebird.
Foie-gras honey? Juicy fried chicken? More mid-priced items? That's something to sing about.