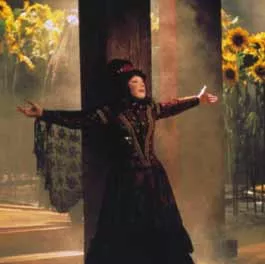 Everyone loves Carmen, including me. A perfectly balanced mixture of comic, exotic and tragic elements, there is not one slack moment in the drama or the music. Carmen is a symbol of passion, a powerful seductress whose fate is to die, not by being dragged off to Hell by avenging spirits or in order to redeem a man — the frequent and offensive function of women in Wagnerian opera — but from the consequences of the deranged passion she provokes in one of her conquests, the soldier Don Jose. Jose, on the other hand, is naïve, a victim. He is a symbol of the powerlessness of all men in love, beyond reason or control.
The complexity of Carmen and Don Jose is offset by a pair of two-dimensional characters, Micaela and Escamillo. Micaela, whom Jose's mother would like him to marry, is a sympathetic goody-goody representing the conventional path from which Jose strays. Escamillo, the preening bullfighter, stands for pure machismo. We imagine that he could stand up to Carmen.
The chorus is also an important presence here, participating in and commenting on the drama. Carmen is fast-paced and often compelling — one reason it appeals to people who may not otherwise like opera. But the main selling point is the music, which is a miracle. From start to finish, Carmen supplies a series of inspired tunes, immediately accessible and inexhaustibly enjoyable. There are the "greatest hits," known to anyone who has ever viewed a Bugs Bunny cartoon: the overture, the "Habañera," the Toreador song. And who could forget the alternate lyrics, "Toreador, don't spit on the floor?"
Then there are the slightly less familiar but equally great Seguedilla, Gypsy song, Flower song, etc. Two that are sometimes overlooked are particular favorites of mine: the funny, quicksilver quintet in Act II, and Carmen's song with castanets, which the composer combines so effortlessly with the bugle call of Don Jose's regiment to create a definitive portrait of the two characters.
Nothing in Georges Bizet's several earlier operas hints at the consistency of what he created in Carmen. Perhaps his music is a "miracle," too, because we know that he would die soon after composing it, at age 37.
The Flynn was full last Friday night with an audience present not because they had heard of any of the performers but simply because it was Carmen, and they gave the London City Opera the benefit of the doubt. The crowd was a cross-section of regular subscribers, college students — and beleaguered presidents — young children and my mother. Visiting from Manhattan, she reminded me that the labor pains of my birth began during a 1955 Saturday afternoon Metropolitan Opera broadcast of — you guessed it — Carmen.
For those of us who love going to the opera — particularly to one that we've seen and heard many times before — a production and its singers are forced into competition with others in our memory, or on our favorite recordings at home. We think we know how we want each character to sound. One of the thrills of opera-going, therefore, is to have our preconceptions changed by a new and unexpectedly exciting singer. I confess that when I ventured to Carmen at the Flynn, it was with fairly low expectations and a not entirely open mind.
Act I: The music began to cast its expected spell. I took note of the cast's youth and the generally pleasing quality of all of the singers in minor roles, noting also the very British-accented French, Captain Zuniga's music sounding more like Gilbert and Sullivan than usual. Tenor Bradley Daley, singing Don Jose, seemed to be having some vocal problems. I hoped that he would overcome them, which in fact he did, but not until late in Act II, when his upper range took on added volume and ring.
For the record, Martin Higgins' Escamillo had an attractive baritone voice that didn't project particularly well, perhaps as a result of less-than-perfect breath control.
Pamela Wilcox, a definite asset to the performance as Micaela in her "jupe bleue," sang with a pure and unaffected high soprano, although some of the climactic high notes in her Act III aria showed signs of strain.
And then the pleasant surprise: 28-year-old Louise Poole as a young, lithe Carmen with a healthy, focused and genuinely beautiful voice. She did not erase memories of Callas or Crespin — or even the current Russian mezzo, Olga Borodina, a formidable Carmen on the previous week's Met broadcast. Yet Poole brought something memorable to the part; a fine ability to sustain long phrases, and a sensuous, even tonal quality throughout her full vocal range.
Poole was a refreshingly cool Carmen, using her well-schooled English voice, a refined and unforced mezzo-soprano, to avoid the histrionics that sometimes substitute for singing in this role. From the first few notes of the "Habañera," the audience could relax, knowing it was in for a Carmen worth watching and listening to.
The touring Londoners brought us a modest, traditionally staged production. Thankfully they did not change the Spanish setting to a condominium in Cambodia, and did not re-interpret the plot from the point of view of Don Jose's grieving mother, or the bull slaughtered offstage. Providing line-by-line translations, supertitles projected above the stage were clear and helpful and only occasionally descended to the level of the incomprehensible, as in: "And there leading the march is the ugly alguazil. Down with him!"
There were some nice staging touches, as in the ceremonious dressing of the bullfighter during the prelude to Act IV. Ditto the costuming. Carmen sported a stunning, light-orange dress in the same act. There were also a few miscalculations: Shouldn't Carmen be sitting with her friends and looking carefully at the cards to learn of her fate in Act III, instead of singing to the audience? And doesn't Don Jose need to physically prevent her from leaving when she cries, "Laisse-moi passer!" in Act IV, instead of standing at another side of the stage?
To those of us used to the opulent sound of recordings, the orchestra — small, underpowered, but with spirited tempos set by conductor John Beswick — took some adjusting to. However, this does not explain why the otherwise respectful audience chose to talk through the wonderful entr'acte preceding Act II.
Overall, the Flynn proved to be an excellent hall for opera — only slight amplification was used — and the London City Opera's Carmen was a success. I hope that the Lane Series will bring this company back, and that the audience was sufficiently seduced by the experience to return, even for a less tried-and-true work. In a perfect world, there would be a different opera at the Flynn every week.