Andie Pinga
The Maloneys with Destiny
If you're a kid in Vermont, looking up at a star-filled sky and running barefoot in the grass are just part of growing up. But if you're raised in an urban area, you may not have experienced those things before.
Thanks to the Fresh Air Fund, hundreds of kids from New York City have the opportunity to enjoy the natural beauty and simple pleasures of the Green Mountain State every summer. The non-profit organization has provided free summer experiences to more than 1.8 million New York City children from low-income communities since 1877. Some kids leave home for the first time to live with volunteer families for one or two weeks, while others return to the same host family year after year.
On the first day of August, Dorset Park in South Burlington was filled with excited families holding colorful welcome posters, waiting for their Fresh Air kids to arrive. Around 6 p.m., 19 children filed out of a large coach bus.
South Burlington residents Eileen and Sean Maloney and their middle schooler, Emma, greeted 11-year-old Destiny. The Maloneys had a busy agenda for the week. They planned to take Destiny to Mount Philo, ECHO and Great Escape, and to her first-ever hockey game. Destiny said she was looking forward to "anything fun, spending more time with them and out in the open doing outdoor activities."
Emma said it was actually her idea to participate in the Fresh Air Fund program after seeing her friend, who had previously hosted a child, in the newspaper. Eileen and Sean said they were excited for their daughter, who is an only child, to get the chance to share things with another kid in the house. The family communicated with Destiny via FaceTime prior to her arrival.
"Emma was able to take the iPad, and walk around the house [while on FaceTime with Destiny]," sai Sean. "We had conversations about what foods she likes. She heard about ice cream and she was wicked psyched."
[jump]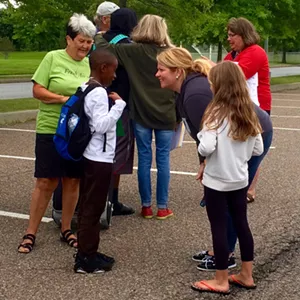 Andie Pinga
Shawna and Brielle greet Brendon
Shawna, a teacher, and her daughter, Brielle, live across Lake Champlain in Morrisonville, NY. After discovering the Fresh Air Fund on Facebook, they decided to host Brendon, 9, for a week. The mother and daughter were looking forward to taking him boating and hiking, and to visit to the Wild Center in Tupper Lake.
This was Brendon's first time away from home. Why was he eager to come to Vermont? "Because I live in the city and I didn't get a taste of fresh air." he said. "And plus, I can't sleep because it's too noisy."
When Shawna asked Brendon if he was worried that it would be too quiet at their house, he didn't hesitate. "I think it's perfect," he said.