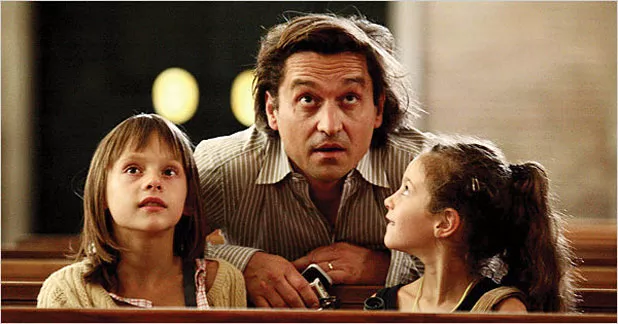 Still from The Father of My Children
A millionaire's kidnapping exposes his secret life. A movie producer struggles with his finances and eccentric auteurs. A troubled KGB agent finds himself revealing too much to a French spy. A working-class family man can't stop thinking about his son's pretty teacher.
Those are some tense plots you can watch unfold starting Friday at Merrill's Roxy Cinemas at a showcase called New French Films, screened in conjunction with Burlington City Arts' International Arts Celebration.
Locals may remember that French flicks took over the Roxy in July 2009 for the Lake Champlain quadricentennial festivities. Back then, "a desire on our part was to meaningfully connect France and Québec in particular," says Quad organizer and local filmmaker Jay Craven. So he got in touch with the cultural officer of the Consulate General of France in Boston, which contributed $5000 for four days of film screenings.
The Quad is history, but Craven wanted to continue New French Films as a stand-alone event. "In thinking about France culturally," he points out, "film automatically comes to the top of the list. No country more than France has devoted such cultural resources to film."
So Craven again went to the French consulate, which contributed $1800 to this year's weeklong event with the proviso that one 35mm print be shipped from France. That's Rapt (2009), the kidnapping story, which has screened in the U.S. at festivals. Stephen Holden gave it thumbs-up in the New York Times, writing that the movie "plays shrewdly into the growing public disgust with entitled elites." He also liked Farewell, the fact-based spy story in a Reagan-era setting.
The other three films have seen more play stateside, but they're worth a look — particularly 35 Shots of Rum, from acclaimed director Claire Denis; and Mia Hansen-Løve's The Father of My Children, which sounds like a domestic drama but is actually about the messy movie business.
Craven says he'll "try to continue to develop that relationship" with the consulate; he's currently in talks about curating a French film showcase at Catamount Arts in St. Johnsbury as part of next spring's Green Mountain Film Festival.
What's the next creative project for the Peacham filmmaker, whose last feature, Disappearances, came out in 2006? Craven has been developing a drama based on Judgment Ridge, Dick Lehr and Mitchell Zuckoff's account of the 2001 murders of Dartmouth professors Half and Susanne Zantop. The filmmaker, who personally knew the two teenagers responsible, calls it a "very complex story" that still stirs up powerful feelings in locals: "There's controversy about whether I should do it or not," he says. Less controversially, Craven has the rights to They Don't Dance Much, a 1940 "country noir" novel by James Ross with a cult following.
As always, says Craven, the biggest challenge to indie filmmaking is financing. But he's happy to have New French Films under way with help from les Français. "We hope distributors will attach growing value to a Burlington showcase of French film," Craven says. "We certainly felt last summer that people who are just loyal to film were thrilled to have the exposure." Mais oui.