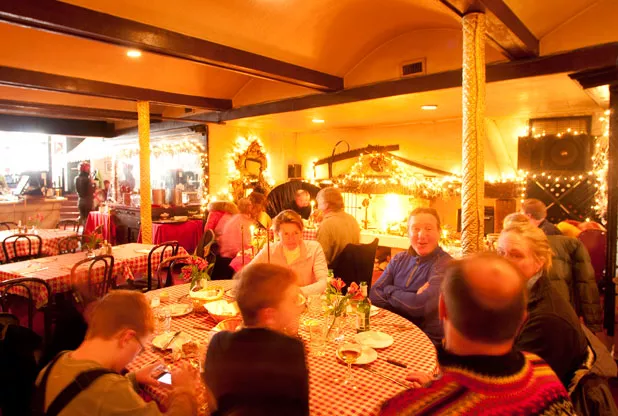 Chez Henri Restaurant and Bistro
The brown-and-white sign that marks Chez Henri Restaurant and Bistro looks as though it hasn't changed in decades. The interior, too, is a throwback to the mid-20th century. As you pass by the white marble bar and into the dining room, with its sparkly white lights and mirrored booths, you can almost imagine it's postwar Paris and Edith Piaf will appear to sing "La Vie en Rose" at any moment.
Chez Henri isn't quite that old: It opened in 1964, the first French bistro in Vermont. Arguably, it is still the most authentic. The restaurant's unusual longevity is no small feat — it's nestled in a lodge in Sugarbush Village, more than 20 miles from a highway. It's only open in winter, and its meals can be decadent in both length and price.
A classic bistro is a place to return to again and again for filling, unpretentious dishes and unobtrusive yet warm service. Chez Henri has that in nines, starting with the 85-year-old original proprietor and former chef, Henri Borel, who still skis most days and oversees the dining room each night, chatting with diners. His partner and maître d', Bernard Perillat, and the waitstaff are all seasoned professionals who come back year after year.
Most tables and booths at Chez Henri are atmospheric in their own way. My companion and I, seated in the high-backed chairs at one of the two tables flanking the fireplaces, felt like we were about to partake in a medieval banquet. "Eating in a ski area is a little like eating at Disney World," my date whispered as we blinked at the flames and took in our surroundings.
Beside the fire, servers sliced loaves of warm Red Hen bread, baskets of which they delivered to each table along with a ramekin of sweet butter — very French. "When we started, it was almost impossible to get unsalted butter in Vermont," said Borel. The same was true of fresh fish and anything but iceberg lettuce.
Times have changed. Vermont now offers a cornucopia of fresh produce most of the year. Like the bistro's ambience, its menu has an old-fashioned, earnest elegance. "I don't think it's changed much in 30 years," said our waiter, though chef Tim Seniff conjures specials each night.
In the bar, those craving a casual meal can choose from a less expensive menu of salads, soups, croques-monsieur (grilled ham-and-cheese sandwiches), fondue, burgers and frites. In the dining room, however, it's full-on, old-school French: moules marinières. Escargots. Pâté. Bouillabaisse. Rack of lamb. Steak tartare. Filet au poivre.
The soupe à l'oignon gratinée, or French onion soup ($9), arrived in a classic crock, with a cloud of melted Emmentaler cheese over the top. This winter staple can often be too salty; Chez Henri's version was understated, with an appealing sweetness — perhaps someone in the kitchen had a heavy hand with the vermouth. An aioli de champignons ($9) was a chilled mound of sliced cremini mushrooms lightly dressed with aioli and herbs, with a necklace of greens. Its dressing was restrained; I would have liked it creamier, or more garlicky.
Muscular European oysters are ubiquitous in Parisian bistros. At Chez Henri on this particular night, the huîtres ($4 each) hailed from Watch Hill in Rhode Island. Both of us are bivalve junkies, and these were a revelation: glistening and creamy, not overly salty. They were served with a tangy mignonette sauce.
Carnivores will find it hard to choose from the entrées. A canard aux fruits (also offered with a green peppercorn sauce; $32) was a plate of moist duck breast and faintly crisp confit leg, both in a demi-glace sauce accented by puckery bits of mandarin. A juicy filet au poivre ($29) was generously coated with pepper. Both entrées had identical accompaniments: a dollop of puréed squash, a smear of creamy potato gratin and green beans — it was like autumn on a plate.
As we ate, we noticed a few other diners huddling over silver-rimmed fondue pots. It turned out the cheese fondue ($12) only appears on the bistro menu but can be ordered in the dining room, as well. "So many people were ordering it that the kitchen would get backed up," explained our server. Chez Henri's fondue uses Vermont-made cheddar and Swiss cheeses.
The tap beers and hot drinks, such as rum cider and bouillon russe, may be popular après ski, but the wines on the broad, by-the-glass list ably complement the fare. Chez Henri's selection includes nine reds and five whites — mostly Georges Duboeuf wines — by the glass. So, a diner who likes to pair course by course is in luck. Rhône lovers, even more so. The floral viognier I chose was a touch too robust for the oysters, but the syrah was moody enough to match the canard bite by bite. The berrylike Côtes du Rhône red was among the most versatile with food, from soup to steak.
For dessert, we eschewed the crème brûlée and chocolate mousse cake and instead dug into an almost smoky crème caramel served with fresh whipped cream. Bracing French-press coffee sobered us up for the drive home.
Sated but with lighter pockets, we headed out into the snow. A dinner at Chez Henri is not so much about surprises as it is about indulging the senses: a roaring fire, classic French fare and understated decadence.