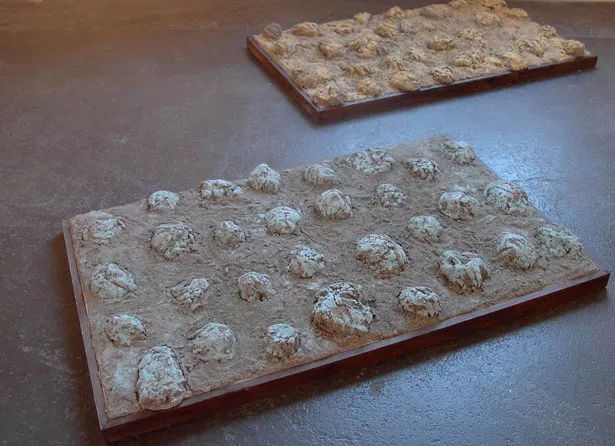 "Floor Stones" by Gaal Shepherd
Gallerist Gaal Shepherd doesn't usually give herself a solo show at her own venue - the Cooler Gallery in White River Junction - but it's fortunate that she did this spring. "La Muraille: an exhibition on the theme of a wall" is a powerful, multiple-media show exploring the weathered exterior wall of an ancient barn in the Pyrenees. Shepherd first discovered the beautifully designed wall, made from fieldstones and set in thick mortar, on a trip to France in 1991. For several subsequent years it was her primary aesthetic locus and inspiration: Shepherd recorded, altered and reinterpreted the wall's forms, hues and rhythms in the nearly 30 artworks in this show.
Some of her obsessive ovals and circles appear ambiguous at first, especially in the paintings. "Luminous Stones," the show's largest two-dimensional piece, is a 36-by-52-inch canvas with visual layers of irregularly shaped, rounded objects. Shepherd emphasized the colors of the actual wall, such as the turquoise blue of a worn-out sign, which saturates the painting as if it were a scene from the bottom of the sea. Deep reds and purples also fit neatly into the harmony.
The 22-by-36-inch "Mortar" looks like an abstract painting in white and pale gray. Impasto passages with a hint of raw umber were blended into the whites, and at left is an irregular form with the contours of a fieldstone. The painting echoes Abstract Expressionist Mark Rothko's proclamation that "There is no such thing as a good painting about nothing." "Mortar" isn't really non-objective; it's the spirit of the wall, its ancient marrow.
A 30-by-22-inch pastel on black paper, "Nervous Stones," also picks up on the faded blue paint of the wall's sign. Heavier stones appear at the bottom, and a square of stones at the upper right indicates a sealed-in window.
"Long Wall" is an 18-by-34-inch pastel that captures the wall receding toward a vanishing point at far left. Shepherd gessoed her paper with thick, broad strokes, which give the pastels faint ridges. This work also has an interesting composition: The lower tiers of dark stones serve to create a false "horizon" midway up the wall, contrasting with oblique diagonal axes above and below.
Shepherd has included Cibachrome photos of the wall in the show, along with mixed-media works employing photographs and photo-collage techniques. In "Stone Row Number Three," a 16-by-20-inch oil-on-photo image, oil pastels and paint add visual textures to the smooth paper. Collaged photo elements in "Cut Stones Number Two" were pieced together like the wall itself. Shepherd focused on an arched niche in the wall and filled it with a vertical - rather than horizontal - stone pattern. That dissonant section puts into relief the importance of rhythm in the overall stone construction.
Shepherd's two-dimensional portrayals of the wall are relentlessly frontal, and it's generally seen from a short focal length. By their very nature, her sculptural pieces reflect a different approach - they exist in three-dimensional, plastic space. For her two "Floor Stones" sculptures, Shepherd crafted faux stones from plaster and vermiculite and framed them in 32-by-53-inch wooden boxes. They are quite naturalistic, resembling actual sections of the wall in France. "Box One" and "Box Two" are 13-by-13-inch, wall-mounted assemblages that each contain a slice of aged barn beam. Shepherd's boxes hold the square wooden pieces like mounted trophies, or relics of a bygone age.
"La Muraille" is well worth a jaunt to White River Junction - and searching for the original barn in southwestern France this summer might not be a bad idea, either.