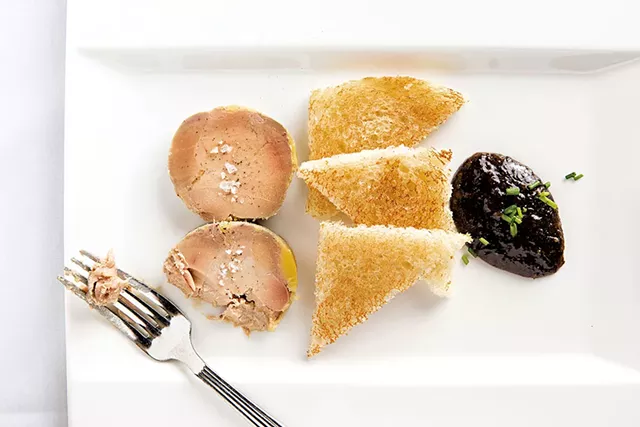 Oliver Parini
Foie gras torchon
On Friday, November 13, the roll-down gate was open at La Belle Équipe, a popular bistro in Paris's 11th arrondissement. The night was mild and diners spilled across the threshold into sidewalk seating. A group gathered for a birthday celebration. Then two men stepped out of a car and massacred 19 people in a shower of chaos and terror.
We may never fully understand why ISIS zealots chose La Belle Équipe and five other locations in the City of Light that night, though consensus seems to be that "Parisian hedonism" was the real target.
By that logic, it's understandable why a bistro was targeted. Though not usually fancy, small neighborhood cafés give a heartfelt bienvenue to all who enter, offering everyday indulgences with the off-the-cuff grace typical of casual French hospitality.
"Here, try this with the torchon," your waitress might say, placing an unsolicited glass on the table. You nibble the livered toast, then raise the glass to your lips. A honey-soaked sip of Sauternes washes through the toast, sending shivers of pleasure through your body. Your glee radiates forth as an irrepressible smile.
These are the touches that distinguish a decent restaurant from an excellent one, and most good bistros offer them with effortless frequency.
Oliver Parini
Herve Mahe
When chef Herve Mahe announced that he'd transform Burlington's L'Amante into a real-deal French bistro, fans mourned the loss of the longtime trattoria even before it closed. Some relief came when Mahe said he'd keep on the restaurant's long-serving staff. The food would be different, but with the same kitchen and front-of-house personnel, regulars could return to familiar faces.
Behind the scenes, Mahe saw that the restaurant's staffing door wasn't a fast-revolving one, and, after 30 years in the business, he knew better than to mess with a good thing. The chef has worked in restaurants with one, two and three Michelin stars across Europe and North America, inching his way up the kitchen ladder under and alongside storied chefs including Jean-François Malle and Mathieu Viannay.
When Mahe landed in Vermont, he taught at the New England Culinary Institute — he was one of the last men standing when the school closed its Essex campus — before taking a post at the Hilton Burlington in 2011. He opened the Mounted Cat there in 2014 and served straight-forward "new American" bites, mostly to hotel guests.
After cooking other people's dishes since age 18, Mahe was ready to go it alone. When he began shaping Bistro de Margot last summer, he told this reporter that the project was "the achievement of what I've wanted to do for a long time." From now on, he said, he'd be cooking his own ideas.
The chef named the restaurant for his grandmother, he said, who lived to 100 years old. She was ever the matriarch-hostess, running circles around everyone in the kitchen and dining room, seeing to every detail.
That's how you'll find Mahe if you visit his restaurant. Even on the busiest nights, the chef spends much of his time in the dining room, greeting parties, clearing plates and settling babies into high chairs. "How do you like everything?" he'll ask earnestly, hoping for critical feedback. "Are you enjoying that wine?"
Maybe it's the seasoned staff, or that the French-trained chef simply knows how to run a restaurant, but the 3-month-old bistro already seems like a well-oiled machine. Service is efficient and polished; most servers know the wine list well and are quick with a spot-on pairing for whatever you've ordered.
But with veteran bartender Paul Gibson in charge of libations, you might as well start with a cocktail, and les mixes de Margot skew classic and boozy. Rye drinkers will enjoy the manhattan-esque Vieux Carré. The Vert Mont Vesper (styled after James Bond's martini in Casino Royale) is icy, clean and clear, all Vermont gin and vodka splashed with Lillet blanc. A cider mojito swaps ice cider for sugar in an autumnal take on the minty summer sparkler.
Oliver Parini
Pan-roasted cod
Unless you plan to base your meal around wines that excite you, it's wise to delay visiting the wine list until you've decided what you'll eat. Mahe's menu means to be enjoyed with vinous ferments, and Gibson has done a fine job selecting interesting French wines that match the food. What's more, waiters seem to enjoy providing tastes from the list and guiding guests toward a bottle that will service several dishes.
So a fresh, cherry-rich glass of Burgundy pinot noir brightens the fatty crisp of a twice-breaded oxtail croustillant. Later, the subtle tannins and spice in the same wine — from tiny Domaine des Moirots, where owner Christophe Denizot is a Mahe family friend — play nicely with a steaky duck magret.
Pan-roasted to a perfect juicy magenta, Mahe's thin-sliced duck breast is best taken without interference from the Brussels sprouts, purple potatoes and Belgian endive that share its plate. Let the earthen, nutty meat linger on your tongue. Feel the light sting of its peppered edges; absorb the salty-sweetness of its skin.
Between bites, sample the starchy firmness of the local potatoes and savor the endives' mellow braise, then crunch into a Vermont cranberry, tart and raw-crisp, to clear your palate for another strip of duck.
While these Hudson Valley moulards are known for their ample breasts, the ducks' primary duty is to generate creamy, large-lobed livers. These also appear on the menu at Bistro de Margot.
I'm ambivalent on foie gras. If there's a compelling reason to order it, I will, but please make it worth the price and all the effort that went into producing it.
Mahe tends to present pristine ingredients unfettered by any chef-y stamp of ego, and his foie is a simple torchon: livers marinated in sun-kissed sweet wine and rolled into cheesecloth, flash-poached and chilled.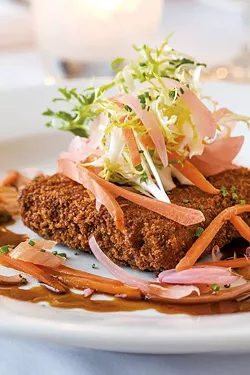 Oliver Parini
Oxtail croustillant
Spread onto brioche toast with a dab of truffled black currant jelly, the preparation was flawless duck ambrosia — so lavish and pure, it felt almost sinful to eat it.
But isn't that what you want when you're paying a premium to eat out? At $9 to $15 for most starters (the foie was $19), and $20 to $30 for entrées, Bistro de Margot isn't cheap. Nor is it prohibitively expensive.
Less opulent dishes were as graceful and understated: a bowl of silken celery soup, scattered with fried shiitake; pan-roasted chicken breast, glassy-skinned and perched atop velvety mashed potatoes in a puddle of lustrous jus.
Then there was a quartz-white filet of cod, seared to a golden brittle and resting on a bed of wilted chard. The fish fell away in clean flakes, giving brine to the cannellini below, which were heady with rosemary, bacon, duck fat and thickened veal jus. More than most, this dish seemed to distill the elegant, homey harmony of good bistro cookery.
Oliver Parini
Lemon meringue tart
Another night, Mahe's escargots revealed the peaty loam you'd expect from a creature that slides along wet leaves and soil, feeling its way with ancient mollusk antennae. And if the accompanying pommes dauphine — crunchy morsels à la tater tots — were a bit dry, I had to look no farther than those little pools of herbed butter, robbed of their snails, for moisture.
The fries in the steak frites were similarly unremarkable alone. But they made a worthy vehicle for the steak's umami-packed sauce Dijon. And that striated hanger steak, charred to an exacting medium-rare and licked with smoke, was a reminder of why butchers historically kept the cut for themselves.
After all this, dessert may seem like overkill. But Bistro de Margot's sweets are worth a look. Mahe doesn't employ a pastry chef but, on one night, a few bites of a friend's exquisite lemon curd, snow-capped with toasty meringue, made me rethink my usual disdain for jar desserts.
Then, savoring tangy apples layered and caramelized to the edge of recognition in a slice of tarte tatin, I questioned my devotion to American apple pie.
And the crème brûlée is good. Like, really, really good.
Then again, if after a meal of French finery you prefer the warm embrace of a glass of Calvados, or the enigmatic, low-burning haze found in a sipper of Benedictine, go for it. Celebrate life — that's what bistros are for.