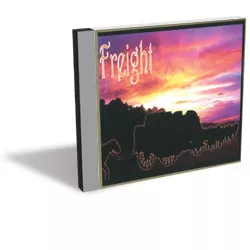 (Self-released, CD)
It's the old question: If you were stranded on a deserted island and could only have three albums, what would they be? Putting aside the logistics of finding a CD player, turntable or iPod charger on a deserted island, people typically answer that question with their favorite albums. But I say it's not about your favorites; it's about what music fits the mood.
Which brings us to the band Freight and their recently released, self-titled debut. If you tweak the isolation situation to a lonely deserted road, Freight would fit the mood like few other bands do. Their songs can really be described as lonesome in a "long, dusty trail" sort of way: slow tempos, clean electric guitar, mournful saxophone and tons of space to breathe.
The Queen City outfit organized this summer's Vermont Roots Rock Revival concert series in Burlington's Battery Park, and that's a good starting point for their sound. They pull in aspects of all kinds of Americana — country, folk, blues, rock and a bit of jam. They're not rootsy in a traditional sense of the word, but more in a classic-rock-meets-Jerry-Garcia kind of way.
Lead singer John-Paul Arenas powers the band with a road-weary croon that sounds a bit like that of My Morning Jacket's Jim James. Arenas' lyrics continue the band's general aesthetic. For example, on "Aching Blues" he sings, "I've been down this lonesome road before / and I've read these signs a thousand times or more." You get the idea.
Guitarist/saxophonist Christine Mathias also sings a handful of songs, and her confident presence provides a nice foil to Arenas' battered sound. Mathias' turns as lead vocalist on songs such as "Live Like This" and "The Forrest" provide much-needed variety, both in terms of her singing and the relatively upbeat nature of her songs.
But even on these, Arenas is still the star in some sense, as it's hard to ignore his takes on lead guitar. As quiet and sad as he sounds when singing, Arenas unleashes all his presumably pent-up energy on guitar. Witness the rock-out guitar pyrotechnics of "Everything." The guy can play a searing guitar solo with the best of 'em.
The band's rhythm section, with Chris Jovanelli on drums and Peter Bixby on bass, gives the songs the propulsive base they need to nail that going-down-the-road vibe. Jovanelli's drumming is especially noteworthy — he knows exactly when to lay it on and when to keep it simple. Bixby's bass playing is technically strong, but almost too strong. At times, it's a little distracting.
When Freight stray from their electric-folk sound, results vary. "Still Life" adds some reggae grooves to the equation, and it falls flat. Do we really need any more jammy bands in Vermont trying to inject reggae into folksy songs? On the other hand, closing track "Rocking With You (The Front Porch Song)" is a rollicking little country-rock number that suggests the band could really have some fun if they let themselves. But when they've got the weary, lonesome sound nailed so well, why should they?
Catch Freight at the Langdon Street Café in Montpelier this Tuesday.