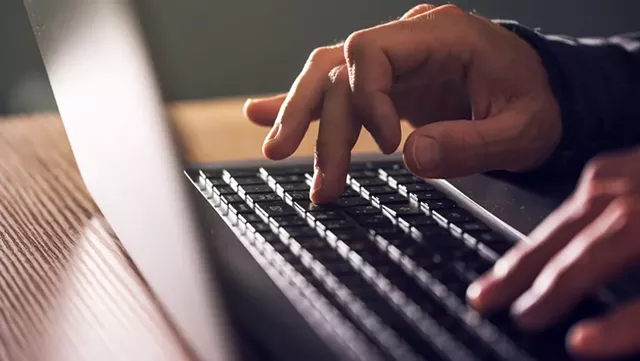 We like to imagine that commenters on the Seven Days website think before they post.
Do I have something witty or useful to say? Will this get me lots of likes? Has State Auditor Doug Hoffer weighed in yet?
Believe it or not, we wade through every comment — the good, the bad and the incomprehensible — to make sure it complies with our commenting policy. Most contributors keep it classy. Inevitably, though, this year's national nastiness trickled down.
Our writers were occasionally the subject of commenters' scorn. But, hey, we've got thick skins. And it was duly — and gratefully — noted when we received compliments of the highest order.
From the nearly 6,200 comments posted on our site in 2017, here are a select few that really stood out to us: the clever, the vitriolic and the random. None of the original spelling, punctuation or grammar has been corrected, and the authors are identified by user names — often pseudonyms. We've spared you the ongoing online debate about that.
Keep 'em coming! Just like you, we'll be reading.
Guns don't kill people. Chuck Norris kills people.
Posted by Mt. Philo, January 7
Ed. note: If only it were so simple.
Eva Sollberger and her Stuck in Vermont series are wonderful treasures.
Posted by Jessica, January 10
Ed. note: Not gonna disagree.
He's paid for this sophomoric drivel?
Posted by RudigerVT, January 15
Ed. note: He actually gets a bonus.
Portlandia, anyone?
Posted by The Oracle, January 18
Ed. note: We're all just living in a sketch-comedy show.
Fighting Blue Gerbils! Aggressive yet politically safe!
Posted by Dave Meek, February 3
Ed. note: Certainly not racist.
Except gingers. Those pastey-faced bastards can hide from the sun somewhere else.
Posted by Tristy Pod, March 7
Ed. note: Charming.
Dying is easy. Comedy is hard.
Posted by RudigerVT, March 12
Ed. note: Doesn't stop commenters from trying...
Congratulations to all of the commenters who through hard work and perseverance had the good fortune to be born in the United States - you really earned your smug sense of superiority!
Posted by stellaquarta, March 18
Ed. note: Gonna need some ice for that burn.
good god Seven Days, please tell me you're paying hack Walters with circus peanuts or fake MBTA tokens or something else that's straight-up worthless. Otherwise, you're getting ripped off.
Posted by jsnodgrass, March 30
Ed. note: Monopoly money. He's paid in Monopoly money.
Charles Murray is what dumb people think a smart person sounds like.
Posted by ReneBushey, April 10
Ed. note: If he were allowed to speak, that is..
Certainly are a lot of tweaked potheads out there, chill out! VT has a history of doing things the right way, we'll get there.
Posted by Bob Frazier, May 24
Ed. note: We're holding our breath!
Hannah, a crawfish is not a mollusk. It is a crustacean.
Posted by John Yackovetsky, May 24
Ed. note: Whoops! What the shell.
Why do all of John Walter's stories' titles start with his name? Is this to warn the reader or something? This doesn't happen with Seven Day's other writers.
Posted by Muffy on May 4
Ed note: It's to signal he's an opinion writer. You've been warned.
Wrap in Tyvek and call it a day.
Posted by Christopher W. on July 1
Ed. note: Very practical!
Re: "Ludlow Great American Party," (calendar listing, June)
How long is the hot dog eating contest, what time is it? Most importantly, what do you win? If cash or gift cards,in. What denominagion(s)?
Posted by Joe Menchetti, June 23
Ed note: We relished this comment.
If your thing looks like that, you might wanna get that looked at.
Posted by The Oracle, September 27
Ed. note: Come for the story, stay for the medical advice.
Ben and Jerry were 2 pos liberals, the owners of Ben and Jerry now are also pos liberals.. Wouldn't spend a penny on their ice cream...
Posted by Donna Boutin, October 4
Ed. note: Sounds like someone needs some ice cream!
Headline should read: "Seven Days inherits the Twitter police."
Posted by Tiki Archambeau, October 27
Ed. note: And now, the comment police!
I've never heard of Mr. Kisonak, but judging by his review, I'm guessing he's an old curmudgeon who in his spare time sits on his porch yelling at any young children passing by to keep moving and stay off his lawn!
Posted by J cohen, November 25
Ed. note: Not far off!
Congratulations to KBTL for electing Donald Trump.
Posted by Stellaquarta, November 28
Ed. note: To the spoiler goes the blame.
Hopefully this isn't some sordid combination of too much Breaking Bad and lingering tensions from last weeks game of Bridge.
Posted by Adam Salem, November 29
Ed. note: Walter White approves.
How come they ain't asking if the pilot was ok after he crashed
Posted by Raymond Parizo, December 1
Ed. note: Someone let Ray know how drones work.
Why can two people in a row not spell castor beans correctly when it's literally in the article you're commenting on?
Posted by Neil, December 5
Ed. note: Fair question.
I think we need to form a committee and study this more. Maybe I'll buy something next Xmas. Or the one after.
Posted by Mick, December 6
Ed. note: This comment might make next year's list, too.
Vermont really needs to step up it's game, New Hampshire has Vermin Supreme and all we get is this batch of sad sacks.
Posted by Martin, December 8
Ed. note: Step right up, Martin!
Thank you SevenDays for not needlessly playing into the hysteria and lazy media narrative that these are Russian generated comments.
Posted by Adam Salem, December 11
Ed. note: "Adam Salem" is our Russian comment bot.