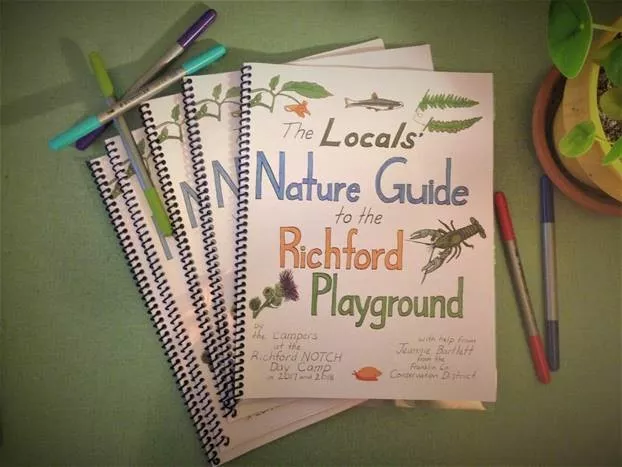 Courtesy of Jeannie Bartlett
The cover of the new nature guide
A recently released nature guide to Richford, showcasing 70 species of native plants and animals, features observations and descriptions from local kids.
Released in late September by the Franklin County Conservation District, the second edition of
The
Locals' Nature Guide to the Richford Playground
was spearheaded by district manager Jeannie Bartlett, who worked with kids ages 5 to 14 who attended the free Richford NOTCH day camp in the summer of 2018. The project was funded by the Upper Missisquoi and Trout Rivers Wild and Scenic Rivers grant program.
Courtesy of Jeannie Bartlett
Chloe Decker, Tylee Shover and Taygon Shover check out a possible muskrat lodge at the edge of the Missisquoi River
Bartlett led a Stream Scientists program in which campers engaged in nature activities in and around the Missisquoi River: identifying both edible and dangerous vegetation; safely trapping, identifying and releasing crayfish; and observing and discussing what they found outdoors, from mushrooms to dragonfly larvae.
One page features friendly plants, like Virginia creeper and Jack-in-the-pulpit, that may be mistaken for poison ivy. Another section tells about forest animals and their tracks.
Charming drawings done by Bartlett are accompanied by scientific explanations and quotes from the campers. "Crayfish swim backward and they can be very, very fast. The tail acts kind of like a scoop," one quote, attributed to Isaac, reads.
Courtesy of Jeannie Bartlett
A page from the guide
Bartlett created the guide by taking notes about what the kids noticed as they explored their natural surroundings. "I think my approach was very much to draw out what the kids already know... to be grounded in our shared curiosity," she said.
Including kids' direct quotes in the guide shows them that "their observations matter" and instills a sense of capability and confidence, Bartlett added.
Copies of the 32-page guide are available at public libraries in Richford, Enosburg and St. Albans. Download a free copy of the guide, as well as the guide's first edition and
The Locals' Guide to Nature in St. Albans
,
here
.