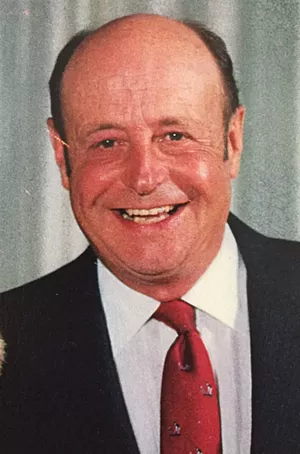 Frank Ray Keyser, Jr. passed away on Saturday, March 7, 2015, surrounded by the family he loved and inspired. Ray was born in Chelsea, Vermont, on August 17, 1927. A passionate father, civic leader, fisherman, and hunter, he was devoted to his home state of Vermont.
Ray was the 72nd governor of Vermont from 1961 to 1963, and earlier served as Speaker of the Vermont House of Representatives. He served in the U.S. Navy, and after his discharge in 1946, he attended Tufts University and graduated from the Boston University School of Law in 1952. At Tufts, he met and married Joan (Friedgen) Keyser, and following graduation they moved back to Chelsea, where they had three children, Chris, Carol, and Fran. Ray joined his father, the Honorable F. Ray Keyser, Sr., and Governor Stanley Wilson at the law firm of Wilson & Keyser.
In 1965, Ray and Joan moved their family to Proctor, and Ray joined the Vermont Marble Company, where in 1970 he became the Chief Executive Officer. They remained connected to Chelsea, where they built a home and a 5.5-acre pond on acreage outside of town. For Thanksgiving, the Fourth of July, and throughout the year, Ray's children and their children have gathered at this home, simply called Camp. He was proud to tell friends that as a result, the cousins were as close as siblings.
During his long career, Ray served the business community as Chairman of the Board of the Hitchcock Clinic and as a director of the Federal Reserve Bank of Boston, Union Mutual Insurance Company, the Vermont Golf Association, the Green Mountain Council of the Boy Scouts of America, Associated Industries of Vermont, Central Vermont Public Service Corp., S-K-I, Ltd., and numerous other organizations, both in Vermont and nationally. He was a Mason and helped design the expansion of the Proctor-Pittsford Country Club, of which he was a stockholder.
After Joan's death in 2002, Ray began spending winters in Hernando, Florida. He met and married Mary Lou (Underhill) Keyser in 2005, in a Christmastime ceremony. He and Mary Lou enjoyed playing golf and bridge with their many friends in Florida. Ray devoted himself to writing his memoirs, which his family intends to publish soon.
He is survived by his wife Mary Lou Keyser; his sister Natalie Niles; his children Christopher Scott Keyser, Carol Ellen Fjeld, and Frank Ray Keyser, III and their spouses Jane Kosmider, George Fjeld, and Pam Keyser; his grandchildren Ariana Malutich, Mary Rachel Voity, Jessica Fjeld, Chelsea Keyser, Troy Keyser, Hannah Fjeld, Amy Sheppard, Christian Fjeld, and Kalle Joan Fjeld and their spouses Matt Malutich, Matthew Voity, Benjamin Bearnot, Martin Fjeld, Mark Sheppard, and Jana Čuljak; and his great-grandchildren Maci Mae Voity, Maggie Ray Voity, and Veda Malutich.
Services will be held in Chelsea in the spring. In lieu of flowers, donations may be made to the United Church of Chelsea, Ducks Unlimited, the Chelsea Fish & Game Club, or the Rutland Area Visiting Nurse Association & Hospice.
The Boardway & Cilley Funeral Home, Chelsea, VT is in charge of arrangements. A private message of sympathy can be shared at boardwayandcilley.com.