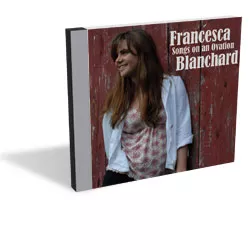 (Self-released, CD)
When I grow up, I want to be Francesca Blanchard. Barely out of high school, the local singer-songwriter already displays guile and artistic sensitivity that would be the envy of many tunesmiths twice her age — and, for that matter, music critics of a similarly mature vintage. Her debut EP, Songs on an Ovation, is quietly and profoundly stunning. It is a humble ode to love, heartbreak and home that says more about all three topics in the span of 17 minutes than some songwriters do over entire careers.
The EP begins with "Mon Ange." Blanchard is French-born, and wrote the song in her native tongue. Whether or not you understand the language, her understated delivery evokes deeply stirring emotion — particularly at the song's undulating chorus, where guest vocalist Gregory Douglass accents her breezy melody with a swooning harmony of his own. Angelic, indeed.
The melancholy "Save a Different Way" is next. Blanchard is currently a theater major at Boston University, and it would seem her gifts on the stage translate well to music. The depth of her lovelorn sadness suggests a weariness that runs contrary to her tender years. She may be young, but she has an old soul, which she fearlessly bares here.
Cellist Monique Citro — a frequent collaborator with Douglass — makes a number of cameos on the EP, the first of which is on "Sleep." Citro's lugubrious, textured sustains frame Blanchard's bittersweet lullaby with aching tenderness.
"Back Home" is the last of Blanchard's original material and is an homage to her hometown of Charlotte, Vt. In less capable hands, her musings on old farm dogs and summer days would tread perilously close to earnest, Rockwellian schmaltz. But the purity in her measured, restrained delivery makes her every word believable.
The EP closes on a pair of covers: "Quelqu'un M'a Dit" by French singer/model/actress/first lady Carla Bruni, and a version of the Chilton Price/Pee Wee King/Redd Stewart classic "You Belong to Me," popularized by Dean Martin, among others. Sparse and airy, the latter is gorgeous. Blanchard commands the tune's sweetly smitten lyrics as if they were written for no other voice but hers — sorry, Dino. It is a fitting and touching close to a remarkable debut.