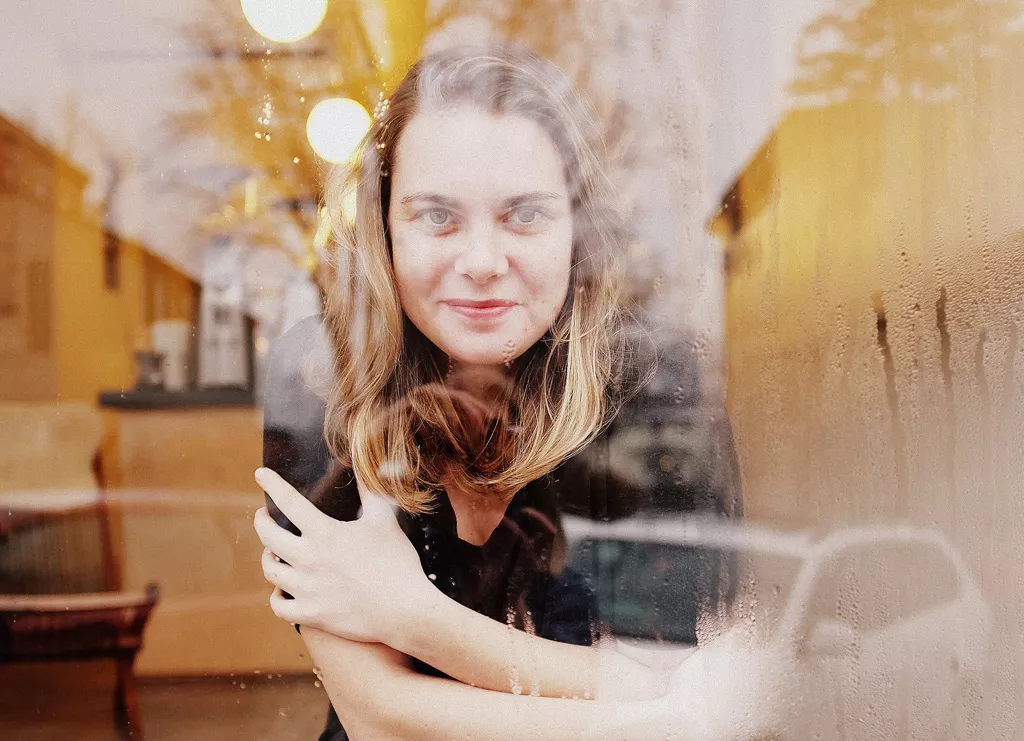 Courtesy of francesca blanchard
Francesca Blanchard is staring down at her acoustic guitar with a look of concentration. To her right, a fire crackles in a large hearth, issuing warmth to a throng of diners at the South End Kitchen in Burlington. Blanchard, clad in a cozy sweater of muted tones, carefully counts the frets on the guitar's neck until she finds the right one on which to affix her capo. Still, she seems a little uncertain, exuding the anxiety of a novice singer-songwriter, which, in some ways, she is. With hesitant fingers, Blanchard begins to pick out a line on the guitar. Then she leans into the mic.
If this were a Hollywood tale, the moment Blanchard begins to sing, the chattering crowd of diners would suddenly be compelled to silence, mouths agape as they're pulled from their fish-and-chips and hypnotized by the sonorous strains of Blanchard's voice. Afterward, a slick industry bigwig type would rush to the makeshift stage — really just a nook by the fireplace — recording contract in hand and promises of fame and fortune on his lips. But that's not quite what happens.
As Blanchard begins to croon the the French Christmas carol "Petit Papa Noël" ("Little Father Christmas"), a few folks refrain, at least momentarily, from noshing fried haddock to listen. The song's melody gently swirls like the snow flurries visible through the picture windows behind her. There is, in fact, an "industry bigwig" in the crowd: Jacob Edgar, founder of Charlotte-based world-music label Cumbancha. But Edgar exudes quiet, fatherly pride as he divides his attention between Blanchard — his latest protégé — and his own two daughters, who excitedly recount a recent geography bee at school.
At the end of the song comes a smattering of appreciative, if polite, applause. At a nearby table, a family goes back to finishing off a shared brownie sundae. Near them, a couple on a date gaze at each other. A tipsy gathering on the far side of the room takes the opportunity to sing a giddy version of "Happy Birthday."
It's hard not to wonder if anyone in the crowd realizes what they are witness to in Blanchard. Edgar turns to a chagrined music reporter and nods, as if to say, "I know, right?"
Blanchard is in the early stage of what, by most indications, looks to be a promising music career — albeit one that's been slow to start. It's a safe bet that, before too long, audiences well beyond the cozy confines of this Pine Street eatery will know her music. And they might start with her version of "Petit Papa Noël," which appears on the recently released Putumayo World Music comp French Christmas. Those who happen to be in the crowd during her December residency at South End Kitchen just might one day tell their friends about the time they saw her when. Even if they were more interested in hot chocolate and doughnuts at the time.
Blanchard, 22, first garnered local attention in 2011 with a stirring acoustic EP, Songs on an Ovation. Though released when she was barely graduated from Champlain Valley Union High School, the humble, 17-minute gem offered a winsome mix of original material and choice covers, and suggested a profound, mature talent. Blanchard's solo performance this night is reminiscent of that record — just a girl and her guitar, though she's since traded up from the Ovation to a shiny Washburn.
Blanchard, and her music, has a vulnerable quality. That's evident in her endearing shyness onstage — somewhat surprising given that she was a theater major at Boston University and is no stranger to performing. But it's apparent in her songs, too, whether in English or French.
Blanchard was born in France and lived there until she was in middle school, when her family moved to Charlotte, Vt. Prior to her freshman year of high school, her father, a Doctors Without Borders physician, moved the family to Burundi for nearly a year. While there, she fell in love with a boy who promptly broke her heart.
"That's when I wrote my first song," says Blanchard in a later interview, noting she had taught herself to play guitar by learning Beatles songs. "It wasn't very good," she confesses. "But it was a great way to channel what I was feeling."
Blanchard eventually improved as a songwriter — though she says she's still "figuring herself out" in that regard. She explains that she's concerned first and foremost with melody, but that love and longing remain thematic cornerstones in her writing. Indeed, the best moments from Songs on an Ovation, in either language, are those in which Blanchard lays bare her romantic soul, such as the French "Mon Ange" and the bittersweet lullaby "Sleep."
That's likely to be true of her next project, a full-length record she recorded with Edgar's guidance, and a full band that includes locals Matthew Kloss, Matt Schrag and Charles Smyrk. That band will join Blanchard for the remaining dates of her Friday residency, December 12 and 19.
Blanchard describes the new record, due out next spring, as a full-bodied extension of her folk-style balladry; it ventures into indie rock and jazz, among other sonic territories. Recorded at Lane Gibson's Charlotte studio with Montréal songwriter Chris Velan, the album will boast a definitively professional polish.
"It's more slickly produced than her first album," says Edgar, who first heard Blanchard as a vocalist for the CVU Jazz Ensemble. He's been mentoring Blanchard since hearing her EP in 2011, and will help her navigate pitching the album to record labels. Edgar also advised Blanchard to finish school before devoting herself to music, which explains why the new album comes four years after her debut.
"We're trying to help her produce an album that will have potential at the international level," Edgar says. "We want to build an audience in the U.S., but also France and Québec and other Francophone parts of the world to take advantage of her multiple talents."
He adds that the album features increased orchestration — string and horn sections, in addition to her core backing band. And more rich sonic textures are courtesy of Velan, who worked with Edgar on records for Sierra Leone's Refugee All Stars. "There are more ambient sounds and effects," Edgar explains. "It sounds really good."
Still, ear candy or no, the heart of the album remains Blanchard and her sweet, sad songs, Edgar says — songs perhaps better suited to quiet stages than bustling restaurants.
"They're really excellent songs," he says. "Her voice is special. There is a lot of warmth and maturity. And she writes really catchy songs that are just warm and lovely.
"It's music that you have to relax and allow to sink in to you," Edgar continues. "And if you do allow yourself to absorb it, it's magical."
The original print version of this article was headlined "The World Can't Wait"