GQ magazine may have named Burlington one of the worst-dressed cities in America, but we know better. Sure, many Vermonters prefer muck boots and yoga pants for everyday apparel, but they know how to bring it stylishly when the occasion calls.
This weekend is one of those occasions. The South End Art Hop is descending upon Burlington and, with it, the annual STRUT! fashion show. This year more than 20 area designers will take to the runway to showcase their creations, while DJ Robbie J spins and Hannah Kirkpatrick — aka Mrs. Vermont — and Craig Mitchell host.
If you've never seen a dress made entirely of condoms, now's your chance — Sasha Ross-Becker has designed a pair of "rubber" outfits on behalf of Planned Parenthood of Northern New England. And teen designers Megan Mahoney and Jenna Baginski will show off their dresses constructed of tissue paper and duct tape.
With the help of STRUT! coordinator Anne-Marie Keppel, Seven Days chose a few exciting and, according to Keppel, "exceptionally talented" professional designers to profile in advance of the show. We peeked inside their studios, visited their soon-to-open storefronts, and met the sheep and roosters that provide wool and feathers for their creations.
This is Vermont, after all, and fashion is best when it's local and farm fresh.
Nora Swan and Sam Stone. Photo by Caleb Kenna.
Hats by Swan&Stone Millinery. Photo by Caleb Kenna.
Autumn Leaves Soft Felt Cloche by Swan&Stone Millinery on model Sotheary Meas. Photo courtesy of Kelley McCullough.
River Roots Cocktail Hat by Swan&Stone Millinery. Photo courtesy of Najat Croll.
Swan&Stone Millinery, Nora Swan and Sam Stone
Hatmakers Nora Swan and Sam Stone have two things going for them: a renewed public interest in hats, thanks to Will and Kate's fascinator-filled royal wedding in 2011, and a locavore culture that extends beyond food into the world of fashion.
Actually, make that three things — Swan&Stone's handcrafted, one-of-a-kind hats are gorgeous.
To enter their studio in Brandon's Granary building is to step into another era, part steampunk, part "Downton Abbey." Felted and straw hats of all colors and shapes adorn the shelves and work tables. There are wide-brimmed portrait hats; tiny, elaborately adorned cocktail hats; and dignified men's hats.
Stone raises the sheep (for the wool) and does the felting; Swan shapes the hats on vintage wooden blocks, trims and finishes them.
The pair began collaborating several years ago under the name Little Hill Woolworks. Their focus at the time was on making booties and hats for their children. They did everything at Stone's farm, including dying the wool in the kitchen sink, and often spent an entire week on one hat.
About two years ago, the pair decided to make a real business of it. They moved their operation into the Granary, began bringing their wool to the nearby Vermont Fiber Mill to be dyed and roved, and renamed themselves Swan&Stone Millinery.
Stone never thought she'd end up in the fashion world. A California native, she studied cultural anthropology in college and worked for many years for the New York City Parks Department. "I always knitted, but we lived in Harlem — it's not like we had a craft room," she recalls.
In 2006, after her second child was born, Stone and her family decided to "go to the other extreme," she says. They moved to Brandon and bought a couple of sheep. What began as a homesteading hobby snowballed into a farm that now counts ducks, bees, turkeys, chickens and more sheep among its inhabitants.
"I was a workaholic, and then I was a stay-at-home mom — so what do you do?" says Stone. "This is what New Yorkers do when they move to Vermont; we're like homesteaders on speed."
A felting workshop with local artist Althea Bilodeau and countless how-to YouTube videos later, Stone teamed up with Swan.
Swan, who grew up in Iran and Afghanistan but spent childhood summers in Goshen with her grandmother, the poet Ruth Stone (no relation to Sam), has long worked in millinery. After studying at the Fashion Institute of Technology in New York City and starting her own line of hats, she worked for well-known Broadway millinery Lynne Mackey Studio, making headgear for shows such as The Lion King.
Swan and Stone sell their hats online as well as at craft fairs in Boston, New York and Vermont, where people seem to respond well to the farm-fresh-hat idea. After all, these lids aren't cheap — the least expensive is $125, and broad-brimmed hats that require multiple blocks can cost up to $350.
"We've made a commitment in my family, and in our business, to not give in to fast fashion, or throwaway fashion," Stone says.
The duo's locavore ethos even extends to higher-concept hats. For example, for their "rural industry" series — which is the focus of their STRUT! presentation — Swan decorates hat bands with bits of rusted metal she found on nearby river banks after Tropical Storm Irene. Hats in this series are adorned with bits of barbed wire, nails, rusted old keys and other metal scraps so weathered that, from a distance, they look like curled autumn leaves.
Swan also rust-dyes some of the bands, using a colorless spray to keep the metal from continuing to rust. "It's hardware-store chic," she says.
Looking for a more conventional hat? Swan and Stone are starting a new line of needle-felted hats they can reproduce in different colors. But for some people, it takes guts to rock any hat.
"The secret is," Swan says, "if you wear a hat, it gives you confidence. It does take confidence to stick it on your head and walk out the door, but once you're out the door and people are accepting you — 'Look, there's the tall, gorgeous woman with the hat!' — then it starts feeding the other way. Then you become the tall, gorgeous woman with the hat."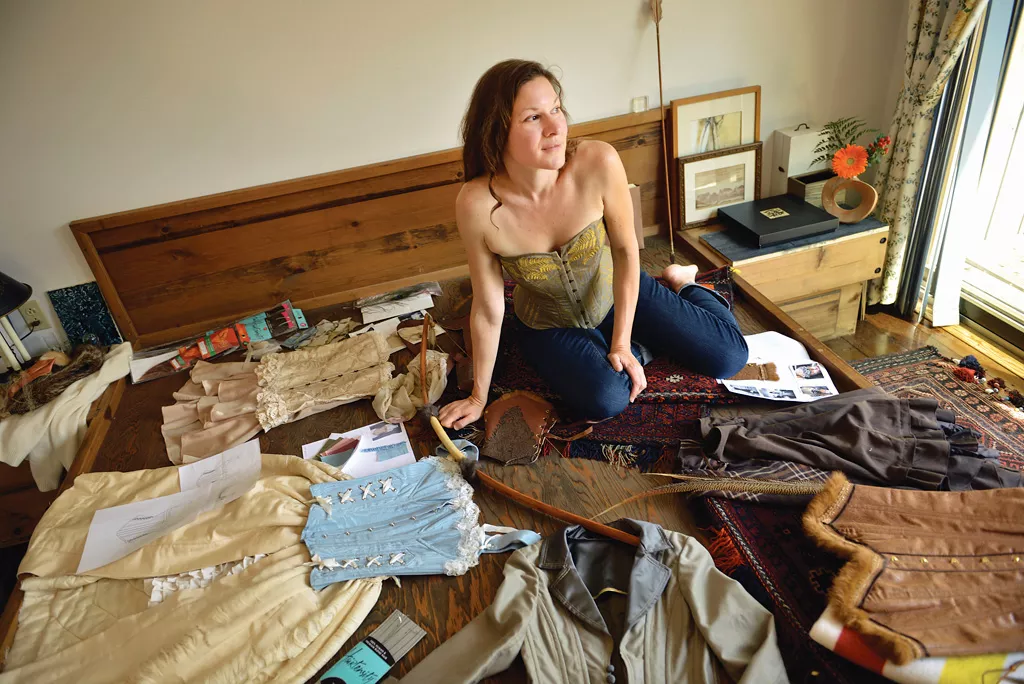 Anjanette Lemak. Photo by Caleb Kenna.
Corset by Quiver Corset Company. Photo by Caleb Kenna.
Corset by Quiver Corset Company on model Sarah Jarrett. Photo courtesy of Paul Kashuk and Tom Kresic.
Titania corset by Quiver Corset Company on model Sarah Jarrett. Photo courtesy of Paul Kashuk and Tom Kresic.
Quiver Corset Company, Anjanette Lemak
The first time Anjanette Lemak went out in public wearing one of the corsets she designed, she dressed it down with blue jeans and muck boots. She was nervous about debuting the sexy, bluish-gray garment with yellow fern embroidery and elegant boning. Besides, it was early spring, so she covered it up with a jacket.
It takes confidence to wear a corset to your local bar, especially in rural Vermont. But that's just what Lemak did, at tiny Rochester's School Street Bistro. "I walked in with the jacket all wrapped around me, and then I took it off and I was fine," she says. "After a martini, I was fine."
The corset was a hit.
A year ago, Lemak never would have imagined she'd be designing a line of corsets and opening a lingerie store, called Quiver Corset Company, in downtown Middlebury. The Ohio native graduated from the Cleveland Institute of Art with a major in metals and jewelry design in 1995. Since then she has designed and fabricated high-end jewelry, knitwear and Danforth Pewter.
Lemak moved with her family to Vermont in 2001; last fall, after 18 years of marriage, she got divorced. "At the time, I had a job lined up," she says. "I thought I knew where I was moving, and I thought I knew what I'd be doing for money." But the job fell through, and so did the offer she'd put on a house. To add insult to injury, after she'd decided to return to jewelry making, Lemak broke her wrist. "I pretty much fell apart," she recalls.
After some serious regrouping with family and friends, Lemak resolved to start her own design business. "I've always been really good at following trends," she says. "I had slowly been catching glimmers of the corset on the rise again."
She dived right into designing her first corset — the fern one she wore that spring night to the bar. Lemak took her design to Middlebury seamstress Elizabeth Blodgett of Meadowview Custom Sewing, and the two worked together to refine the perfect look. Quiver Corset Company was born.
Staying local is important to Lemak. "I wanted to be able to go to [my seamtress'] house," she says. Plus, Blodgett, who had never made corsets before Lemak approached her, does fantastic work. "She can do anything," Lemak says. "I have walked in there with sketches on a napkin before. She's amazing."
A simple corset takes Blodgett about 10 to 12 hours to complete on her 1950 Singer sewing machine. That doesn't count the time spent determining how to engineer the garment. Corsets are complicated not just because of the boning, but because they require figuring out how the seams will go together and how to match the inside and outside layers.
For that reason, and because they're custom made, Lemak's corsets are expensive: $1200 to $2500. Think of it as an investment, she suggests, like a pair of custom leather shoes or a wedding gown.
Since she began designing them last March, Lemak has produced several corsets, all of which will appear on the runway at STRUT! this weekend.
At her home, high in the mountains above Rochester, Lemak has laid out her corsets and accessories on her bed: the fern corset; a romantic, pale-blue corset topped with white lace, with two rows of white ribbons laced down the front; a brown suede corset topped with rabbit fur (which she pairs in the show with leather arm bands, a bow, arrows and a quiver); and a tuxedo-style corset jacket made of slate- and taupe-colored silk, with a gold iridescent lining and exquisite silk buttons running down the front and up each sleeve.
There's nothing quite like wearing a corset to make you feel sexy. "Our bodies are not unlike beautiful flowers," Lemak writes on her website. "The corset, merely the means by which the body is presented, invit[es] interest and notice, drawing the eye from every angle in a seductive dance across every detail. Each curve and shadow asking for greater reflection."
Sam Talbot-Kelly. Photo by Jeb Wallace-Brodeur.
Scoodies by S'AMUSE on models Ari Markowitz and Samantha Ringer. Photo courtesy of Sam Talbot-Kelly.
S'AMUSE, Sam Talbot-Kelly
All of Sam Talbot-Kelly's favorite artists — David Bowie, Annie Lennox, Michael Jackson — have a gender-bending style. "I think we're all both male and female; male energies doing one thing, female doing another, and hopefully they're integrated," she says.
The headwear Talbot-Kelly designs under her label, S'AMUSE (French for "has fun"), is equally androgynous. Her leather bomber caps, for example, were inspired by Amelia Earhart. "She transformed female form," says the designer. "She was androgynous. And yet she had her own style that was both male and female."
Similarly, Talbot-Kelly's "scoodies" — a kind of half scarf, half hat — can go both ways. They simultaneously evoke hooded monks and images of the Madonna, with her long cape cascading over her shoulders.
Talbot-Kelly, an artist, designer and art professor at Norwich University, launched her headwear line in 2011. Born in England and raised in Toronto, she studied art in Montréal and Texas — always with an interest in fashion, clothing, identity and materials.
"I had a pretty unconventional upbringing," Talbot-Kelly says. "I was raised as an artist, as an independent thinker, which is what I want my brand to be about. I want to be on the edge. I don't want to join the masses."
Her headwear is certainly nonconformist. On her blog, Talbot-Kelly posted a video of a ballet dancer donning one of her bomber caps — which are manufactured at Queen City Dry Goods in Burlington — and dancing en pointe in the Montpelier streets.
"Fashion isn't about fashion; fashion is about everything else," Talbot-Kelly asserts. She doesn't follow Vogue; she loves designers such as John Galliano and Alexander McQueen — "the ones who are really trying to share a dream," she says. Fashion, she believes, is about research.
Talbot-Kelly's Montpelier home is filled with evidence of her extensive art and design research. She has made larger-than-life corsets out of found wood, and female forms from bark and ash. Recently Talbot-Kelly began working on a sculptural, and wearable, dress inspired by the human heart.
Actually, it was inspired by her mother's death.
Talbot-Kelly's mother always had a poor heart. After surviving tuberculosis at the age of 16, she went to fashion school and raised seven children — Talbot-Kelly is the youngest. By the time she was 82, Talbot-Kelly's mother had two calcified lungs, which were wearing on her heart.
"Almost two years ago, she was, like, OK, it's time to go," recalls Talbot-Kelly, who was at her mother's bedside with the rest of her siblings when her mom died. "She did it beautifully, and I have to say, if anyone witnessed my mom passing, they would have no problem with death. There was nothing scary about it. It was a gift."
What struck Talbot-Kelly about the experience was her mother's heart — it was the very last thing to shut down. "She was gradually disappearing, but you could feel her heart beating," she recalls.
Talbot-Kelly began researching the human heart. Her notebook for the heart-dress project is filled with images that inspire her: a John Chamberlain sculpture with heart-like textures; a detail of the 1912 "Nude Descending a Staircase" by Marcel Duchamp; and "The Gross Clinic" by Thomas Eakins, from 1875.
Talbot-Kelly is still working on the heart dress. Preliminary versions include calico fabric that has been intricately folded to resemble crinkly innards, and spilling red tulle suggesting oozing entrails. She plans to exhibit the finished work at the Florence Biennale in Italy this November.
For STRUT!, Talbot-Kelly has enlisted Contemporary Dance and Fitness Studio dancers en pointe to don her bomber caps and scoodies and give a runway-style narrative performance about fitting in. "This idea of being independent while also belonging is a really important philosophical thing that I keep coming back to," she says.
And then she'll get going on her next practical clothing endeavor. "I want to make jackets for my friends," Talbot-Kelly says. "Really well-tailored jackets."
STRUT! Fashion Show, Saturday, September 7, 6:30 and 8:30 p.m., in the tent behind the Maltex Building in Burlington. $12.