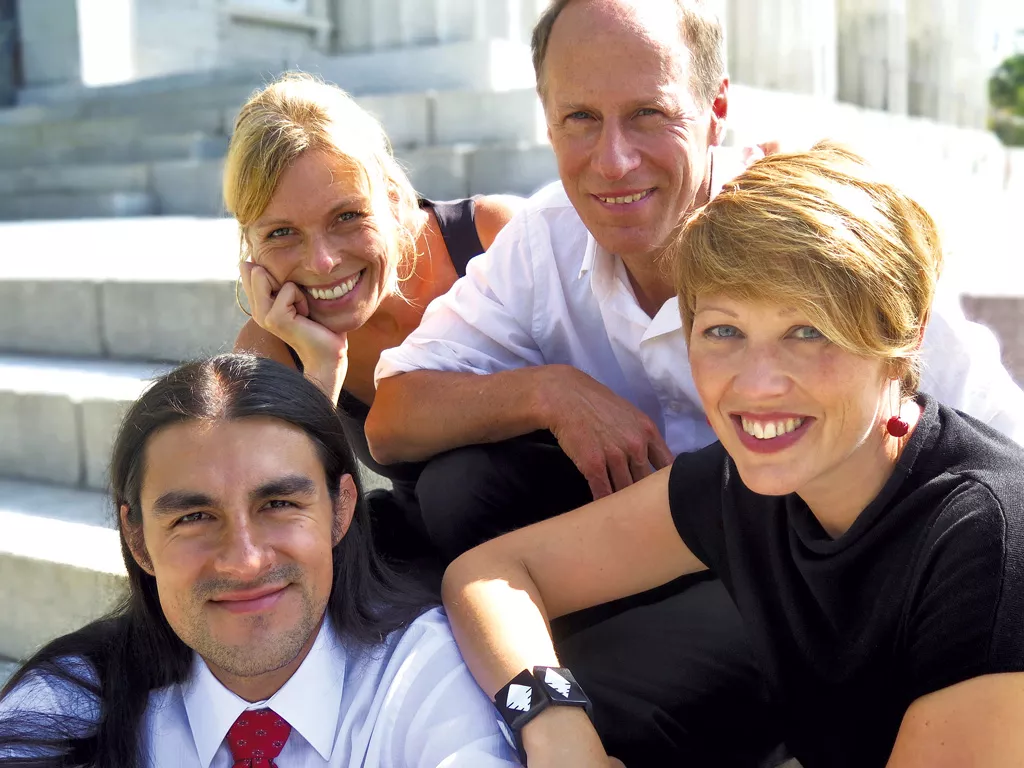 Courtesy of Piazzolla Project
Clockwise from top left: Annemieke McLane, Jeremiah McLane, Sarah Cullins, Daniel Gaviria
Vermont is far from the geographical origins of tango music, in Argentina and Uruguay. But last year, two sets of musical spouses living in the Green Mountains discovered they loved the form. As it happened, both duos' repertoires already included works by the pioneering tango composer Ástor Piazzolla. So, from the "bordellos" of Burlington and Sharon, respectively, Sarah Cullins and Daniel Gaviria and Annemieke and Jeremiah McLane united to form the Piazzolla Project.
The group has performed just twice since its debut in November 2014 before a sold-out audience at Saint Michael's College. The Piazzolla Project's next gig is this Sunday, September 27, at Middlebury's Town Hall Theater. There the musicians will explore Piazzolla's dramatic and unusual tangos on piano (Annemieke McLane), piano accordion (Jeremiah McLane) and electric guitar (Gaviria), with soprano Cullins joining in on roughly half the songs.
One might expect tango dancers to appear, too. But Piazzolla's tangos are undanceable, explained the four tangueros during a recent rehearsal at the University of Vermont. In fact, the Argentinian composer, now widely admired, was long vilified in his homeland for messing with its venerated art form.
Piazzolla studied with composer Nadia Boulanger in Paris in the late 1950s and went on to enrich the tango with sophisticated harmonic structures, dissonance, tempo shifts, and other jazz and classical elements. He called his music Nuevo Tango. In the '70s, he added electronic instruments to his experiments, said Gaviria — one reason the classical guitarist was plugged in.
Seven Days entered the small rehearsal room as Gaviria and the McLanes finished an instrumental piece. A discussion followed between the guitarist and the accordionist — whose instrument will stand in for traditional tango's bandonéon — about who would echo the other's thematic phrasing in one part. Unlike traditional tango, Piazzolla's music calls for improvisation "as an element of freedom and expression," said Gaviria.
When Cullins stepped up to deliver a song written in French that will open Sunday's program, the music seemed even further from traditional tango than before. Trained in operatic singing, Cullins used the same breath control and projection she would in any classical performance — such as her role in the recently revived A Fleeting Animal: An Opera From Judevine, which had opened the previous night.
Cullins recalled that when Gaviria, who's from Colombia and forms the duo 8 Cuerdas with her, first suggested she sing tango, she protested: "It's done in a chest voice. I'd have to start smoking and drinking. It's sung at least one octave below where I sing." But her husband encouraged her to "be dramatic in a different range."
And dramatic she was, delivering a passionate rendition of a Parisian woman's lament for her days of love and music in Buenos Aires. (Cullins will translate the songs for the audience.)
While she sang, the McLanes' 2-year-old son sat transfixed on the closed piano lid, his tricycle abandoned below. Both couples are parents; Cullins and Gaviria's 4-year-old son was with a babysitter.
Annemieke, who trained as a classical pianist and accompanist in Holland, said the parallels between the couples made it easy for them to join forces. "We're two women who went all over the world to find husbands," she quipped. (She met Jeremiah after moving to Vermont; Cullins met Gaviria in Colombia.) "And musically, it clicks," she added.
Cullins said that Piazzolla clicked in particular because "we all have these multi-faceted careers where we're not just classical musicians, and maybe Piazzolla was the first crossover artist."
Among Annemieke's varied gigs are accompanying the choral group Handel Society of Dartmouth College and playing solo concerts of Chopin and Schubert. As half of the Jeremiah and Annemieke Duo — which just returned from performing in the Montmagny World Accordion Festival in Québec — she plays Jeremiah's arrangements of folk tunes by Dvorák and Francesco Cavalli.
Though Piazzolla's oeuvre is "absolutely huge," said Jeremiah, the group plans eventually to expand its repertoire to include other Latin and South American music. The accordionist trained in the Brazilian traditional music forms of forró and choro, among others.
For now, Piazzolla's passionate and, as Gaviria called them, "revolutionary" tangos are consuming enough. As Cullins said with a laugh, "Tango is very life and death, and there's not much in between."