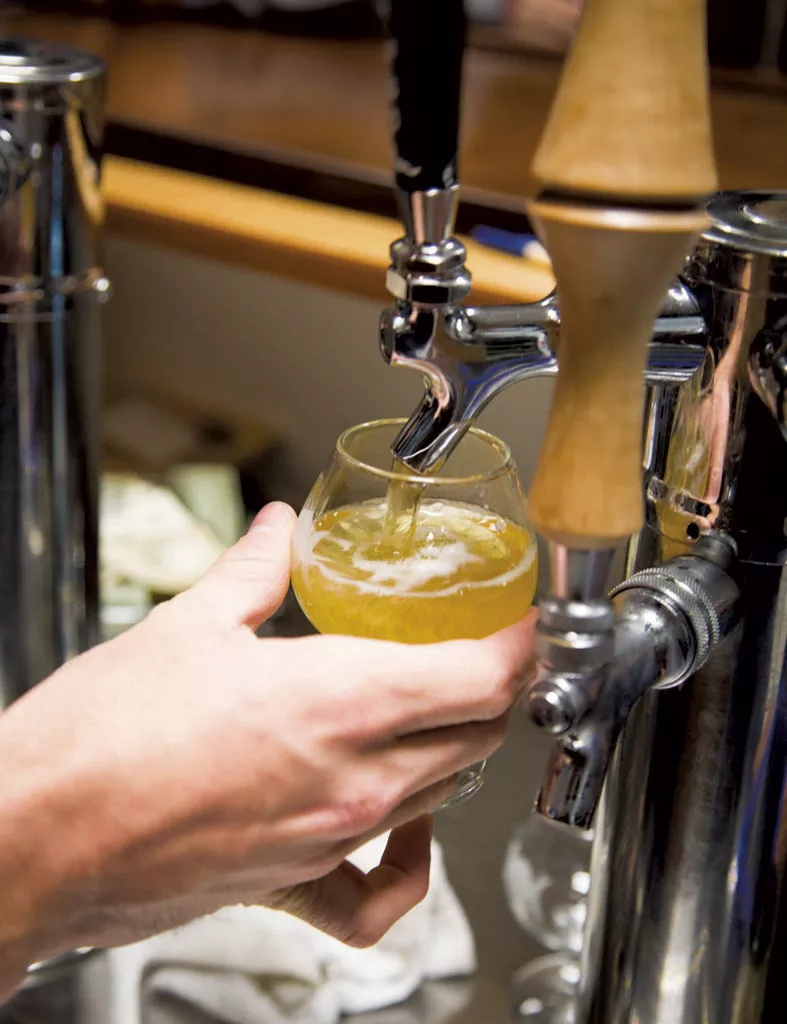 courtesy of Four Quarters Brewing
Four Quarters Brewing
Quick: What's patersbier? What's the Latin name for hops? And who the hell makes smoked red ale around here?
The answer to all three questions can be found inside 150 West Canal Street in Winooski, where Four Quarters Brewing opened last weekend. Its stable of beers — including Janus, Horn of the Moon and Opus Dei — alternately resurrects historical styles and evokes mythological figures.
Founder and brewer Brian Eckert is not only a beer geek but a mythology and astronomy buff. "My interests outside of beer and food are sort of just trying to wrap my head around the universe," says Eckert, who declares himself fascinated with the intersection of religion and beer — that is, with beers brewed by monks.
To wit, he's brewed a patersbier — which means "father's beer" — a low-alcohol abbey ale traditionally brewed by Trappist monks to be consumed within their monasteries. (Eckert's version, called Opus Dei, is a sessionable 4-percent-alcohol beer.)
Eckert borrowed the Latin name for hops, Humulus lupulus, for his Opus Humulus, a 3.9-percent-alcohol-ale "that retains a spicy character from the yeast but has a good healthy dose of hops," he says.
His brewing sometimes draws on unusual techniques. Smoked malts lend their flavor to Chrysalis, a smoked, hoppy red ale. "When it's freshly poured, there's a big aroma of hops, but they're sort of fleeting and drift away as the beer warms up and the smoke character comes out," Eckert says. (Unsurprisingly, the first batch is already gone.)
Other Four Quarters beers include Horn of the Moon, a witbier brewed with barley and wheat and flavored with orange peel and zest. Despite its seemingly mystical moniker, it's actually named for a pond near Montpelier.
Janus 1 is a "rustic saison" brewed with oats and chamomile, while Janus 2 is the same beer brewed with red wine yeast. (Janus 1 is currently on tap at the brewery.)
Eckert has been turning out his beers in the wee hours, the only time he can steal between his full-time job as a web designer at Ben & Jerry's and caring for his two young children. His schedule has him brewing from 9 p.m. to 3 a.m. and going to work at 9 a.m. "It's just what I need to do for now," he says.
Currently, visitors to Four Quarters can taste samples and fill growlers, but Eckert plans to start bottling soon. Restaurateurs desirous of kegs may not want to hold their breath, however. Eckert is committed to self-distribution to a small number of accounts, but not for a few months at least.
Beer-wise, Eckert has yet to roll out Fleur de Lys, which he calls "kind of a hybrid between a Berliner weisse and a saison," and a series of sour beers.
The Four Quarters tasting room, a wooden bar a few steps away from the four-barrel brewing system, is open on Friday and Saturday evenings and Sunday afternoons. Find hours on the brewery's Facebook page.
The original print version of this article was headlined "Beers of Legend"