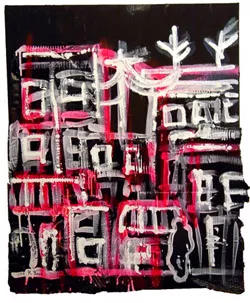 EXHIBIT: Paintings by Ray Brown, Galen Cheney and Frank Woods, and neo-pop collages by Rob Booz. Artpath Gallery, Burlington. Through April.
ARTWORK:"Repose" by Rob Booz
Artpath Gallery exhibitions are really four solo shows, so it's fortunate that this long, narrow hallway venue is roomy enough for artists to mount coherent collections without being crowded. Through the waning days of winter at Burlington's Wing Building gallery, Galen Cheney explores abstract expressionism in a series of mixed-media canvasses about war in the modern world. Meanwhile, Frank Woods presents large-scale works on paper, Rob Booz exhibits "neo-pop" collages, and Ray Brown shows landscape paintings.
In her artist's statement, Cheney writes of her works: "I intend for them to convey the solemn power, sadness and feelings of isolation and dislocation that are the horror of war." Her compositions do so by isolating heavily textured areas within relatively empty space. Cheney's 18-by-17-inch "The Accused" blends dark oil paint and asphalt to create a stark heap of fleshy tonalities beneath a tenebrous negative space. In a similarly composed, 40-by-33-inch abstract canvas, "Eclipse," the artist added aluminum paint, and a wisp of dark brushwork hangs in the mysteriously bright chartreuse heavens.
Woods' contributions here are nine 40-by-60-inch works on paper, which he calls "Hieroglyphic Echoes." He writes: "As someone who usually paints in oils, working on paper has been exciting, intense and totally absorbing." Woods' collection is part drawing, part ephemera and part mixed media; each piece has an architectonic character. "Series 6 No. XX" is like a bizarre plot map drawn up by a hallucinating surveyor. Tracings of an incongruous fish and a C-clamp appear. Woods seems to have smeared charcoal powder over the lower third of the composition, while colored tape and manila paper are collaged on the conjoined drafted squares and rectangles of his "map."
Booz cites "pop-art, neo-expressionism and street art/graffiti" among his influences. "Repose" is a 24-by-29-inch mixed-media painting on black canvas. A matrix of fat white lines, implying urban angularities, appears over the background. Booz shot DayGlo red spray paint over parts of the white. Those elements - black background, painted white lines, red spray paint - simply and effectively communicate the painter's aesthetic roots.
The thin, vertical painting entitled "Innocence" employs a similar pictorial approach and graffiti-artist media - Booz lists these as "spray paint, ink, acrylic, paint pen and collage on wood." The painting's general narrative is one of a father and son flying a kite. The figures, string and kite are white silhouettes superimposed on an abstract neighborhood of broad, black lines. Four green clouds and eight wide sun rays dangle over the scene. Red and orange DayGlo spray paint tint the sun and the negative spaces around Booz's black lines.
At first glance, Brown might seem like the odd man out in this quartet, with his representational, utterly unpretentious oil landscapes. But they are also curiously abstract; the landscapes are compositionally compact and devoid of chromatic fireworks. "Barn," measuring only 9 by 12 inches, excluding the frame, is a pastoral image combining the simplicity of Milton Avery with the naiveté of folk art. Values in the mountain ridges behind the peaked roof barn are the opposite of what one might expect: Brown's dark-green ridge lines appear deeper in the picture plane than does a band of lighter green.
"Cranberry Meadow 2" is a 23-by-17-inch oil describing a meadow with scruffy textures. As in "Barn," Brown's palette is reduced to a few essential greens, raw umber and raw sienna under a hazy blue sky. His pleasingly calm, primitivist style contrasts with those of his fellow exhibitors. Together, the four make an intriguing mix.