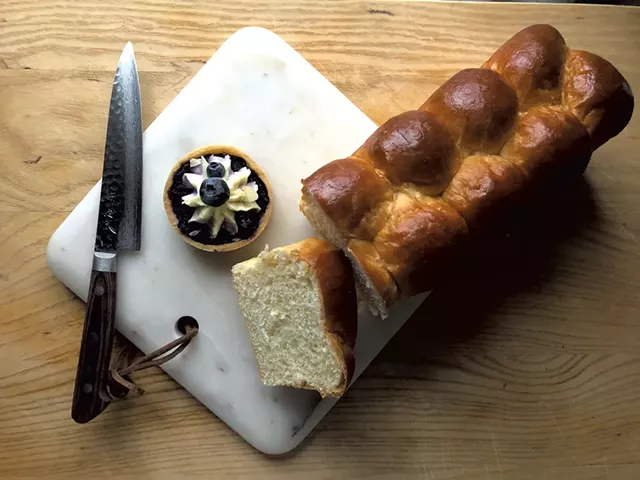 Jordan Barry ©️ Seven Days
Blueberry-almond tart and a large brioche loaf from Belleville Bakery & Catering
In these challenging times, we've noticed a small, sweet (and sometimes savory) trend. Over the past nine months, a new crop of bakers in and around Burlington has been whisking, crimping and piping their way into our hearts and homes. Aided by social media, word of mouth and changing consumer behavior, these new bakeries are all skipping the middleman and selling direct-to-consumer.
Smells like sweet success to us.
— M.P.
Belle Pâtisserie
Shelley MacDonald isn't just starting a new business, she's figuring out life in a new city — and country.
The Canadian baker moved to Burlington in the fall after 11 years in Paris. MacDonald, 54, and her husband fell in love with Burlington's sense of community while vacationing there. Now she's entering its food scene one loaf of brioche at a time with Belleville Bakery & Catering. The name nods to her French influence but translates to "beautiful city," which MacDonald said was fitting for her new home.
MacDonald ran a home-based bakery and catering business in Paris, where she studied pastry at Le Cordon Bleu and worked toward her Certificat d'Aptitude Professionnelle Pâtissier diploma. The COVID-19 pandemic delayed the couple's immigration slightly, but adapting to Vermont life is going well: They've already bought a Subaru.
MacDonald spent the first two and a half months in Burlington waiting for her equipment to arrive from Paris, making galettes with a rolling pin she borrowed from her Airbnb host.
"I started with things that required no pans and no mixer," she said. Now that she's in her permanent apartment — and her equipment has arrived — she can bake her full repertoire.
Subscribers to MacDonald's email newsletter receive a weekly update on what she's baking; they can then claim items "for sampling" and pay her by donation. I jumped on an offer for buttery brioche loaves and delicate almond-blueberry tarts topped with a perfect swirl of mascarpone whipped cream, all of which I picked up at her new apartment on a Friday afternoon. I donated the suggested retail value: $9 for the large brioche and $7 for the tart.
The donation model encourages customer feedback, MacDonald explained, which is what she's looking for as she adapts her recipes to American ingredients and figures out what Vermonters want to buy. She happily bakes with flour from King Arthur Baking — better than what she used in Paris, she said — but is sticking with imported French butter.
The response has already surpassed her usual number of weekly pickups in Paris.
"To come here and have it be this nice, and then for people to be so nice — and to have the food thing sort of work out right away — it's both exciting and terrifying," MacDonald said.
— J.B.
Haus to Haus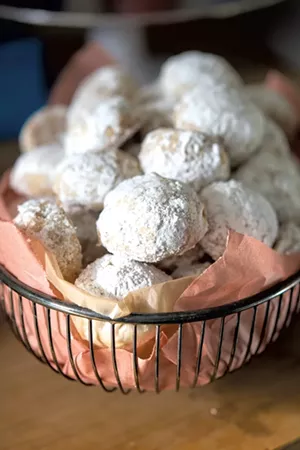 Caleb Kenna
Brown-butter hazelnut wedding cookies from Das ButterHaus
An unexpected layoff isn't usually a good thing. But for Meg Dawson, losing her job in the struggling restaurant industry provided an opportunity to get creative and bring her skills directly to her customers.
"I had always wanted to do something on my own, and this kind of forced me into it," Dawson said. The Charlotte resident, 29, was laid off from her pastry chef job at Philo Ridge Farm in the early fall. By mid-October, she had launched Das ButterHaus. In the run-up to Thanksgiving, she sold 140 pies through email and Instagram direct messages.
"I was not expecting such an overwhelming success," Dawson said with a laugh. "And it was definitely overwhelming."
Dawson worked in restaurants in Brooklyn and her hometown of Richmond, Va., before moving to Vermont, where she baked at Shelburne Farms and the Great Northern prior to Philo Ridge.
Many restaurants have cut their pastry programs during the pandemic, so Dawson's recent career change isn't unusual. The value of pastry programs to restaurants can be difficult to quantify, she explained, and they're often not a priority.
"Those customers who are buying $2 breakfast pastries are loyal, though," Dawson said. "The rise in success of these direct-to-consumer bakeries is proving that there's a demand."
I ordered one of Das ButterHaus' 140 Thanksgiving pies, opting for the apple and quince ($26) made with fruit from Scott Farm Orchard and an all-butter crust. (Gluten-free buckwheat crusts were also available.) The pie was so tempting when I picked it up that I dug into it immediately, though Thanksgiving was the next day.
Dawson focuses on rustic baking with whole grains and local produce; she hopes to partner with farmstands in the future, using them as ingredient sources and retail outlets.
The rustic approach is clear in her holiday offerings. A baker's box for two ($28) includes an assortment of treats and breakfast pastries: everything from cookies for Santa to breakfast and snacking cakes.
The pastries are simpler than Dawson's elaborate Thanksgiving pies, but she hopes they'll bring comfort and joy. "There's something about any kind of baked good or pastry that feels special," she said.
— J.B.
Pie Perfect
Pie Society, 916 Shelburne Rd., South Burlington, 324-2811, piesocietyvt.com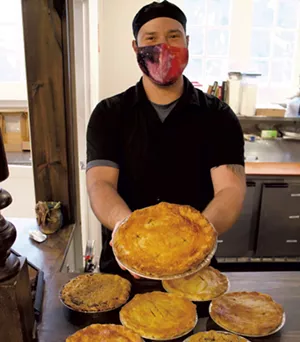 Melissa Pasanen
Jonathan Davis of Pie Society
"I have been obsessed with pie since I was very little," Jonathan Davis said. He was explaining the roots of his latest culinary enterprise, Pie Society, which launched in August.
As evidence, Davis offered an autobiography authored in kindergarten that highlighted his love of apple pie. The young foodie also documented a mythical world populated by creatures who ate only pie.
Davis, now 28, went on to work at a number of Vermont bakeries, restaurants and confectioners, including Mirabelles Bakery, then in Burlington; the Spot in South Burlington; and Vermont Cookie Love in North Ferrisburgh. In late 2015, he opened the Starving Artist Café in South Burlington in the Davis Studio, an arts education center and school founded by his mother, Teresa Davis.
When the pandemic closed his small breakfast-and-lunch restaurant in mid-March, Davis expected to reopen it, he said. But the forced pause was an unexpected opportunity to take stock — "a reset and reevaluation," in his words.
Taking the pandemic as "a creative challenge to figure out a new approach," Davis came up with his new pie-only, direct-to-consumer business model. He enjoys the focus and control and has no plans to go back to restaurant work.
Each week, Pie Society offers at least three pies, including two savory options, one of which is always vegetarian. Each makes a satisfying supper for three to four adults. Orders must be placed by Wednesday evening for pickup in Burlington on Thursday or at Davis Studio on Friday.
Davis relishes the opportunity to perfect his crust recipes and to play within the constraints of the nine-inch pie pan. His menu ranges from traditional favorites, such as chicken pot pie and apple, to Jamaican meat pie and ginger-pear with red wine spice.
His all-butter crust boasts layers of flaky perfection, which Davis tweaks slightly depending on the pie. Recent orders of bratwurst, kale and Long Trail Ale gravy pie ($24), chickpea korma pie ($22), shoofly pie ($13) and the ginger-pear ($15) delivered plenty of pie pleasure.
For his substantial, vibrantly flavored fillings, Davis takes equal inspiration from locally sourced ingredients and recipes from around the globe. The crumb-topped, molasses-rich shoofly pie, for example, is based on one that Davis' Pennsylvania Dutch great-aunt June still makes. The just-right-spicy Indian-style chickpea korma, studded with chunks of sweet potato and cauliflower in curry sauce, seemed perfectly at home in its American-style crust.
Pie Society represents the best kind of fusion comfort food — something we can all use more of these days.
— M.P.
Storied Sweets
Small Oven Pastries, 177 Maeck Farm Rd., Shelburne, 424-8192, smallovenpastries.com. Order deadline is December 19 for delivery before December 25.
Courtesy of Small Oven Pastries
Fairy Floss macarons from Small Oven Pastries
Elizabeth Berman comes from a family of bakers, but "I didn't really grow up baking," she joked. "I grew up eating."
Berman, 40, credits her affinity for creative flavor and texture combinations to the fine baked goods of her youth. "Grandma's killer cinnamon rolls slathered with crunchy peanut butter: a revelation!" she enthused.
That creativity is evident in the French-style almond macarons she produces for Small Oven Pastries, which she launched in August from her Shelburne home. Orders are delivered free in Chittenden County or can be picked up in Shelburne.
The delicate almond shells are crunchy on the outside, chewy within and sandwich silken fillings. Berman creates infused Swiss buttercreams and flavored chocolate ganache, her own jams and fruit curds. (A bonus: Macarons are naturally gluten-free, although Berman's kitchen is not certified because she also bakes with flour.)
Many of Small Oven's flavors change seasonally. A fall collection (starting at $6 for three) was inspired by herbs from local farms. Vanilla bean macarons were filled with blackberry buttercream and blackberry-sage gelée; thyme-almond shells sandwiched salted-honey buttercream.
During her former career as a librarian, Berman took courses at King Arthur Baking in Norwich. While living in Boston, she studied at the Cambridge School of Culinary Arts.
Baking "became my happy place," Berman said. She found deep satisfaction in sharing the food she made. "I love bringing people joy," she said.
Berman had never tasted the notoriously tricky French pastry before her first macaron class. She was immediately hooked on the challenge — and the result. "They are very mercurial," she said of macarons. "They take on the flavors you impart to them."
Her Nutcracker: Land of Sweets collection (starting at $11 for six) alludes to the dances in the beloved ballet. Le Chocolat (Dance Espagnole) pairs dark chocolate with a bright hit of orange. Le Thé (Danse Chinoise) glitters with lemon sugar and sandwiches a smoky tea-flavored white chocolate ganache. Danse de la Fée-Dragée stars a hauntingly delicious cardamom-plum jam in honor of the eponymous Sugar Plum Fairy.
"I love making the collections, because they tell a story," Berman said. This baker apparently still has a bit of librarian in her.
— M.P.