So many records, so little time. Seven Days gets more album submissions than we know what to do with. And, given the ease of record making these days, it's difficult to keep up. Still, we try to get to every local release that comes across the music desk, no matter how obscure or far out.
To that end, here are four albums that likely flew under the radar of your average local music fan. In some cases, they represent the outermost boundaries of local music. Others simply slipped through the cracks. Each is worth a listen.
Robin Gottfried, Caspian Sky
(Self-released, CD, digital download)
Robin Gottfried is a veteran songwriter who has been based in Burlington since 1978. In that time he's played in numerous local groups, in addition to his steady output as a solo artist. Since 1994, he's released eight full-length albums, including the recent Caspian Sky.
iTunes files Gottfried's latest as easy listening — presumably because the online music giant doesn't include "yacht rock" as a genre category. Caspian Sky is indeed an easy listen, but it's informed far more by the soft-rock stylings of Hall & Oates and post-Chicago Peter Cetera than, say, John Tesh.
Take, for example, the album's second track, "The Wine of Astonishment." Laden with bright, complex guitar lines and equally intricate vocal harmonies, the song could be an outtake from Cetera's hit 1986 record Solitude/Solitaire, right down to the pitch-perfect fade-out ending.
At 17 tracks, Caspian Sky is a behemoth by modern standards. But Gottfried seems to be aiming for an audience of a different generation, one that would be more than happy to set sail for 70-plus minutes of breezy soft-rock bliss.
Azfarat, Yggdrasil and the Plague of Frogs
(Self-released, CD, digital download)
Azfarat are a noise band hailing from the epicenter of artistic eccentricity, Brattleboro. Yggdrasil and the Plague of Frogs is one of two records the group, led by Cal Glover-Wessel, has released this year. The other is a similarly Cthulhu-esque-titled EP, Ichor Siphon.
Neither record is for the faint of heart. Yggdrasil might be the more accessible of the two, if only because it's broken into six comparatively digestible tracks that mostly run fewer than 10 minutes. Ichor is broken into three mini-suites, two of which boast run times of more than 20 minutes.
Why is that important? Because listening to the industrial cacophony of Azfarat is a test of audio endurance. Yggdrasil plays like the spooky soundtrack of a carnival funhouse, if scored by Trent Reznor for an orchestra of rusty blenders. That's not to say it's without artistry. Glover-Wessel composes with an ear toward dynamic tonal shifts that suggest real creative intent. But his intentions are clearly to disorient, disturb and confound. Through a cascade of twisted-metal screeches and mangled samples, he undoubtedly achieves that.
Elle Carpenter, Life Just Happens to You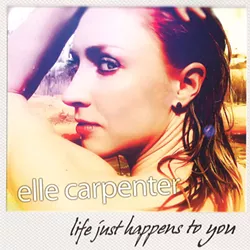 (Self-released, CD, digital download)
When last we heard from Elle Carpenter, the Vermont native was vying for fame in Hollywood. Her 2009 record The Best presented the songwriter as a would-be pop-punk star with a knack for radio-ready hooks and glitzy production. Plain and simple, Carpenter had her sights set on mainstream commercial success.
Her big break has yet to come, though not for lack of trying — or lack of talent. So perhaps a new tack is in order. On her latest record, Life Just Happens to You, Carpenter returns to her rural roots, literally. The album is a sharp departure from her pop-centric 2009 effort, veering into rootsy folk and modern country fare, sort of like the reverse Taylor Swift — or, to keep it local, Grace Potter.
All in all, it's an encouraging development. Save for a wholly unnecessary rendition of "Where Have All the Flowers Gone?" Carpenter's rebranding as a country and folk singer seem to suit her more naturally than did the nu-rock stylings of her earlier career. Time will tell if Nashville agrees. In the meantime, maybe Grace can get the girl a sit-down with Kenny Chesney?
Javin Leonard, Javin Leonard
(Self-released, YouTube)
Burlington's Javin Leonard is best known as a founding member of Burlington hardcore icons Drowningman. Perhaps the most successful heavy band in Vermont history, that group was renowned for its melodic fusion of post-hardcore and heavy metal. If you've ever wondered what the group might have sounded like without lead screamer Simon Brody's fearsome howls, Leonard's 2015 self-titled solo album might be a telling clue.
Earlier this year, Leonard uploaded a collection of 10 songs — nine originals and a cover of Starlight Conspiracy's "Anomaly" — to YouTube, where they're available to download or stream as a continuous playlist. Fans of Drowningman will undoubtedly be thrilled, as the cuts offer a glimpse into the compositional mind of one of the band's primary musical architects. Most of the material falls closer to post-rock than post-hardcore — more Tortoise than Deep Turtle, if you will. But it's still bracing, gorgeously orchestrated stuff.