So many records, so little time. Seven Days gets more album submissions than we know what to do with. And, given the ease of record making these days, it's difficult to keep up. Still, we try to get to every local release that comes across the music desk, no matter how obscure.
To that end, here are four albums that likely flew under the radar of most Vermont music fans. Some represent the outermost boundaries of local music. Others simply slipped through the cracks. But each is worth a listen.
For the Kid in the Back, Coffee on an Empty Stomach
(Self-released, cassette, CD, digital download)
For the Kid in the Back is Plattsburgh, N.Y.-based songwriter Justin Passino and … well, pretty much anyone he can get to play with him. His latest effort, Coffee on an Empty Stomach, is as comfortingly lo-fi as it is emotionally distressed, which is to say quite a bit. Though Passino generally trades in acoustic, sad-bastard music of the anguished emo variety — or "sadcore," as it's labeled on his Bandcamp page — the nine songs cooed and warbled into whatever recording device he used are clever enough to spare the listener too much Oberst-ian navel-gazing.
For example, take the last verse of the opening track, "A Circling Failure in a Rapidly Decaying Orbit," on which Passino sings, "I'm not going to ask you out today. / Little too afraid that you might turn me away. / So instead I'll become more acquainted with the fuzz that grows on my face. / It's like us: It just sucks and it never connects in any of the right places." How's that for cheeky teenage angst?
forthekidintheback.bandcamp.com
Stephen Saunders and the Starlighters, From Me to You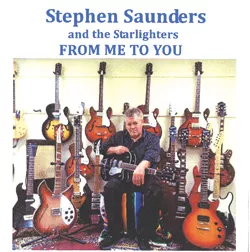 (Self-released, CD)
Stephen Saunders stopped playing music following the death of his brother, Doug, in 1991. A decade earlier, the two had played together in a band called Arrow that enjoyed some modest local success. But rather than soldier on without Doug, Stephen Saunders put music aside to focus on his business and family. However, he never stopped writing, and he penned some 200 songs between 1995 and 2013.
From Me to You is a collection of 12 of those songs that suggest Vermont lost more than one good musician when Doug Saunders died. The record shows Stephen to be a talented songwriter and multi-instrumentalist whose deep affinity for the Beatles is manifest in more than just the name of his home recording studio, Shabby Road. Saunders knows his way around a sticky pop melody and delivers a solid suite of hook-heavy songs. The only gripe is the comparatively low production quality and grating reliance on tacky drum machines, which sap the material of urgency. Still, the talent and, more importantly, heart is all there.
To order From Me to You, email Stephen Saunders at steve1150@comcast.net.
Steven Dwight Longe, Naturally Human / Acoustic Memories
(Self-released, CD, digital download)
Though he first picked up the guitar as a teenager, Shelburne's Steven Dwight Longe abandoned music making and didn't return to it until later in life. The double album Naturally Human / Acoustic Memories represents his belated debut. Though uneven and often heavy-handed lyrically, its wide-ranging styles reveal admirable ambition.
Longe is a far more capable guitarist than singer or lyricist, and, accordingly, the instrumental tunes provide the album's finest moments. In particular, "Chickadee," an ode to his wife, is an acoustic love letter, a new-age suite that ripples and flows with a gentle, loving lilt. But unfortunately Longe's more conventional songs, often mired in clumsy metaphors, stunted melodic phrasing or lackluster arrangements, do not hold up as well.
Poxy, Pucker Power (Demo)
(Self-released, digital download)
The dearly departed Doll Fight! were the highest-profile local female punk band, so far, but there are more riotous riot-grrl sounds in the Queen City. Poxy, a girl-fronted Burlington punk trio, prove on their debut EP Pucker Power (Demo) that there's more than enough aggro feminine charm to go around. (Apologies to Poxy drummer Guthrie MacCannon, who is a dude. And a good punk drummer, to boot.)
Over four pulverizing songs — spanning barely five minutes in total — Poxy spit and snarl through a bracing, audacious crush of rapid-fire punk. In particular, "Rot in Hell" is perfectly smarmy and offers more scattered ingenuity than your typical two-minute pop-punk song. And EP closer "Earth Angel" gets this reviewer's nod for coolest cover of the year. Somewhere, the Penguins are smiling. Or maybe scowling.
egovt.bandcamp.com/album/pucker-power-demo